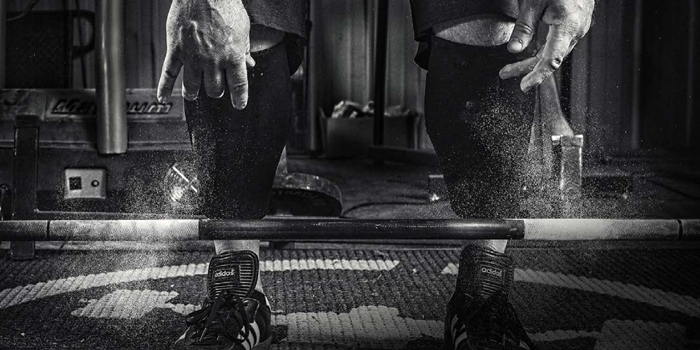 When building a strong deadlift, two common variations are present in the strength and conditioning world—the stiff-legged deadlift (SLDL) and the Romanian deadlift (RDL). However, they are often confused for one another and/or entirely done the same way. There are some key differences between the lifts and why you might use one more than the other. Below are videos that describe each exercise, including how we coach them to our athletes and strength competitors at Terre Haute Intensity Resistance and Sports Training (THIRST).
Romanian Deadlift
Let's start with the Romanian deadlift, as I feel it's more commonly used in sports performance, personal training, and strength circles universally. This is the big hinge-based exercise many of us work to coach and correct. Personally, when I work with athletes and clients, they must be able to perform this exercise for certain weight and reps to learn how to deadlift. This is a great way to ensure they develop the proper glute, hamstring, and low back strength before pulling things off the floor. And for many people, just learning to hinge can be a big struggle as they dissociate the hips from the low back.
---
MORE: The Best Lift for Collegiate Athletes
---
First, an RDL will start from the top and begin with an eccentric or lowering of the barbell. I suggest starting with the barbell in a power rack, then taking one to two steps back for clearance. Once in this position, slightly bend or unlock the knees to achieve the "soft" lockout position. The lats will be engaged (think about squeezing an orange or tennis ball in your armpits), and then the hips are pushed back while the torso and spine will stay long and neutral. If done correctly, your hips will likely go behind your ankles in the bottom position, which will be slightly below the knee cap to mid-shin based upon your mobility. A great goal I like to use with my athletes is to keep the barbell on the thighs the whole time. Then return to the start position by bringing the hips forward and squeezing the glutes at the top.
Key Programming Considerations
Since the RDL is very eccentric heavy, it's great for filling in the holes that the standard deadlift misses out on (it starts with a concentric action—picking it up off the floor). With that said, recovery will be harder due to the increased time under tension, especially if you utilize longer eccentrics for each rep.
Program as a supplemental based exercise for strength athletes
Program as the main movement for athletes and personal training clients
Use for 3-5 sets of 5-10 reps
Great for improving lockout strength and torso positioning
Monitor stress for in-season athletes
Ensure the athlete/client can achieve ~60-degree straight leg raise
Stiff-Leg Deadlift (SLDL)
Next is the stiff-legged deadlift, which is considerably more popular in the strength sports world. This is also an amazing addition to building up the deadlift, particularly the erectors and mid-back. The SLDL is considerably harder to teach and execute because you really need to know how to hinge, to not only prevent injury but optimize the positioning the exercise needs you to be in to get the desired training effect.
For the SLDL, you're going to start with the barbell on the floor. In most cases than not, this exercise is performed with a conventional stance, but you can certainly use a sumo stance if you have the mobility to do so. I like to start with having people actually hinge back similar to an RDL while the barbell is lined up with the midfoot, then try to reach the bar. Once they hit a "wall", they'll let the arms hang longer and "pull" themselves into position so that their back is completely flat, lats are turned on to pull the slack out of the bar but the bar will still remain over midfoot and shoulders, with the neck neutral. From this position, they will push their feet into the ground while using the glutes and hamstrings to initiate the movement. The barbell won't come in contact with the thighs like in the RDL, but the hips will come forward to meet the bar once it passes the knees.
Key Programming Considerations
The SLDL has some unique considerations since it has more range of motion and overall more musculature involved to move the weight (and typically can use more load than the RDL). Like the traditional deadlift, it starts with a concentric action, which can be hard on the nervous system to break the initial inertia to get the load moving. I cannot express this enough, but do not use touch-and-go reps with the SLDL.
Program as a supplemental-based exercise for strength athletes
Typically not programmed for sports performance or personal training clients (risk is not worth any reward IMO)
Use for 3-5 sets of 5-12 reps
Great for improving starting strength and back strength
CNS heavy, so keep in mind peaking and overstimulating CNS too frequently
Ensure the athlete can perform an RDL properly and has a very technically sound deadlift
Consider athlete low back history
Sample Deadlift Training Templates
Below are two training sessions that can help aid your deadlift based upon where your deadlift might be halting:
Lifter A - Weak Lockout and Mid Position
A1) Low Block Pull (1-2") vs Bands - Work up to a hard single (RPE 9)
B1) RDL - 3x6 with 5 sec eccentric
C1) Bulgarian Split Squat - 3x10-12 per leg
C2) Lat Pulldown - 3x8-12
D1) Single Leg Reverse Hyper® - 3x10 per leg
D2) Double KB Front Rack Carry - 3x~50 yards
Lifter B - Weak From Floor and Starting Position
A1) Deficit (~1.5") Deadlift - Work up to a hard single (RPE 9)
B1) SLDL - 3x8 (RPE 8)
C1) Glute Ham Raise - 3 sets, max reps
C2) Bent Over KB Rows - 3x10-15
D1) Bilateral Single Leg KB Deadlift - 3x8 per side
D2) Standing Band Crunch - 3x12-15
There are dozens of deadlift variations that help improve your deadlift strength and technique, but there is no question that the Romanian deadlift and stiff-legged deadlift are the two most common to see in strength and conditioning realms. With proper execution and programming, you'll be able to hit a new deadlift PR in no time.
---

Brandon Smitley is a 2011 graduate of Purdue University where earned his Bachelor's degree in Health and Fitness, and of Indiana State University with his Master's Degree in Coaching. His best lifts to date are a 567-pound squat, 330-pound bench, 510-pound deadlift, and 1377-pound total in the 132-pound weight class! Brandon holds his CSCS, USAW, and CPT certifications. He has opened THIRST with his wife, Adrian, to help athletes and others realize their full potential from proper strength training methodologies.