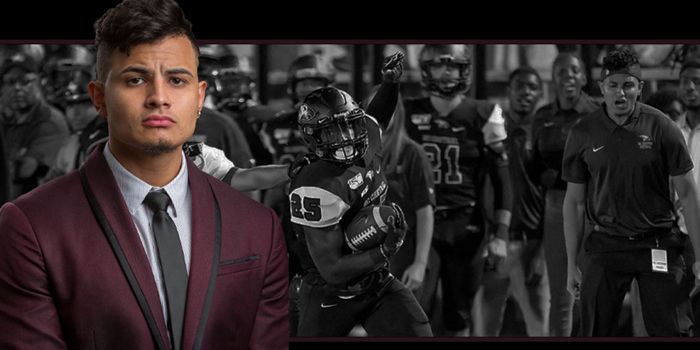 The success, health, and longevity of sports programs lie behind the performance staff in athletics. The sports performance team is the backbone of a winning season—assists athletes' strength, power, and speed, plus maintains their healthy status. The success and transformation of a team are often attributed to the head performance coach, but most head performance coaches would agree that they could not have done it without having their staff (assistants, graduate assistants, and intern performance coaches) around to make their job a million times easier. It's a system that works by having everyone on the same page, assuring that everything the head performance coach asks for gets done.
1. Go Above and Beyond for Your Boss
To be successful in your position as an intern, a graduate assistant, or an assistant performance coach is to go above and beyond for your boss. If you're expected to show up to work at 6:30 AM, beat the clock and arrive 30 minutes to an hour earlier. Arriving early assures if something happens in the morning like the car won't start, you will still be on time. When you get some free time, don't just sit around and wait for orders to be directed to you, find the work—clean something, rerack weights, or do tedious stuff such as ensuring the printer has ink and paper. Lots of coaches like to preach, "Arrive early and leave late." Still, I believe in getting the work done in the most efficient time to go home, spend time with family, and feel refreshed enough to come in the next day and do it again in a consistent manner without burning out. At the end of the day, your boss would rather you give quality work and effort for eight hours than just hang out and do the minimum for 10 hours.
---
RELATED: A Peek Inside Minor League Baseball S&C
---
2. Outwork the Next Guy
In the ranking of positions, try to outwork the next guy. If I'm the intern, I'm trying to outwork the graduate assistant. If I'm the graduate assistant, I'm trying to outwork the assistant, and if I'm the assistant, I'm trying to outwork the head coach. Now in no way is this a competition to take their position, but it keeps everyone with that mindset of "I have to do better." In this place of discomfort as strength coaches, we all know that applying stressors will make you grow. We should always strive to get the person working underneath us in a better position and prepare them with that mentality. At times, the best performance staff consists of aspiring head performance coaches, so it's best to get your staff with the needed information to reach these goals.
3. Do the Little Things
When you arrive early in the mornings, it might be a good gesture to bring coffee, energy drinks, or breakfast now and then to brighten up the day a bit. There are some long, draining days in this field, so to know that you have a great support staff could give you that extra push into going the extra mile. Doing the little things that are not asked of you could contribute to a better work environment. One thing that I did to achieve this was to create playlists for every team and update it with music (with a clean version, too). Make the athletes and coaches aware that you care about them—it'll take you far. Figure out ways to contribute to the program and do your job to ensure you leave a lasting impression.
Never be too big for the little things. If you see trash on the floor or coaches cleaning, drop what you are doing (situational) and help out the best you can. Have a smile on your face and enjoy what you are doing—there's annoying and tedious work out there, but it has to get done. The thing is, everybody is going to have to go through that type of work if you're in those lower positions. It isn't anybody trying to pick on you; it's just the way the system operates. Right before leaving, ask if there's anything else you could help out with. Realize, performance coaches call other performance coaches usually with a "Hey, I'm looking for a young, energetic, hard-working assistant? You have anybody you could recommend?" Don't you want to be the hardest worker in their mind? If so, make sure you do the things they will remember you by.
4. Treat Every Day Like an Interview
One of the first pieces of advice I got when I first started my journey as a performance coach was from Thomas Carroll. He said, "Treat every day like an interview." As simple as it sounds, it was one of the most powerful things I could ever hear. Some staffs get comfortable and give minimal energy and effort once they have been in their positions for so long. This coaching behavior demotivates athletes. Make sure you find out your coaching "why" and create that as your fuel in the mornings, bringing consistent energy to your athletes. Your job is to make hard work fun, so if you're not fun to be around and your athletes don't get excited to see you, then there's room for self-development. Put yourself in your athletes' position. How would you feel waking up before the sun comes out and walking into the weight room and seeing a coach that is identical to you? Would you like it? Would you want your five-star recruit (son/nephew/brother looking to make the league) coached by someone like you?
One thing winning programs across the country do is try to bring some life into the work they put out. Our head strength coach Thomas Carroll created groups for weight loss and weight gain guys, so we'd try to develop group names and graphics to post alongside them. Now, I'm not a graphic designer but that is not going to stop me from making it look the most appealing. For the weight loss group, I created a "Gucci Gain" category, displaying the transformation of an overweight, unhealthy Gucci mane into a defined ripped up Gucci mane. The weight gain club was called "The Incredible Bulk" and had a regular Bruce Banner transform into a muscle-packing beyond-recognizable monster. If you make it fun, the athletes will love and buy into it. If they love it, they'll be consistent with their work. If they're consistent with their work, then positive changes will happen. When positive change happens, the coaching staff, athletes and performance staff will remember and respect you. When asked to complete a task, be fast and if there's an obstacle, find a way. Don't come back and say, "I couldn't do it." There's always a way.
5. Learn From Your Superiors
Learn how your superiors handle situations. Ask them if they could expand on how to respond to certain situations because a coach that is willing to learn is somebody that they want to work with. Do not wait until you're in that situation to "go with the flow." You have to be able to prepare yourself for future situations. Having multiple skill sets will advance you in this field a lot faster. At times you will be responsible to do things you never thought you were going to do. One of the situations that most performance coaches go through is being the "nutrition guy." In this role, you're responsible for making post-workout smoothies, restocking the fuel station, or being responsible that the weight gain or weight loss guys are picking out the right snacks in between classes. Be open to change and be open to growth because you won't see change until you are uncomfortable. 
6. Create the Culture
As coaches, when talking programming and the "why's" behind exercise selection, placement, and combination, we should always take the time to listen to each other and expand our knowledge. This is an advancing field in which competition is very high. To separate yourself from the next guy, ensure that you know everything they know, and you also know how to apply it, and coach it. No matter where I worked, I was fortunate enough for the staff around me to make me aware of certain flaws I had while coaching and mention ways how I could fix them. In a culture where you are trying to make the athletes the best they can be, you have to be open and transparent enough to be held to these same standards to achieve greatness. Having open discussions and being open-minded to other coaching styles and implementation is key to growth. Take what you like from others, use it, or neglect the aspects you disagree with.
One must adapt and adapt quickly in this field if you want to keep your position. At times we will work under head coaches or strength coaches and be in disagreement with why certain exercises are being done or how they're being done, but we must coach the way we are instructed to and be on board with every single quality that is implemented into the program. That is not to say that you cannot express your opinion. Just make sure to do it at the right time. It is a bigger disservice to the athletes if you do not say something that you feel is detrimental to them. Often, coaches will implement particular training because "That's the way we did it at my last institution and that's the only way I've seen it done." Be active in every part of the culture; the team breakdowns, the excitement leading into game week, going to see them at the games, and proudly representing the school.
The culture I come from is all about holding each other accountable—know where you did something wrong and know how to fix it. When you're given an opportunity, be loud, be fearless, be confident. Whenever I'm around a coach at practice, in the weight room, or at a conference, I always take mental notes and even write them at times to study later.
While they are coaching, never interrupt someone. Listen as if they are coaching you. After they are done explaining, echo, and be direct to the athletes on what is expected. Don't tell them to fix an exercise but tell them HOW to fix it. As an example, an athlete may not be getting deep enough in his squat. Instead of saying, "Sit all the way down," say something like "Open up your stance a little more, point your toes out and push your knees out, break at the hips before the knees, and sit back and out." 
7. Learn to Communicate
Learn to treat the janitor and athletic director with the same respect and appreciation. Referring to your friends as "bruh," "slime", and "homie" may be fine with some individuals, but make sure to talk to each other respectfully at times with a "Yes sir," or "Yes mam," to instill professional qualities. When coming into a program, you can't come in demanding and screaming at anyone and asking for respect when nobody even knows you yet. Create some thrill and give the athletes some type of excitement in which they have something to look forward to in training. Why would somebody that doesn't know you and someone you've never done anything for, do anything for you? Get your athletes set on a routine because no matter if they end up playing professionally or not, you will always operate on a routine. Work on the craft now to perfect it by the time they graduate.
Some athletes are more introverted than others, so they prefer to get in the weight room and get the work done and that's okay. Not everyone on the team can be a leader and they shouldn't be forced to. Introverted athletes will be vocal when they need to be and lead by example by doing what needs to be done at the right time and in the right ways. Learning how to talk to each individual falls into knowing your athletes and reacting to their personality type. One thing you should never do is get personal with the athletes. Always judge the performance and not the performer. When you get personal and start going at the athletes for his faults, the attack may do more harm than good. An example of this would be instead of telling the athletes, "You are the sloppiest, lazy individual I have ever coached," you say, "That was the sloppiest, lazy performance I have ever coached." At this point, you will get the point across to your athletes without doing any psychological harm to them and making them feel worthless and attacked. By saying the right things, you might trigger that competitor deep inside and create a huge upward impact that carries them throughout life with a work ethic worth having.
8. Leave a Lasting Impression
There are usually two types of memories that every athlete holds with them throughout their athletic careers; the hardest moments and the most fun moments. I believe a good strength coach will have athletes who want to reconnect and tell them how well they're doing and how positively impactful their teaching was. Instilling messages at the end of the workouts are great for these moments. When you are around these young boys and girls, everything you say could mean the difference between the actions they commit around the day. Be open and relate to them, show them the importance of integrity, self-care, mental health, academics, efforts, friendships and family, equality, and anything you wish someone could have told you at an early age or what was told to you at an early age that really helped you do the right things.
Show great body language and don't only be their coach; be their therapist, motivator, teacher, hypemen, friend, etc. Your players will always respond to how you approach them. If you want them to wake up and be more energetic, then be the same way. When you help build a better person, you will help build a better athlete. A good person will give all they can to everything they love even when they don't feel like doing so for the sake of themselves or the ones around them. Show your athletes you care and be there for them by going the extra mile to make sure they're protected and taken care of. You might impact them in such a way, that they too want to become a coach in the near future.
---
Originally from Miami, Florida, Emmanuel Alberio, aka Coach Kimo, is the graduate strength and conditioning assistant for the Division I HBCU North Carolina Central University. Coach Kimo is in charge of programming for softball, volleyball, men and women's tennis, and men's golf; he is an assistant for football, baseball, men and women's track and field, basketball, and cross country. After a brief time at Florida International University, he joined the NCCU strength and conditioning staff, where he was a full-time strength and conditioning student intern for all 17 sports, plus cheer and dazzlers.
Coach Kimo holds a bachelor's degree from Florida International University in sport and fitness studies and is earning his Master's in athletic administration. He holds an NCSF CPT certification and is pursuing his NSCA CSCS. Working independently with athletes from as young as high school all the way up to the professional levels, Coach Kimo has helped athletes with speed development, rehabilitation, and overall sports performance. Follow him on Instagram and Twitter @CoachKeemz.