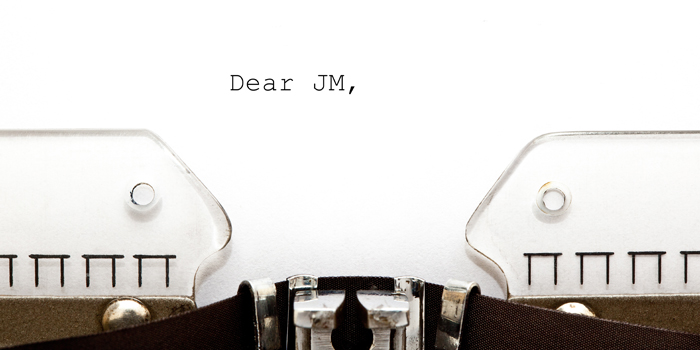 Dear JM,
If you consider this is a strange "open letter," you may be right. I suspect you have received stranger requests along your journey. Some may say I am "mad," but truth be told that this one is pretty tame as far as requests from strangers' rank.
First, by way of bookkeeping, I have no living uncles. Succinctly stated, I suffer from an uncle shortage.
While growing up, I had several great uncles in my life and was remarkably close to many of them. One of them, coupled with his son, my second cousin, ushered resistance training into my life at the tender age of six.
The disadvantage of being close with great uncles is that when early adulthood arrives, they have expired. They do not have the opportunity to observe what you have become. Which is to say, I am left to navigate life's treacherous journeys alone.
---
RECENT: The Effects of COVID-19 Eliminated My Job
---
To start, I had zero uncles on the paternal side of my family. My father's only sibling is a sister who never married. I had one uncle, my mother's brother—Uncle Richard ("Uncle Rich") on the maternal side. Unfortunately, Uncle Richard passed in 2016.
Uncle Rich was a larger-than-life character—in both personality and physical size. Rich went about 6' and vacillated in the 350 to 400 bodyweight area.
I remember he played in a kickball game with the kids in front of my Auntie Anna's house (a great aunt). I was playing first base. Uncle Rich kicked the ball and ran to first. By the time he got to me, he was a runaway freight train and could not stop as I tried to put the tag on him. Uncle Rich ran me clear over, and the only thing that prevented my skull from bouncing off the asphalt was his deft and lucky grab of my shirt. He virtually dragged me, between his legs, for another fifteen feet until he was about to curb the momentum.
I miss having uncles. I would like to have a larger extended family, which is the premise behind this open letter.
I need an uncle.
THE REQUIREMENTS
JM, this request is a sweet deal for you. The best part of it is that it requires minimal-to-no effort on your end. Effectively, I need to know you are there.
The requirements (in a nutshell), should you consider accepting this proposal:
You allow me to call you/refer to you as Uncle JM.
You allow me to reach out to you periodically to let you know how I am doing (maybe some updates on work or what the kids are up to).
You allow me to send holiday cards where I wish you well. I may choose to invite you over to spend a holiday or two. Still, you reserve the right to politely demur should you choose.
You will have no obligation to respond, however, if you need me, I will be there for you, and you may connect with me at any point.
From my perspective, this is not a legally binding arrangement—it is an arrangement of familial warmth and convenience.
You need not worry about your new "nephew" approaching you for financial support, as I am decently situated.
Why did I choose you?
That is a great question, to which I am afraid I do not have a compelling answer.
To be clear, I have not fully vetted all other eligible candidates. I briefly considered asking the comedian, Joey "Coco" Diaz, and I may still ask him. After all, you can never have too many uncles, right?
My gut suggests you are the best fit, and I hope this request lands nicely with you.
Warmest regards,
Erik J. Eggers—your future (hopefully) nephew
Header image credit:  Ivelin Radkov © 123rf.com