The Power of Observation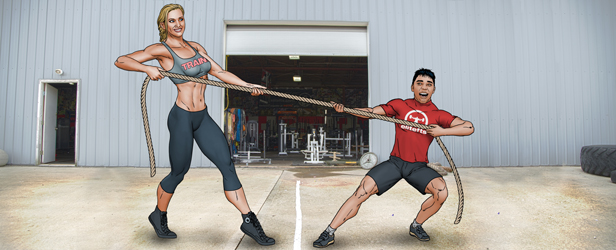 As it's easy to work within a bubble — relying on your own expertise through past experience, self-trial and error, and schooling — ongoing education (formal and informal) is an invaluable resource. Continual education, in the form of seeking advisement from professionals active in the field of study, can allow experts to 1) question your approach 2) provide feedback, and 3) further develop your craft. Think about it. How are you maturing your own training? How do you plan on earning that promotion at work? Why is your art meaningful?
I imagine a large-scale map and the only way to continue to roll it open (to see all possible routes, to get closer to the destination, to find attractions along the way) is to ask questions, be seen, and seek new sets of eyes.
Therefore, programming for Blaine and meeting his and Dave's needs require me to consociate my work with the expertise of other professionals in the field. In this article, I share what I learned from Coach Matt Wenning and Dr. Nefi Charalambous-Darden.
Observation of Coach Wenning
My first observation was of elitefts™ advisor, strength coach, and world-record powerlifter Matt Wenning. Matt owns Ludus Magnus Performance Center in Columbus, Ohio where he works with a wide range of populations, including one family touched by autism. On Sunday mornings, after Matt and our powerlifting crew benches, he trains Noah, a 12-year old boy who has Asperger's.
After Noah's physical therapy had stalled in progress, (in the 1st grade), his mother realized that he would benefit from ongoing care. "You could describe his walking as waddling. And to jump—that was out of the question," Noah's mother said. Her brother, who was working with Matt as a client to regain mobility after paralysis, suggested she contact Matt. "They [Matt and Noah] connected immediately, and have been a great fit," she says. From then till now—Noah in 6th grade—their goal has been to strengthen Noah's legs, permitting him to walk and play without restriction.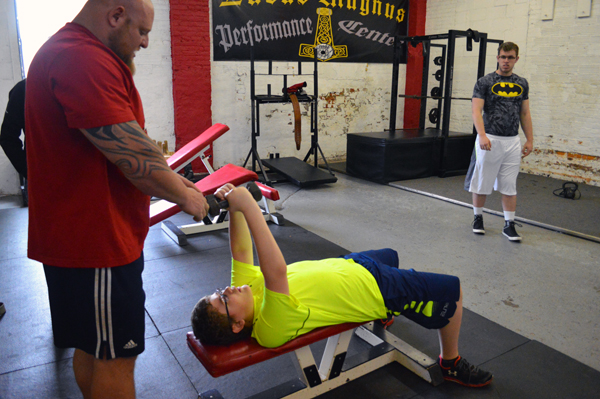 Although Noah and Blaine have different goals to reach through training, within the 60-minute session, I found similarities, differences, and a few new approaches I'd like to incorporate into my programming.
Similarities
I noticed three things that I too incorporate into Blaine's training. These components, Matt and I agree, are very important when programming for children, especially for children with autism: setting up the environment, placing an emphasis on play, and knowing when to back off and provide rest time.
Setting up the Environment
As the time got closer to 11 AM, Matt changed the music from 50 Cent to AC/DC and lowered the stereo's volume down 40 percent. As Noah and his mother entered the building, all of Matt's attention transferred from the sweaty powerlifters to the child and the parent. Matt became calm, welcomed them in, and allowed Noah to get accustomed to his surroundings.
Emphasis on Play
Midway through the session, and after sled pulls, we all walked toward the "Troll House," a small brick building covered in vines, a yard across the street. Matt held the client's hand, crossed the road, and then let him run free for the remainder of the way. After a few seconds of allowing him to check the area and the troll's inside, Matt instructed that it was time to head back to the gym. As this motivated the child to complete his sled pulls, it also motivated him to get back to work.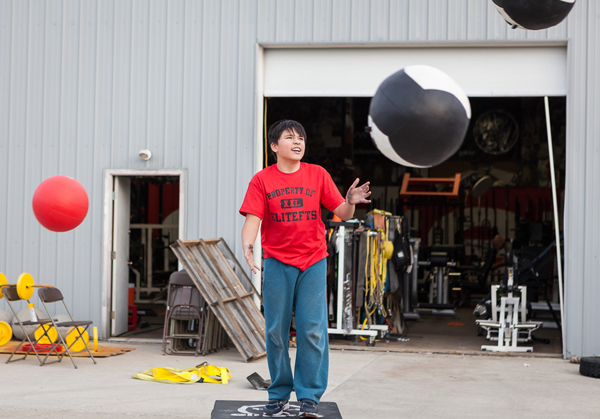 Backing Off
After rope jumps (rope remains on the floor as the child clears the rope by jumping back-and-forth) Matt sensed it was time to back down the work intensity to give the child a moment to recover. This helped to minimize frustrations. Looking at the child, one could see that his heart rate was elevated, he was covered in sweat, and he began to look overly exhausted. During the brief rest period, the child had the opportunity to drink water and talk with Matt about the current song playing on the stereo.
Differences
As I found similarities between the ways I program and how Matt programs, I also found a few differences based on the individual needs of Noah:
Noah prefers oral instructions and did not require a schedule.
Throughout the session Noah's mother remained by his side, actually motivating the child throughout, without hindering his performance.
Noah preferred to listen to music.
Blaine on the other hand, works best with a tangible schedule in view with the ability to cross off and make adjustments as we go. Although Dave is in the gym during the entire session, Blaine is not dependent on him for motivation or praise. Environment-wise, Blaine prefers no music if it's just him and I, but if others are training he seems to value the need for the others to listen to music.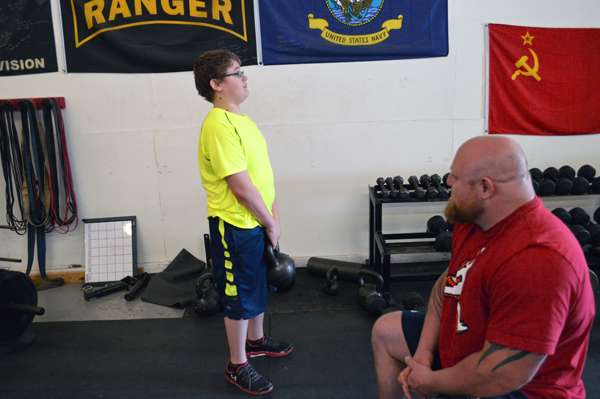 New Approaches
Through observation, I found two new approaches to specific exercises that I plan to try and provide for Blaine. The first exercise that I took note of was tire stepping. Instead of having Matt's client step up onto the tire, he had him raise his foot over the tire and into the center. He traveled his trailing leg in the same manner, stood in the tire for a few seconds to regain balance, and then repeated outward. I will incorporate this task in my training because stepping onto the tire (we have a 600-pound tire at the compound) is currently too difficult for Blaine. This modified version will serve as a progression until he's strong and confident enough to step up onto the tire.
Another exercise that I took note of was the decline crunch. The movement was not necessarily the part that interested me, but instead Matt's approach in coaching it. He reminded his client "chest to rib cage" for the first few reps while physically tapping each area as he crunched. This cue was a great reminder for Noah to demonstrate good form, a sure-fire way to have him hone in on using the correct muscles to do the work. I will, when appropriate, use this approach when cuing Blaine while he's crunching, and think of other cues to use for different movements.
Observation by Dr. Nefi Charalambous-Darden
In my need to receive critique of my own work, I also have been observed by Dr. Nefi Charalambous-Darden, while she and husband, Clint Darden (elitefts™ sponsored professional strongman) were in town on vacation.
Clint and Nefi own a center of development and support for children and teenagers with autism in Cyprus, where Nefi is a classroom teacher. The head of the National Autistic Society of England has recognized her efforts within the field.
Her Findings
Nefi's biggest emphasis was that she wanted me to include more proprioceptive stimulation during future sessions. She found that many times throughout the session, his movement patterns — through running, pulling a sled, bowling, moving from one direction to another — were "clumsy." She suggested a few activities that I could incorporate to improve his balance, coordination, movement patterns, and ability to move by command.
Based on her suggestions, my two main goals are to 1) combine far senses (seeing, hearing, smelling, tasting, and touching) with near senses (movement, position, and touch) and 2) find associations to make the left side of the brain work with right side.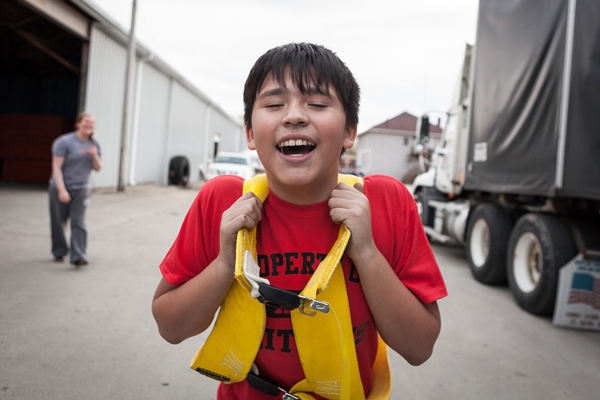 She also offered to serve as an advisor to myself, continuing to guide Blaine's progress, send informational and tutorial videos covering specific strategies, share suggestions, and serve as a springboard for new and improved ideas.
Bridging the Gap
A team of professionals surrounding a child with autism is paramount to his or her development. Demonstrated in the 12-Week Progress Report, the collaboration between Dave and I permitted us to revisit our short and long-term goals, gave us time to review the components of the training accompanied by results, and provided questions and answers to fine-comb our needs-based approach. Connecting with Coach Wenning and Dr. Darden add to this collaboration, strengthening Blaine's support system (the unfolding of the map) through ongoing education, observation, and feedback.
Loading Comments...