Coaching, Sports Performance, Strength & Coaching, Video
WATCH: Buddy Morris's Physical Preparation for Football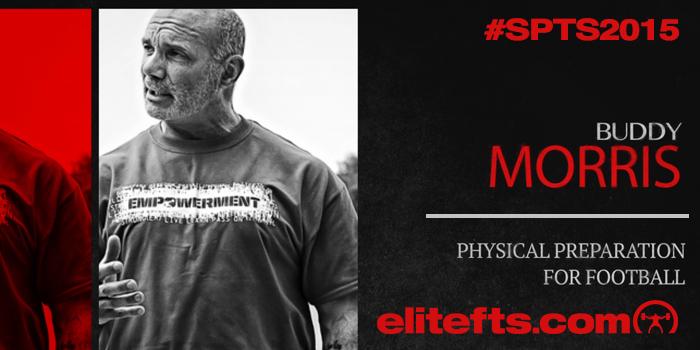 Otherwise known as Coach X to the elitefts faithful, Buddy Morris was the first strength and conditioning coach to join the elitefts Q&A staff in 2002. Morris was a staple at the University of Pittsburgh and the originator of the Pitt Iron Works Gym where he trained five NFL hall of fame inductees, including Dan Marino, Rickey Jackson, Chris Doleman, Russ Grimm, and Curtis Martin. Morris is no stranger to rehabilitation, agility, flexibility, and speed development. Morris trained Roger Kingdom who won a Gold medal in the 1984 and 1988 Olympic games in the 110-meter hurdles. Buddy Morris is one of the original coaches in the strength and conditioning profession.
"Buddy's one of the all-timers. He helped start this profession. Nobody talks enough about Buddy being one of the pioneers."

- Joe Kenn
This presentation will detail five main points to enhance the physical preparation of football players. Training is a long-term process and this presentation will help the coach look at training in a long-term athletic development standpoint. Coach Morris will also detail training specifically to the bioenergetic requirements of the sport. Namely, football is alactic-aerobic in nature. Position specificity requirements will also be discussed along with adjusting appropriate training volume based on those positions, especially when prescribing speed.
WARNING: VIDEO CONTAINS EXPLICIT LANGUAGE
---
Buddy Morris
Head Strength & Conditioning Coach - Arizona Cardinals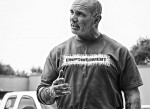 Buddy Morris enters his second season as the Cardinals strength and conditioning coach after being hired on 3/4/14. Previously with the Cleveland Browns from 2002-04 where he worked with current Cardinals head coach Bruce Arians, Morris returned to the NFL in 2014 after working at the collegiate level for 19 years.
A native of South Park, PA, Morris has an extensive background in strength and conditioning dating back to his first job at his alma mater, the University of Pittsburgh, where he began his coaching career in 1980 in the first of his three stints with the Panthers. He worked under head coach Jackie Sherrill from 1980-89 and aided in the development of future NFL Hall of Famers Dan Marino, Rickey Jackson, Chris Doleman and Russ Grimm. During that period, Morris helped train 13 first round NFL draft picks and 15 first-team All-Americans.
Morris specializes in workouts that focus on strength training, speed development, conditioning, agility training and flexibility.
After working as the wellness director for the Horizon Hospital System in Sharon, PA from 1989-97, Morris returned to Pittsburgh and worked from 1997-2001. During his second tenure at Pitt, the Panthers made three bowl appearances: the 1997 Liberty Bowl, the 2000 Insight.com Bowl and the 2001 Tangerine Bowl. Morris also developed the moniker for the Panthers strength and conditioning program, "The Pitt Iron Works." In 2009, Muscle & Fitness Magazine name Morris' gym one of the 10 toughest in America.
Morris then joined Butch Davis and the Cleveland Browns for three seasons before working at the University of Buffalo in 2006 as its Director of Sports Performance. After one season in Buffalo, he went back for his third stint at Pitt under head coach Dave Wannstedt where he worked from 2007-10. The Panthers made the 2008 Sun Bowl and the 2009 Meineke Car Care Bowl during that period.
Following his third stop at Pitt, Morris and his family opened a private gym in Buffalo called the New York Sports Center where he worked with athletes at all levels through personal training, group fitness classes and injury rehabilitation.
Morris worked with Roger Kingdom, the Cardinals assistant strength & conditioning coach and 1984 and 1988 Olympic gold medalist in 110-meter hurdles. He also helped develop NFL Hall of Fame running back Curtis Martin and Pro Bowl guard Ruben Brown while both were at Pitt.
He graduated from Pittsburgh in 1980 after lettering for four years (1977-80) in track and field. Morris is married to Monica and he has two daughters, Kara and Claire, and two stepsons, Fred and Troy.
– Courtesy Arizona Cardinals
---
"Growing up in the South Hills of the Steel City, my heroes were the figures of Pittsburgh sports. The Steelers were almost surreal to me as a fan and other than attending Jack Lambert's Football Camp and training camps in Latrobe, Pennsylvania, they seemed as if they inhabited another planet. The University of Pittsburgh football players were, in fact, more than just giants of the game; they were part of our culture. Guys like Jim Sweeney, Bill Fralic, and Mark Stepnoski were friends of my older cousins and in some way, almost like big brothers to all of us playing pick-up football in the cobblestone streets of Pennsylvania. Dan Mario played baseball for my grandfather up until his junior year at Pitt. And, all of us "yinzers" were heartbroken when Tony Dorsett started wearing a star on his helmet and played for America's team.

The icon who prepared most of those men is the reason that (in a round-about way) I became a strength and conditioning coach. Buddy "Coach X" Morris has always been someone who most of us looked up to, even when he told you things you didn't want to hear about training and physical preparation. Coach X became a staple of www.elitefts.com. Videos of when Dave and Jim visited Buddy and Mylo when they were coaching the Cleveland Browns still rank as some of the top learning experiences.

If there is one thing that is evident, it's that Buddy Morris was meant to be a strength coach. Buddy makes no apologies for being who he is. He has the knowledge and the experience to validate what he believes, while always questioning whether there is a better way to do things. Buddy knows that coaching never was and never will be about him. With over three decades of experience, no one can deny Buddy Morris' impact on the strength and conditioning profession and the athletes he has coached." – Mark Watts
---
More from Buddy Morris
American Football Physical Preparation eBook
Buddy Morris on the Elitefts Sports Performance Podcast
Gabe Naspinski's Interview with Buddy Morris from the LTT6
Ryan Williams's Interview with Buddy Morris
SPTS15 Speaker Spotlight: Buddy Morris
SPTS15 with Buddy Morris: Best Recovery Method
SPTS15 with Buddy Morris: 3 Quotes to Live By
Buddy Morris' Parenting Advise (w/ SPTS15 Twitter Feed)
---
Purchase Joe Defranco's and Joe Kenn's presentations from the SPTS15:


Loading Comments...