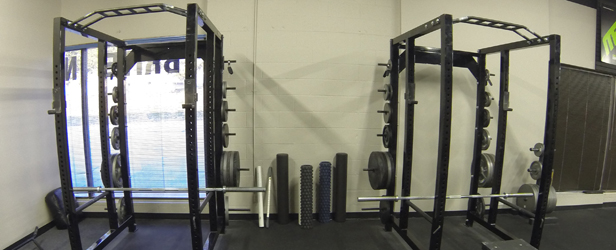 The Elitefts.com™ V.I.P. Gym series will provide some valuable insight from owners of the top training facilities in the country.  These entrepreneurs have made tremendous sacrifices by starting their own businesses, where creating the culture is as important as providing the space and equipment.
Who are the individuals most responsible for helping you open, maintain, and operate your own facility?
The idea of Omaha Barbell would have never came to life without my wife Amber, our business partners Craig and Layna Beer, and all the amazing members and guest that have come thru the door!
What is the size & basic layout of your facility and what equipment do you utilize?
The gym is 3,800 square feet in size and is modeled to be a miniature version of the EliteFTS™ Compound.  We have an 8'x45' stretch of carpet to run the sled and Prowler on, two monolifts, two deadlift platforms, two competition benches, two 3x3 EliteFTS racks, GHR, a 45- degree back extension, a chest-supported row, two lat pulldown machines, dumbbells up to 130 pounds, and of course some cardio equipment.
 "Omaha Barbell is a one of a kind gym.  Not only does it have anything you could possibly need to get bigger, faster, and stronger, it has something not many gyms have, support.  The owners, Bret and Amber Carter, are one-of-a- kind.  Because they are involved in lifting, understand the needs of powerlifters and treat us as if we were a part of their family, I wouldn't want to train anywhere else."

- Mick Manley, Elitefts™ Sponsored Pro Powerlifter

When did you open your facility and what motivated you to do so?
Omaha Barbell started out as just a pipe dream.  I would have people stop by the one on one training studio that I own asking to workout there based on the equipment that we offered.  After talking with my wife Amber and some friends who were interested in going in to business together, we moved forward with the idea, and Omaha Barbell was born.  We have been open since December 8, 2012, and Amber and I cover most of the hours the gym is open with the help of  one employee to keep the overhead costs down.
Where is your facility located and what is your basic demographic?
We are located in the center of Omaha, Nebraska with a member base that spans all ages and experience.  Omaha Barbell has its own niche in this area because no one in the city if not the state can compete with the specialized equipment we have let alone the experience!
"Omaha Barbell is an unmatched facility; the knowledgeable owners, helpful team members, and awesome equipment make it the perfect place to get strong! There are such a variety of lifting styles with powerlifting, strongman, fitness, crossfit styles and others, you are sure to find your niche. Perfect for novice or advanced lifters, I am proud to be part of Omaha Barbell!"

- Mandy Bennett
What is your basic training methodology and what drives your programming for your athletes and clients?
I don't really have a basic training methodology that I use for my clients, because I train such a wide variety of clients from young athletes to retired men and women.  My own personal methods are based around a mix of Westside and some of Ed Coan's ideas.  Everyone on the Omaha Barbell powerlifting team has their own way that works for them and gets them to the same common goal,  get STRONG(ER)!
Final Thoughts?
I have been very lucky the last few years to meet and get ideas from a lot of great people in the strength and fitness industry.  Just to name a few, Dave Tate, Matt Goodwin, the entire staff at EliteFTS™, Louie, Buddy Morris, Ed Coan, and Cory Gregory from MusclePharm.  The knowledge and equipment these people posses is out of this world. If you have a chance to talk with any of the people, listen, because they have been there and done that and are all very successful!