Longtime elitefts Supporters Open High Performance Fitness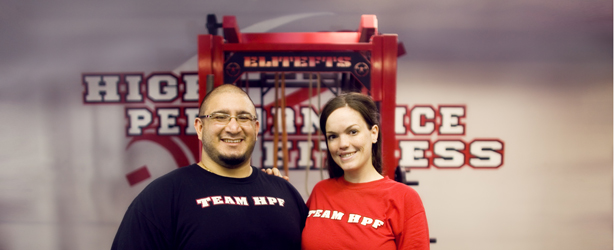 elitefts™ Sunday Edition
The elitefts.com™ V.I.P. Gym series will provide some valuable insight from owners of the top training facilities in the country. These entrepreneurs have made tremendous sacrifices by starting their own businesses, where creating the culture is as important as providing the space and equipment.
Who are the individuals most responsible for helping you open, maintain, and operate your own facility?
There are many individuals who have helped and continue to bring value to our facility. Growing up in a very supportive household environment shaped my mindset from a very young age. My parents encouraged me in everything I have ever done. Being told I can accomplish anything if I put my heart into it gave me the courage to open our facility.
A HUGE piece of the puzzle that helped bring everything together is my wife, Gina Davis-Mireles. Not only did she push me to follow my dream, she has been there every step of the way to make it happen. Whether it was from pulling multiple all-nighters to come up with a business plan, laying down carpet, hand-painting the murals in the gym, and building the front desk by hand or simply keeping me focused; I could not have done any of this without her. She is the brain behind the scenes and my big motivating factor in life.
The "Power Couple," better known as Matt and Julia Ladewski, has played a big role in the development of High Performance Fitness, Inc. Before we opened our facility, Matt Ladewski was always happy to share great training and business advice with me. I was fortunate enough to meet his wife, Julia, whom I had read about and followed on elitefts™ and Girls Gone Strong before we officially met. They have been great mentors since day one and have helped out in more ways than I think they know.
Day-to-day operations is a family affair, literally. My sister, Jena Mireles runs the front office and keeps everything organized to make my job and life a little easier and less stressful. When she has a day off, which is rare, my mother and father cover the front desk. Each person brings something different to the table that, in turn, makes High Performance Fitness, Inc. a unique place to train. We have very strong family values and that is evident in the culture that's present on the floor of the gym. Everyone is treated as a member of our family and made to feel welcome in our "home" and our members emulate it too.
What is the size & basic layout of your facility and what equipment do you utilize?
We have a 2500 square foot warehouse-style facility that consists of a front office for members to check in (separated by a door from the facility), two restrooms, a small locker room, and a couple small offices. Most first-time visitors say they never expected it to look the way it does when they pulled up (in a positive way).
The gym floor is a lifter's paradise. After leaving the front office, you are welcomed with loud music, chalk, and the sound of iron being loaded on the bars. As you look around, you will only see the tools necessary to get you strong(er). This does not include any mirrors, television screens, or junk equipment.
TEAM HPF's Elitefts™ EQUIPMENT:
• Elitefts™ Signature Monolift
• Two Elitefts™ E-Series Full Power Racks
• Elitefts™ Deluxe Competition Bench
• Elitefts™ Safety Squat Yoke Bar
• Two Texas Power Bars
• Texas Deadlift Bar
• Elitefts™ E-Series Glute Ham Raise
• Two Elitefts™ 0-90 Incline Benches
• Two Elitefts™ Dumbbell Flat Benches
• Two Elitefts™ E-Series Box Squat Boxes
• Elitefts™ Prowler 2®
• Elitefts™ E-Series Farmers Walk Handles
• Battling Rope
• Two Elitefts™ Pro Resistance Band Packs
• Foam Rollers
• Rumble Roller
• Medicine Balls
• Elitefts™ Grenade Balls
• Elitefts™ Lat Pull Down Attachments
• Elitefts™ Chalk Bowl
• 2,300 pounds of plates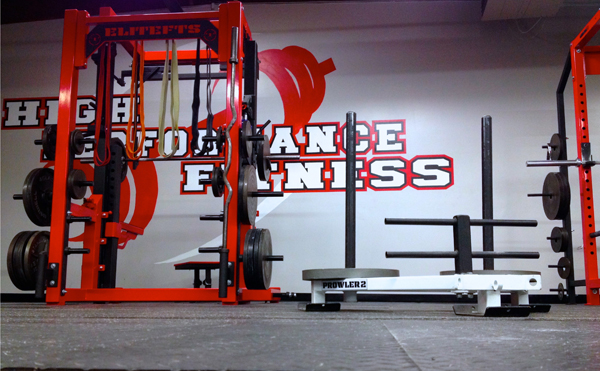 When did you open your facility and what motivated you to do so?
After attending LTT4 in May of 2012 I left the compound with a fire in my heart. At the end of the amazing weekend seminar was a Q&A session with Dave Tate. I asked Dave for advice about opening a training facility. The first thing he recommended was to call up sales manager Matt Goodwin to buy great equipment. He then followed up the shameless plug by asking me why I wanted to open a training facility. I had difficulty giving a definitive answer because there were just so many "WHYS" in my mind but I couldn't get it out in words. He then said something at the end of his answer that I will remember forever. "Your passion for what you do can't be in your head and it can't be in your wallet. It's gotta be in your heart." From that day forward I was determined to make it happen.
My motivation to open High Performance Fitness was a simple one. I wanted to open a facility that would have a positive impact on the people in my community. I come from a neighborhood where there were once thriving businesses, well-kept homes and busy parks with kids playing. There now stands empty lots, boarded up foreclosed homes, and vacant fields over grown with weeds. Simply by having a facility where people can not only create a stronger body, they can also create a stronger mind. By creating a strong mind we can help many people in countless ways. I truly believe if you live life not making someone else's life better than you are wasting your time living. If we can use strength training as a tool to help someone relieve stress, live a healthier life, earn a college scholarship or have the confidence to work towards a dream, then our job at High Performance Fitness is done. This will not only impact the member's life but also the family and friends who are in their life too, and in turn impact the community as a whole.
We opened our facility on October 27, 2012. We had an amazing amount of support shown from countless family members, friends, and former colleagues at our grand opening. We recently passed our one-year anniversary, and according to Dave Tate, that means we're doing better than 85% of the new small businesses out there!
Where is your facility located and what is your basic demographic?
High Performance Fitness, Inc. is located in an industrial park in the south suburbs of Chicago. Having this type of setting gives us a lot of freedom to put in a lot of hard work, blast our music, and use the asphalt outside for Prowler runs, and flipping tires, etc. Our demographic varies from athletes who are on scholarship, to stay-at-home mothers looking to get strong(her)™, and everything in between. Even with a variety of backgrounds, each member has one thing in common: they TRAIN HARD and encourage one another. We cater to those as serious about training and results as we are at High Performance Fitness, Inc.
What is your basic training methodology and what drives your programming for your athletes and clients?
Our training methods vary depending on the goals of our members. We offer open-gym memberships and many of the general members work with a basic 5/3/1 method on their own. We also offer customized training programs for clients who enroll in private training. One factor that a lot of lifters don't think about is the mentality training that inevitably coincides with strength training. In order to push your body to its limits, or lift like you have no limits, your mentality has to be dialed in. We teach and demonstrate how success under the bar is directly correlated to mentality. Another key ingredient to our methodology is the atmosphere. All of our members support and encourage each other to push themselves and all feel responsible for making each other better and strong(er), like a family.
Final Thoughts?
There is no better feeling than the thought popping into your head in the middle of the day, "I can't believe I'm at work right now" because it doesn't feel like work. Sure there are moments, too many to count, that cause my hair to turn grey while running this business, but I would not have it any other way. As Dave Tate says, "Passion trumps everything." Our driving force is to make a positive impact on the people we come in contact with at HPF. Many things had to line up just perfectly for us to be where we are today, and none of them go unnoticed or unappreciated. Without the support of my wife, my family, TEAM HPF members and elitefts™, none of this would be possible. Great things can happen when you have an amazing support system while putting your head and heart into your goals.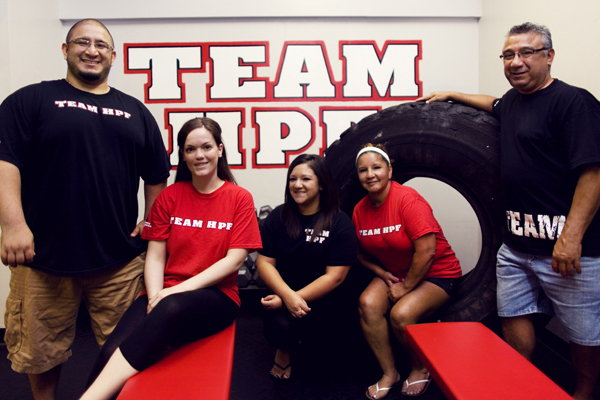 Loading Comments...