Speed Bench with Jo Jordan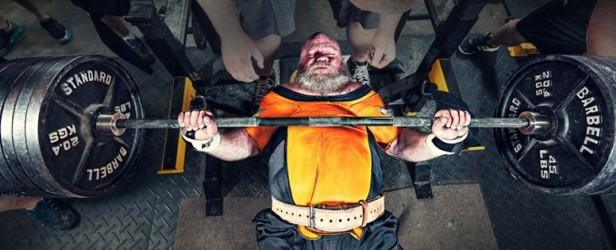 Elite FTS pro team member Jo Jordan uses speed benching as part of his bench arsenal when training upper body. When doing speed bench typically you use lighter weight to work on building speed hence the name "speed bench". Due too the lighter load on the bar you can incorporate bands, or chains as added weight or resistance to the workout. When doing speed bench your work volume is heavier than most bench routines. Multiple sets with reps ranging from 3 to 6 reps depending on how much weight or resistance is on the bar.
In the video below Jo Jordan shows his speed bench workout.
The workout:
Speed Bench
bar x 40
95 x 20
bar x 5 added doubled mini bands
135 x 3
185 x 3
225 (~50%) x 3 x 6
To do this workout you will need a bench bar along with your choices of bands, chains, or both.
If you are having trouble with your bench or if your just looking for great reading material on benching then you need to read "Benchipedia: Dave Tate's Free Bench Press Manual"
To access more of Jo Jordan's training logs click here.
Loading Comments...