Three Drills for Throwers to Improve Technique and Develop Rotational Power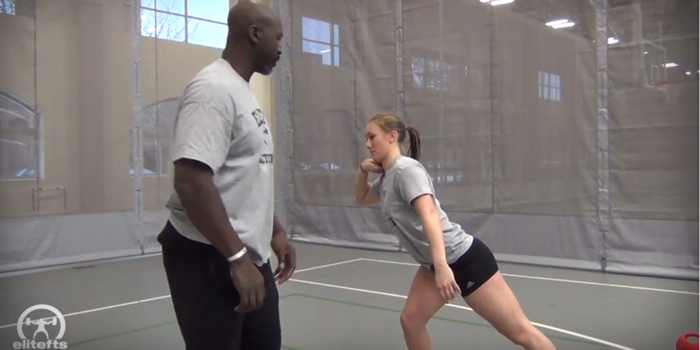 Elitefts Director of Education Mark Watts took a visit to the campus of Capital University in Columbus, Ohio to speak with Director of Cross Country and Track and Field Kunle Lawson along with Division Manager of PowerMax Karl Geissler. Both Men have extensive Track & Field Experience and collaborated on the instruction and implementation of three distinct indoor throwing drills for athletes in developing rotational power and improve specific technique in the throwing events.
Preparatory Exercises for Throwing the Shot-Put
Progressions for this Drill
Double-Hand Backward Overhead Throw
Double Hand Forward Throw
Square Stance Standing Shot-Put Throw
Staggered Stance Standing Shot-Put Throw
Standing Shot-Put Throw
---
Spin Drill
Kunle Lawson demonstrates a spin drill using the PowerMax Grip Ball while Karl Geissler narrates the drill. This drill is not only great for discus and hammer throwers but for any rotational athlete.
Benefits of this Drill
Reinforces athletes keeping weight of the axis of rotation
Incorporates balance throughout the rotation at slower speeds
Introduces transverse movement with resistance and full extension
Prefaces the eventual transfer of power at the conclusion of the spin.
Progressions for this Drill
Quarter Pirouettes x4
Half Pirouettes x4
Three-Quarter Pirouettes x4
Full Pirouettes x4
---
Indoor Rotational Throw
Kunle Lawson demonstrates 1-Arm Rotational Throws using the PowerMax Grip Ball while Karl Geissler narrates. Coach Lawson utilizes a progression to develop rotational power for throwers and athletes alike.
Coaching Cues
Shoulder Over the Hips
Straight, Erect Arms
Moving the Body across the Straight line toward target area
Progressions for this Drill
Standing Throws
Wheel Throw
South African Throw
Full Throw

Loading Comments...