How I Dropped 17 Pounds Over 9 Days and Gained It Back in 12 Hours

On December 12th, the text hit my phone. Just a few days after deadlifting 800 at 239 I got an invite to the XPC Deadlift Bash. It would be the biggest stage I had ever lifted on, with hundreds of people watching us lift on strength stage at the Arnold Classic Expo. I knew to be competitive I would need to get down to 220. I had less than 12 weeks to get ready for the meet and have my bodyweight within striking distance.
The last week is not talked about much. It seems to be personal preference or most people take the whole week off. I decided to document everything — not just the cut, but also the cardio, food, workouts, supplements, the reconstitution, and meet day food.
---
RECENT: The Isometric Deadlift Cycle That Took My Deadlift to 800 Pounds in 22 Months
---
The days of dropping carbs from Monday to Thursday to see a 10-pound weight drop are gone. I eat better and have more muscle, but I drop water more slowly. This is why I included everything from the last week. It now takes a bigger effort for me to drop weight. Getting older is hard work.
Just so I am clear, I want to stress a few things. This is not about health, body composition, perfect macros, or anything else other than making weight before losing my mind. I am sure this is very detrimental to certain bodily processes and my overall health. I do not recommend anyone do anything I have written here. This is my documentation of my process, not a how-to guide. This is how I dropped 17 pounds over nine days and put it back on in 12 hours.
5 Weeks Out
Weight ranged 236-238
Cleaned up diet
Coffee still full caffeine
4 Weeks Out
Weight ranged 235.5-238
Carbs on non-training days reduced
Coffee cut to half-caffeine other than 1-2 cups at home
I taper my caffeine consumption as I get closer to the meet. I love coffee and consume quite a bit of daily caffeine. So I can actually get a boost on meet day, I lower my intake over a few weeks. This sucks but if done over a longer period of time it is manageable.
3 Weeks Out
Weight ranged 234.5-237
Reduced carbs on training days by 25-50 grams
All coffee half-caffeine or decaf
13 Days Out
Weight ranged 233.5-237
No nutrition changes
Coffee now one-quarter caffeine or decaf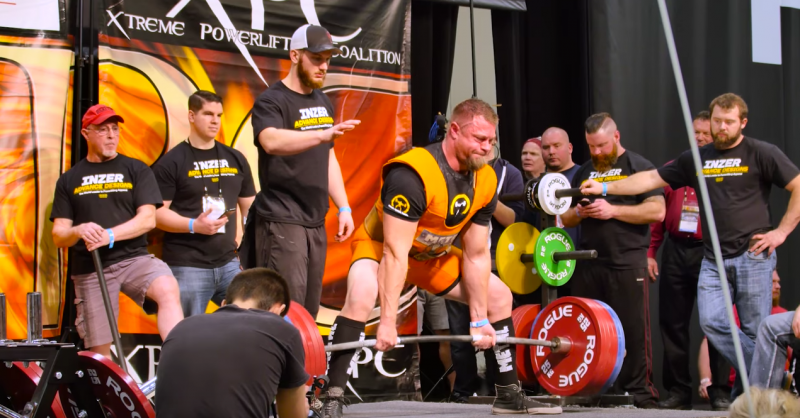 Friday 2/24
6:30 AM
2 scrambled eggs
2 slices bacon
7:30 AM
8:00 AM
8 oz coffee (all coffee from here on out is decaf)
9:45 AM
16 oz coffee (over next hour)
8 oz chicken
100 g asparagus
24 g peanut butter
12:30 PM
7.5 oz chicken breast
30 g ranch
Salsa (did not measure but about two servings)
40 g guacamole
2:30 PM
Half-dose preworkout and 1 g tyrosine
15 g EAAs
Training
Walk on Treadmill, 20 Minutes
Medicine Ball Slams and Ball Hip Lifts (Adductor Rehab), Three Rounds
Hip Mobility
Back Raise and Chuck V Pulldowns, Five Rounds
Deadlift, Four Singles with 455 and 60 Pounds of Chain
Poor Man Back Attack with Yoke Bar and Serrano Split Squats, Four Rounds
Side-Bend Pushdowns
4:45 PM
4 oz chicken breast
1 scoop whey isolate
Cooked carrots and onions
7:30 PM
3 eggs
1 sausage patty
1 slice Colby Jack cheese
1/8 cup Sugar-Free Mrs. Butterworth's
9 PM
225 g Greek yogurt
40 g Peanut butter
1 scoop whey isolate
Daily Water Intake: 1.5 gallons with Crystal Light
Total Daily Liquid Intake: 2 Gallons
Saturday 2/25
7 AM
Weight 235.5
½ pot of decaf coffee
9:30 AM
6 oz breakfast sausage
1 slice cheese
2 eggs
Supplements
Multivitamin
10k IU Vitamin D
Nap
1:00 PM
8 oz chicken breast
75 g asparagus
32 g peanut butter
2:30 PM
1 Diet Dr. Pepper (I needed some caffeine)
4:30 PM
Romaine
8 oz chicken
45 g guac
30 g ranch
Salsa
Supplements
7:30 PM
225 g Greek yogurt
40 g peanut butter
1 scoop whey isolate
Daily Water Intake: 1.5 gallons with Crystal Light
Total Daily Liquid Intake: 2 Gallons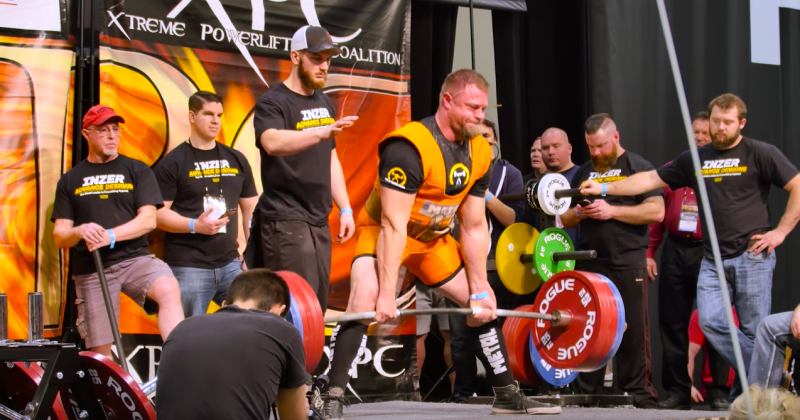 Sunday 2/26
7 AM
Weight 234
½ pot of coffee with heavy cream
8:30 AM
6 oz breakfast sausage
3 eggs
1 slice of cheese
½ pot of coffee with heavy cream
Supplements
10k IU Vitamin D
Multivitamin
12:00 PM
8 oz chicken
30 g ranch
60 g guac
Salsa
Romaine
4:30 PM
3 burger patties (9 oz of 88% lean)
7:30 PM
2 servings Arctic Zero
32 g peanut butter
Daily Water Intake: One gallon of water with Crystal Light, can of carbonated water for the day.
Total Daily Liquid Intake: About two gallons including the pot of coffee. Probably a little under where I needed to be.
Monday 2/27
Woke up and hands were slightly bloated. This is expected with the sodium I am consuming. No reason to panic. I will pull sodium later this week when water goes up to three gallons. I was also low in the fiber department yesterday so I will be conscious of that the next few days.
6:30 AM
2 eggs
3 slices of bacon
3 cups of coffee
Weight down to 234.5
9:45 AM
Training
Fat DD Pulldowns and Medicine Ball Slams, Five Rounds
Pull-Ups Rest Pause (3, 2, 2, 2, 2, 3 with 10 Seconds Between Sets)
Underhand Pulldowns on Dogbone and Dumbbell Overhead Press with Three-Second Eccentric, Five Rounds
Scap Rows on Pulldown Machine and Three-Way Shoulder Raise, Three Rounds
Dumbbell Curls and Flex Grip, Three Rounds
My caffeine withdrawal has seemed to pass and I feel much better. Headache is gone and mentally sharper. Now I am waiting on the lack of carbs to get me in the next few days. I was supposed to drink a shake with whey isolate and leucine but it is terrible, so I ran errands and will wait to eat.
12:30 PM
8 oz burger patties (88% lean)
30 g asparagus
80 g Brussel's sprouts
10k IU Vitamin D
Probiotics
2 Omega
1:30 PM
Still hungry so I ate a Mission1 bar for added fiber while drinking a two-liter of Diet 7 Up. I needed something sweet. Clients will be showing up soon.
3:00 PM
3 oz burger patty
4.5 oz chicken breast
Spicy mustard
48 g peanut butter
4:40 PM
5:30 PM
6:30 PM
8 oz chicken
Romaine
Salsa (didn't measure)
30 g ranch
45 g guacamole
8:30 PM
225 g Greek yogurt
48 g peanut butter
1 scoop whey isolate
Total Daily Liquid Intake: One gallon of water with crystal light, two liters of Diet 7 Up, and nearly a half pot of coffee. This needed to be more or I missed something in my documentation.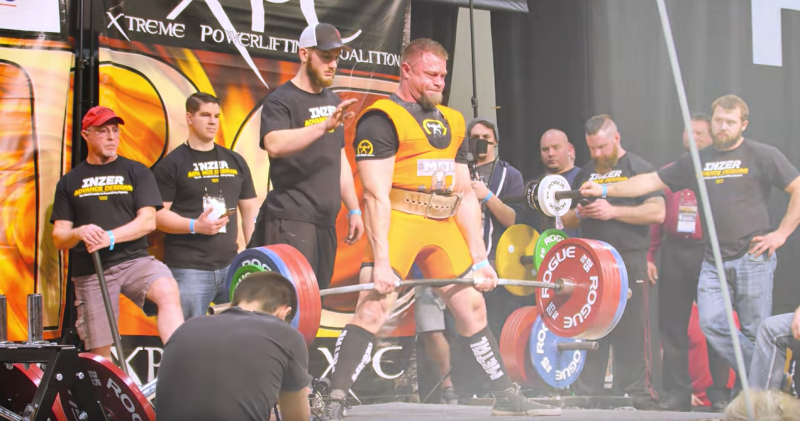 Tuesday 2/28
Goal for today is to increase liquids to 2.5 gallons.
6:30 AM
6 oz breakfast sausage
2 eggs
1 slice of cheese
7:30 AM
Weight 232.5
½ pot of coffee with heavy cream
9:30 AM
Mission1 bar
48 g peanut butter
12 PM
Romaine
2 servings salsa  (460 mg sodium)
60 g guac (220 mg sodium)
30 g ranch (290 mg sodium)
8 oz ground beef with taco seasoning (not sure of the sodium content)
1:30 PM
1 g tyrosine
10 g EAAs intra-workout
Training
I forgot to write it all down but here is what I remember:
Walk on Treadmill, 10 Minutes
Medicine Ball Slams, Pulldown Abs, Pull-Throughs
Two Sets of Reverse Hypers (25% of Normal Weight)
I know there was more than this but I can't recall. I erased it off the whiteboard before I could write it down.
3:30 PM
45 g whey isolate and 4 g leucine (terrible!)
4:30 PM
175 g Geek yogurt
1 scoop whey isolate
48 g peanut butter
I ate something after this but shutdown my computer and didn't write it down. I know I had six large asparagus spears, four slices of bacon (1,000 mg of sodium), and some eggs.
Total Daily Liquid Intake: Two gallons of Crystal Light and the coffee.
Wednesday 3/1
6:30 AM
7:30 AM
I feel like I am a little behind in the cut but the sodium still has my hands bloated. I need to stay the course and not panic. I know at the end I will have work to cut the last few pounds but three pounds the morning of should be fine. I have done that before without a problem. It also makes the reconstitution easier.
10 AM
4.4 oz ground beef
2.3 oz chicken breast
I can tell I am starting to get crabby. Lack of carbs, caffeine and overall sleep quality is getting to me.
12 PM
6 chicken wings
Mission1 bar
2:45 PM
8 oz chicken thighs
Romaine
30 g ranch
60 g salsa
60 g guacamole
I also had 16 g peanut butter that was not planned but I was still hungry
4:00 PM
I am worn out and extremely tired. This is normal and I just have to keep pushing forward. I had clients until 6:45 and didn't get a chance to eat. Plus drinking three gallons of liquid today has me full.
7:45 PM
2 slices of bacon
8 oz ground turkey (93% lean)
6 asparagus spears
Total Daily Liquid Intake: Two gallons of crystal light and two, two-liters of Cherry Diet 7 Up
Thursday 3/2
Dropping sodium today
All liquid is plain distilled water
No breakfast
7:30 AM
Weight is 232.0
4 MHP Xpel (this will help start pulling water)
9:30 AM Training
Three Rounds: Bradford, Band Over-and-Backs, 10 Medicine Ball Slams
Dumbbell Rear Flyes
Pull-Up Muscle Round (3,2,2,2,2,3)
Four Rounds: Tsunami Pulldowns x 12, Band Pushdowns x 25, Barbell Curls x 12
Two Rounds: Dumbbell Flyes x 15, Dumbbell Shrugs x 20
HIIT on Airdyne: Five sprints of 15 seconds and 45 seconds of moderate pace.
Legs were toast but upper body had some left in it. I am out of shape. Should have done this since Monday.
Out of time, as I needed to get to the chiropractor before leaving tomorrow. Got back to the gym at noon. That is right — I haven't eaten yet today.
12 PM
4 MHP Xpel
8 oz chicken breast
32 g peanut butter
100 g asparagus
3:15 PM
8 oz chicken thighs
100 g Brussel's sprouts
32 g peanut butter
4:30 PM
4 MHP Xpel pills
Four pills twice a day is the serving size. I am doubling it. Don't do that!
6 PM
I should eat now but I am not hungry and I am done for the day. Heading home but need a few things from the store first.
7:30 PM
Arrived at home. Still haven't eaten and I realized I forgot my GoPro cord at the gym so I ran to the store to get one. They didn't have any for my model so I went back home and will have to worry about it when I get to Columbus.
8:30 PM
8 oz chicken thighs
100 g asparagus
32 g peanut butter
9 PM
½ dose of laxative (I need to keep things moving along)
Total Daily Liquid Intake: Water was just shy of three gallons, all distilled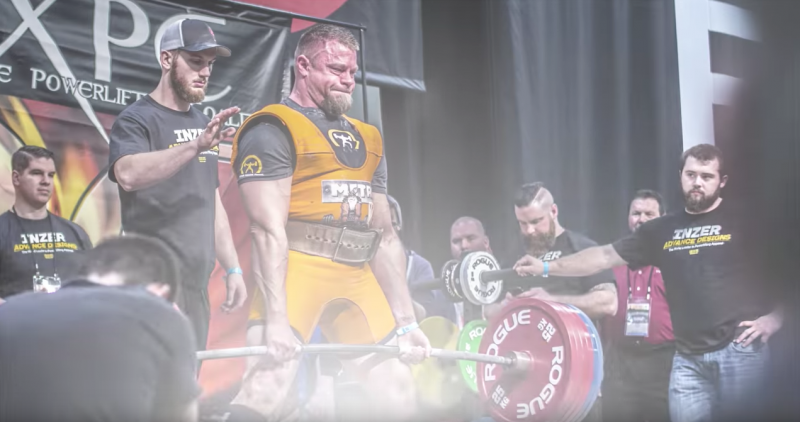 Friday 3/3
I want to keep some water in early this morning but keep it under half a gallon for the day.
5:30 AM
Couldn't sleep. Very anxious and ready to move.
Weight 231.0
6:30 AM
Laxative took effect
Weight 230
A few sips of distilled water and 4 MHP Xpel
7:30 AM
Water will be just enough to keep peeing all day. I will eat minimal food and fast as long as I can today.
8:30 AM
Beginning of four-and-a-half hour car ride to London, Ohio. Things are getting tough and won't get any easier.
10:30 AM
Just outside Indianapolis
4 oz chicken
2 cold asparagus spears (asparagus is not good cold!)
1:30 PM
Needed something to curb the hunger and to warm up. I got a small decaf. It was smaller than a kid's cup but it was glorious.
2 PM
3 PM
Arrive at hotel
Weight 227
The weight is dropping nicely at this point. I just need to keep it going.
4:30 PM
I get a message that weigh-ins were not at the listed 11 AM time but only at 3 PM, so I start to freak out knowing I can't wait that long. I text the meet promoter and he confirms weigh-ins are from 9-11 AM and 3-4 PM. I am relieved but still expect friction tomorrow.
5 PM
4 oz chicken
1 tbsp peanut butter
This is the last of the food for the day. A total of one normal meal all day. Less than a half-gallon of liquid.
6:30 PM
Just enough distilled water to get 6 MHP Xpel pills down
8:30 PM
8:45 PM
Chew some cinnamon gum and start spitting into a bottle. I want a head start on the morning. It is going to be close and I will have my work cut out for me.
I try to get to bed early knowing I won't sleep well. I'm correct. I sleep hard at times but tonight I tossed and turned quite a bit. I only got up once in the middle of the night to pee. Normal nights are two or three times. My urine is not brown and doesn't look like I am super dehydrated yet but the volume is not there to expect much overnight.
Saturday 3/4
6 AM (5 AM My Time)
Weight 224
Up and need to move. Brain won't stay shut off. I slept poorly but nerves are high.
Weight is down to 224 and four pounds to go. Now the real work starts.
I poked two holes for my arms and one for my neck in a garbage bag. I needed the garbage bag shirt with a t-shirt, sweatshirt, and jacket over top to get a sweat going as fast as possible. I headed to the workout room across the hall. I cranked the heat up to 86 and started walking at three miles per hour. With my headphones in, I walked for nearly 30 minutes before stopping.
I don't remember what I listened to first but I ended up on YouTube and one video came up and I kept it on over and over. The message was the push I needed to not quit. I was mentally exhausted. Stress had been getting the best of me. I was retaining some water in my hands now. I was fighting myself. I wanted to quit, but making the cut was just as important as the meet. I have never cut this much and I've never quit on a cut before.
Charles Bukowski kept me going.
I pushed for an hour total — on the treadmill for about 40 total minutes and the other 20 minutes included dumbbell curls, triceps extensions, stability ball leg curls, back raises on the ball, and side bends. A new piece of cinnamon gum went into my mouth every 10 minutes.
I was spitting in a bottle the whole time trying to get every last ounce out I could before I mentally broke.
I needed a few-minute break. The heat had it feeling like an elephant was sitting on my chest. Back in the room I toweled off and weighed again. I was only down a pound. A new garbage bag went on and I went back to the workout room.
My body temperature was high and I felt like my heart was pumping sludge. I did about 10 more minutes of walking, side raises, dumbbell rows, dumbbell presses and pullovers. I was resting quite a bit but moved enough to drop another pound over the next hour. Now I was done. I was hoping my scale was heavy and I could continue sweating and peeing out a little more weight because at this point I was done moving.
8 AM
At this point I had nothing left. I was overheated and needed to rest. I rinsed off in less than a minute, put on some clothes, and lied down to wait until my girlfriend was ready. I needed a miracle. I kept spitting because it required little effort.
Before leaving the hotel I had my post weigh-in drink nearly ready. I broke the tab on my Powerade jug and couldn't get it open. I didn't want to delay leaving any longer so I tossed eight nuun tabs in my gallon of water, 10 grams EAAs, and 10 grams creatine. There are really no carbs in the nuun tabs so I needed the Powerade, but I decided to deal with that after I got off the scale.
It was a little after 9 AM when we left for weigh-ins. I got a few messages that they were letting the deadlifters weigh in, so I only needed to make weight. I spit all the way to the fairgrounds and hoped for a light scale. One last time to the bathroom and I was able to check in. I got on and I was 220.6. I went to the birthday suit and 220.4 put me just under the limit. I made it on the first try! This was about 10 AM. Relief. That first drink was glorious.
Now that I was starting to hydrate, I needed to address a problem I had all training cycle. My L4 and SI joint were out of whack. My hip flexors were tight and I needed an adjustment. Dr. Ken Kinakin was kind enough to work on me for a few minutes and get me moving again. The electrolytes were helping already but I needed carbs and food if I was going to get my weight up to where it needed to be.
I got back to the car and got the Powerade opened with a pair of nail clippers. The liquids were most important but I also needed some food in my stomach. We headed off to find some breakfast food. Bob Evans is always a safe bet and they are all over, so it didn't take long to find one. By the time we got to Bob Evans I was about a third of a gallon in.
11 AM
3 glucose disposal agent pills (Glycolog)
While waiting for food I had a few Oreos, a handful of jellybeans, and an oatmeal cream pie.
2 eggs over-easy
2 pieces of toast
Breakfast potatoes
2 slices bacon
1 piece brioche French toast with syrup
My girlfriend wanted to check out the expo so we headed over for about an hour to walk around. I hate crowds with wall-to-wall people but it was her birthday on Friday so I agreed to go. Not much to mention food wise here other than an oatmeal cream pie and a few protein bar samples. Once back to the car I continued to snack on jellybeans washed down with the Powerade and nuun mix.
3 PM
We got back to the hotel and five hours after making weight (3 PM) I was already back up to 231. This was right on track. I was feeling better but needed to get off my feet for a bit. Snacks and drinking were done for the next few hours until we went to dinner at 7 PM.
4:30 PM
I tried something different than ever before in my reconstitution: I had my girlfriend apply Epsom salt lotion to my legs and back. We covered basically anywhere I could hold water to tighten my gear. I didn't want to apply it myself and hold water in my hands. I can't say that it helped or hurt but I did get my weight back on so I will do this again until I can determine that it doesn't work.
8 PM
3 glucose disposal agent pills (Glycolog)
3 rolls with butter
11 oz sirloin
Fries
Sweet potato
2 large Sprites
9:40 PM
I know some of the water will drop off during the night so I will have to push a little more food in the morning. Hands are not too bloated so that is good. Bed at 10 PM.
Sunday 3/5
Alarm was set for 7:30 AM but you wake up pretty fast when there is a kid puking in your room. Parent mode was full alert! It was an emergency. A 24-hour stomach virus hit and she was wiped out for the day. After getting the puked cleaned up I weighed in at 234. A little lighter than I wanted but I still had time to eat. I was not supposed to lift until 1 PM so I could still add more weight.
7:30-9:30 AM
A few cups of decaf, two bowls of oatmeal, two sausage patties, one tablespoon of peanut butter, a cinnamon roll, and a bagel had me up to 238 again. A pound over where I started my cut. I grabbed a protein bar to take with me to the expo but I ended up not eating it until after I lifted.
12:15 PM
Preworkout: BPI 1MR
Sip on Powerade and creatine mix
1:15 PM (Start Lifting)
Opener: 720, good
Second: 766, PR attempt at 220, miss
Third: 766, miss
Overall the cut went fairly smoothly. I started heavier than I wanted but I made it. I can't say how much effect it played on my performance. I pulled poorly. I believe it was a result of my training cycle, but that is a story for another time. This is the most weight I have ever cut and every time it gets harder and harder. Fifteen years ago weight cuts of 10 pounds required four to five days without carbs and I was golden. Now quite a bit more is involved.
There are relatively few changes I would have made over the week. If I were to do something differently I would have done HIIT Monday through Thursday and not just on Thursday. On the flip side, my weight stayed as high as it could as long as it could and came back on just as fast. The workout before weigh-ins and the Glycolog helped put the fluids back in the muscle where I needed it with minimal bloating.
This meet was a great experience in front of a gigantic crowd. I know I was a huge pain in the ass and Maggie, my girlfriend, was a trooper for dealing with it. I owe her big time for this one. I don't recommend this big of a cut for anyone. You have to be willing to suffer and know that you have to adjust as things come along. Each cut is different, and as Clint Darden told me, "When playing it by ear you have to know what you are listening for!" I now look forward to a few weeks of non-structured training, getting healthy, and quite a few carbs.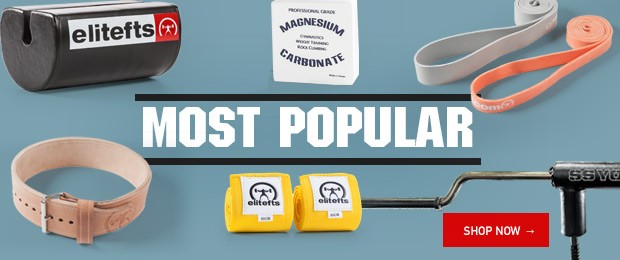 Loading Comments...