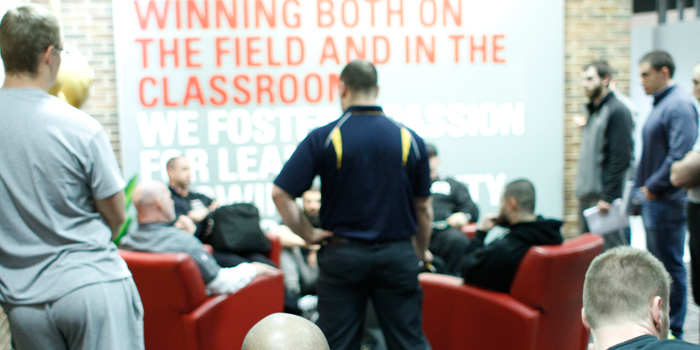 If you're in college right now, and you want to be a strength and conditioning coach at the collegiate level, this series is for you. If not, I'm sure you'll still pick up on some key points that we tend to forget when we start to become professionals in our field of study.
See, I've made a good amount of mistakes when trying to develop a career in strength and conditioning. Too many to list here. But because of my past actions, I knew I wanted to make sure nobody else made the same mistakes. I've walked the walk when it was time to send the resumes, shoot the exercise videos, prepare for phone interviews, and make the decisions that would ultimately make or break my future career. Fortunately, I was very lucky to come from a great undergrad program, which prepared me to handle the demands of big-time strength and conditioning programs. My former professors, coaches, and supervisors have all played an integral part in my development into a young strength and conditioning coach. Without their support, as well as my family and former teammates, I wouldn't be in the position I am in today.
---
Part 1: How to Make It Big as a Strength Coach: The Foundational Basics
Part 2: How to Make It Big as a Strength Coach: The Application Process
Part 3: How to Make It Big as a Strength Coach: Sacrifice to Advance Your Career
---
The first part of this series will be geared towards how to solidify a solid strength and conditioning internship, which will hopefully put you in line to perform another one, stay as a graduate assistant, or get that big name on your reference list. In my second article, I will explain the importance of professionalizing yourself as a young coach, how to research and find the right school/location for your internship, and most importantly how to prepare yourself for the big interview (you will be interviewed!). The last part of the series will address the importance of professionalism during your internship and how you can make the most of your experience, whether it's the best in the nation or not what you expected.
Here are the basic but almost always overlooked tips on how to get that big internship to start your career in no particular order.
1. Go to Class Often and On Time
As simple as this sounds, how many of you are doing it? I'm not talking about going every day, sitting right up in front, and gawking at your professor. Use the free absences. If you're allowed three, take the three. Just don't get carried away. We all know how tough it is to wake up at 7:45 am for your 8:00 am anatomy class after you were pounding down dollar drafts while riding the mechanical bull downtown. In reality, if you don't go to class enough, your professors will notice, especially if it's a small school. If you're looking for a recommendation from your professor, are they going to give you a solid one if they knew you barely showed up to his or her class? What if you always showed up late, walking in hung-over carrying a breakfast sandwich from the cafeteria, and then started texting on your cell phone during a lecture? These little things add up when it comes time to look for an internship. My advisors have told me this. They are always evaluating you…
2. Go Big or Go Home
Like Martin Rooney says, "Every rep, every set." Getting Cs and Ds in exercise science, nutrition, and kinesiology-related courses are simply not going to get it done. Think I'm joking? In one of my internships, I had to sort through all the incoming applicants' transcripts and throw out the ones who did poorly in any of those above-mentioned classes regardless of how good their resume was. Dropping your exercise testing class twice and picking up a C- in basic nutrition will most likely hurt your chances of getting an internship that requires a college transcript. As my college line coach told me, "Do it once, do it right!"
3. Meet with the Professionals Around You
This is another point that I always saw my other classmates not take into consideration. They would only attend class. That's it. Well, how much is your professor/advisor going to get to know you when you never raise your hand, or you get forty-five minutes of face time three days a week? These professors are your advisors for a reason. That does not mean you see them once a semester to just to pick out classes. Get to know them. Get to know who THEY know. Networking is the most powerful tool in this field, and I'll bet everything I have that your network is nowhere close to the size of your advisors. If your advisor isn't a strength and conditioning guru, find out who is. You can still meet with your advisor on class selection, school problems, etc., but a good advisor will direct you to another faculty member in the department who can assist you in reaching your career goals
4. Build the Resume
This is the most important aspect of selling yourself to a school, gym, or any other job location. This can make or break your chances of an internship or employment. This one piece of paper can separate you from the pile of donkeys in the trashcan or the starred names near the phone. Here's what you do.
Before you even decide to send anything out, bring your resume/cover letter to your college career center. A good career center will allow you to meet with someone to fix up your resume, cover letter, and give you tips on how to make any further changes for FREE. They may even have someone designated for your department, i.e., a resume person for business-related majors, history majors, etc. These people are getting paid to help YOU get a career. Why not take advantage of it? I regret not going to the career center until the end of my junior year. I thought I listed everything I needed to, put it in the right place, and described everything as thoroughly as possible. How ignorant was that? I learned my resume would always be changing. Hopefully, there will always be another award to put on, another internship to explain, and another degree to showcase. Once you get a format you like, always keep it as current as possible. You never know when your boss will say to you "The coach at XYZ University called me and said there is a GA opening. Send your resume as soon as possible." This, of course, is the most ideal situation and may not happen to most of us, but you must always be prepared. Keep it up to date.
---
MORE: Are You Ready for the Inevitable?
---
After you get a solid resume format, it's now time to build your career with what you have. What if you're a freshman and you don't have any experience yet? Or what if you were a standout athlete back in the day? That's all fine. You need to learn to use what's available and how to market that.
If you don't have a lot of experience, try to include as many things as possible that relate to your career. Fill in the empty space with exercise, athletics, leadership, and academic awards, honors, and experiences. Examples include the following already known tips:
Are you a college athlete?
HIGHLIGHT that!!! Coaches want to see applicants who played at the level they are coaching at, and better yet, a coach with an understanding of what's important to the sp—true "under the bar" experience.
Win any awards?
Put them down. A resume that lists significant athletic achievement can give you an advantage over someone who simply played little league softball growing up until they got to high school. Also, a future athlete of yours will respond better to you when you can relate to them. The stress of school, family, and the sport can wear down the athlete to an unbelievable level. Talking to the athlete as if you know exactly know what he/she is going through can go a long way for your teams, fellow coaches, and future responsibilities within your staff.
If you're too young to take on full internship responsibilities, VOLUNTEER YOUR TIME!
Coaches consider when you volunteered your summers, nights, or weekends working at a private sports performance gym, your college weight room, or running camps. Stress the fact that you VOLUNTEERED. It shows your dedication and perseverance to make yourself a solid candidate for that big internship or job you've been striving for.
Now I'm not going to lie and say it doesn't suck. Nobody wants to work for free. However, you have to realize that everyone in this field has in one way or another volunteered their time to get where they are now. Want to be a big-time strength coach? You have to make the sacrifice. Two of my internships were unpaid and I had to make sacrifices of driving 150 miles round trip daily as well as move across country twice to get my foot in the door. Was it hard? No question. Did I feel like I would never make it? Sure. But when you pack everything up, say goodbye to everything around you and live on the bare minimum for a couple of months, there's something inside of you that will refuse to let you fail. Volunteering is like investing. Nobody wants to put the time and money into it now, but in the end, if done correctly, you will yield substantial gains, guaranteed.
5. Join the Network
If you're not volunteering, make sure you join the network. No experience? No problem. Make up for it by joining the governing bodies of the field. This can be an entire section on your resume: Professional Memberships, Professional Certifications, etc.
Become a student member of the NSCA (National Strength and Conditioning Association), ACSM (American College of Sports Medicine), NATA (National Athletic Training Association), or any other gold-standard organization. Not only will you be a step ahead of your classmates who don't join until they get certified, but also you'll have access to thousands of pages of strength and conditioning information that will only make you a better student, educator, and coach. Not to mention, the NSCA has a job/internship section for students who are looking to put their foot in the door.
6. Get Certified
Are you too young to get certified? Not enough credits? Look into other certifications that are subsections within the gold standards. You can't take your CSCS (Certified Strength and Conditioning Specialist) certification until you are a college senior, but you can sign up and become a USA Weightlifting Level 1 Club Coach well before that. Maybe look into the CPT certification from the NSCA or the NASM (National Academy of Sport Medicine). Stay away from organizations that promise you a certification overnight, for a small-time fee, or any other cheesy endorsement. Chances are they are bogus and not even worth it. Ask your professors/coaches for recommendations.
7. Get to Know the People in Your Field
Travel. Once you join these organizations, there will be dozens of conferences around your area that will serve as a gateway to developing a strong network. I only wish I had more time during college to attend these conferences more often while balancing my time between football and work.
Meet other coaches. Don't worry about not having experience. If they speak at a convention, go up to them afterward in the lobby and introduce yourself. Tell them you enjoyed their presentation. Tell them what you're studying and how you'd be interested in volunteering some time at their facility. You'd be surprised to know that everyone would love free work. If you can get your name in the field, by all means, do it. Who knows? Maybe by the time you're a senior, that facility, school, or fitness center might be looking for a full-time intern, graduate assistant, or employee. It can all start from that one day in the lobby where you slipped some guy's business card into your back pocket.
Again, these are basic tips to set you on the right path. In my next article, we will assume you've prepared yourself to search for that internship and send everything out. We will make sure you are professional, courteous, and most importantly, the right person for the job. Also, I'll give you tips on how to avoid dive-bombing on your phone interview.
Stay tuned.
---
Part 1: How to Make It Big as a Strength Coach: The Foundational Basics
Part 2: How to Make It Big as a Strength Coach: The Application Process
Part 3: How to Make It Big as a Strength Coach: Sacrifice to Advance Your Career
---
Adam Feit is Precision Nutrition's head strength and sport psychology coach. Dr. Feit earned his PhD in Sport and Exercise Psychology from Springfield College. He also holds a master's degree in Exercise Science and Health Promotion from the California University of Pennsylvania and a bachelor's degree in Applied Exercise Science from Springfield College. Prior to his work at Precision Nutrition, Dr. Feit worked as a strength and conditioning coach and nutrition coordinator for athletes and sports teams. His clients included the Carolina Panthers, Eastern Michigan University, University of Louisville, and The Citadel. He also co-founded and directed a fitness facility for young athletes.