INTERVIEW: Fighting Illini Football Assistant S&C Coach Micah Cloward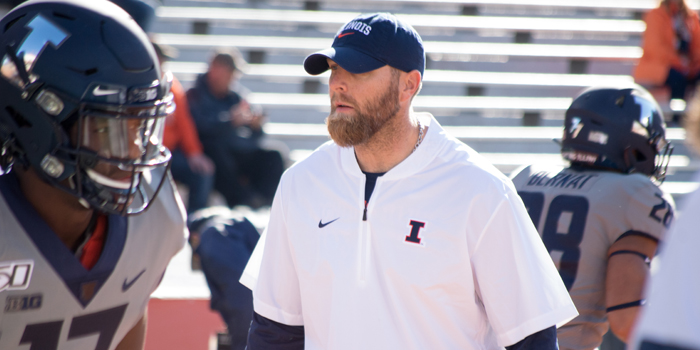 I have been fortunate to meet Micah Cloward, Assistant Strength and Conditioning Coach for football at the University of Illinois. We met a few years back while visiting my friend Joey Boese (former Head S&C at the University of Illinois, current Head S&C Coach Cincinnati Bengals). Sharing information with him and getting to know him has been a pleasure. As the saying goes, surround yourself with like-minded people.
Please give the readers of elitefts your background.
I have been working within collegiate strength and conditioning for about 13 years. I started interning while I was still playing football at Idaho State University. I didn't know a ton, but I tried to learn what I could. For example, I was fortunate, after some time, to be in charge of these teams before I finished my athletic career: Women's basketball, volleyball, and softball. This hands-on experience has proved invaluable. After Idaho State, I had an opportunity to intern at Utah State University and then became a staff member. It was here that I was exposed to a variety of training methods and coaches. The staff had a great depth of training knowledge and variety, with a huge emphasis on learning and growing professionally. So throughout my time there, I had the chance to experiment with the different things I was learning both personally and with the teams that I coached: Volleyball, men and women's tennis, and assisted with football and men's basketball.
---
INTERVIEW: UW Head Assistant S&C Coach Shaun Snee
---
From Utah State, I had the opportunity to coach at the University of Wisconsin, Madison. Similar to previous stops, this opportunity was filled with different coaches, athletes, and experiences that helped to challenge and broaden my views on training. At Wisconsin, I was in charge of the training for volleyball and men's and women's track and field, while assisting with football. Having the chance to work with and be in charge of leading the training of my own teams continued to be an opportunity to implement the things that I would read and learn about. After a couple of years, I moved to coach at Oregon State University. While there, I was able to work with football, oversee the training of women's swimming, while helping younger coaches gain experience planning and organizing specific training. I moved from there to the University of Illinois, where I am currently working with football.
What template do you follow with your athletes?
While planning the training of my teams, the first step has been to meet with the sport coaches and learn what their desired outcomes and goals for the team were. From there, I feel that it is our job to work with and in the same direction as the sport coaches. Because these goals are specific to the sport and coach, the main emphasis during training is a little different for different groups and teams. Due to this, I like to utilize a conjugate template for training. I feel that a conjugated template allows me to focus and place emphasis on specific training attributes and principles specific to the goals of the team and athletes with the flexibility to manipulate the plan based on need. I like that with this approach, a variety of physical qualities are trained consistently throughout the training plan, with the desired goal (for example, explosive and dynamic power) having more emphasis. The majority of the athletes that I have worked with are incredibly skilled at their sport, but most are weight room novices. So while the main goal remains the main goal, the plan will look to work on deficiencies. In the end, the hope is that strengths remain strong and weak points are strengthened, leading to a better-rounded athlete.
What are some positives working at an NCAA Power 5 School?
One of the main positives is resources. Working at a school such as Illinois, many of the teams, not just football, have strength coaches specifically for the sport — allowing for the strength coach to become more ingrained into the individual program. It allows for more opportunities to learn and get to know the athletes, which pays huge dividends in the training process. In addition to staff, we are blessed with incredible facilities. Having a big, shiny weight room doesn't make 405 easier to bench, but it does allow for increased visibility to recruits. For us at Illinois, there are several Olympic weight rooms in addition to the football weight room. For us, this means that we have free reign to use the room with our football athletes.
What are some of the negatives working at an NCAA Power 5 School?
Because of things like full nutrition departments, large strength staffs, large athletic training staffs, and giant facilities, it can be easy only to learn and focus on the specific job responsibilities that you may have. I look back at my time at Idaho State, where the strength coach had to rely on an intern to ease some of the workload. Ready or not, I had to train teams. At Utah State, while there were more resources, we had to learn about nutrition, prehab/rehab type protocols, etc. For example, I didn't become a dietician, but there was a need to provide some basic nutritional counsel to the athletes. Every team trained out of the same 5000 sq/ft weight room. So as a staff, we had to communicate and organize the scheduling of the room. Every team wasn't always happy, but every team and athlete was taken care of. At times, there were 2-3 teams to training at the same time, all on different programs. So the ability to not be locked into an uber specific exercise plan was essential. The focus had to be, "Am I training the attribute that I need to?" The exercise selection had to be adaptable to the needs of the room, but the desired goal remained consistent. As an assistant here at Illinois, the plan we follow is dictated by the head strength coach. There are times where we will have input, but in the end, my job is to implement that plan. For those who have only been in that role, there are few opportunities to plan and organize your training program. I look back and am grateful for the different teams and opportunities that helped me to learn how to plan out a training program. Some plans worked out great, others not so much, but if you don't have the opportunity to make those mistakes, you don't have the growth that comes from it.
What is some advice you can give the reader who wants to advance within college strength and conditioning at a high level?
Be open-minded. Learn a variety of different training approaches. Learn to take criticism. Learn about things outside strength and conditioning. Thinking about the journey that I have been on, these are some that stick out. Chances are that you are going to have to work for someone else. In my different stops and roles, I have worked for nine directors or head strength coaches. Also, there are many other assistant coaches and interns that I have worked alongside. Some of these were longer than others, but each with their own style and personality. I got along better with some than others. So you better learn what your boss is looking for. Knowing your role and being able to grow within it is huge. This may, at times, run contrary to approaches that you actually think would work better. You will need to work on and develop a relationship with those you work with. You will make some mistakes and have to get corrected. The errors are not only going to concern how or what you are doing with training or specific job responsibilities. With all of the different professional relationships, there will be challenges, mistakes, and potentially regrets with how you may interact with other coaches. I have learned from each of the different coaches that I have worked alongside and for. Being open-minded and constantly learning should help to ease some of those struggles because you are trying to grow constantly.
Try out different things in your training. Try Olympic lifts and lifting, do some bodybuilding, train like a powerlifter, and go through different types of periodization plans. Don't be afraid to use a different bar or no bar. In the end, it may not be for you, but the experience will add to your toolbox. Lastly, learn things outside of strength and conditioning. Whether it is expanding your skills with computer programs, leadership, nutrition, or emerging technology, you and your athletes will be better for it. The journey is never through. The more you move along the path, the more you'll find what you don't know and what you need to learn.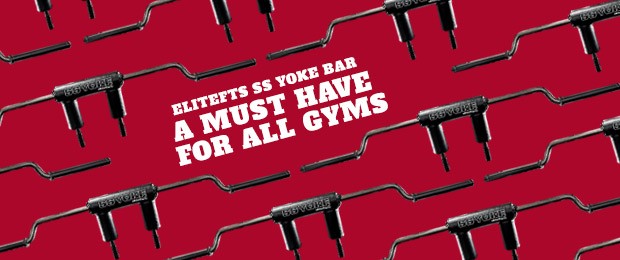 Loading Comments...