INTERVIEW: UW Head Assistant S&C Coach Shaun Snee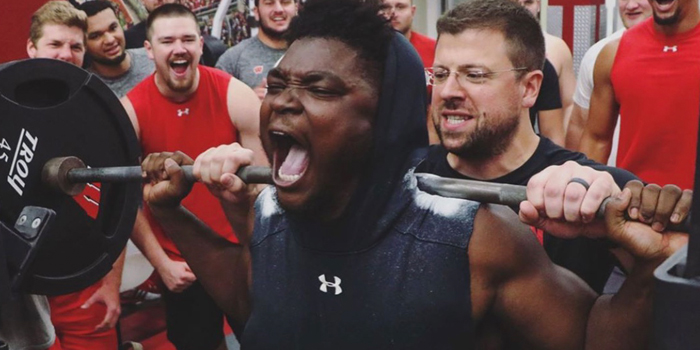 I am fortunate enough to have crossed paths and know some very good people in the S&C field. Today I get to interview the Head Assistant S&C coach Shaun Snee from the University of Wisconsin (UW). I have been fortunate getting to know him through my many times visiting my friend Ross Kolodziej who heads the S&C football program for UW.
 Please give the readers your background.
I will be going into my sixth season as an assistant strength and conditioning coach at Wisconsin in 2020. Currently, I am responsible for the program's Catapult GPS monitoring system and have led the football nutrition program in 2017 and 2018 and was the Internship Coordinator 2015-2017. Previously, I was in the same role at UMass, working with football, men's hockey, women's basketball, men's lacrosse, women's soccer, diving, field hockey, and was the head baseball strength and conditioning coach for the program in 2014. During the 2012 and 2013 seasons, I was a strength and conditioning graduate assistant at Pittsburgh under Paul Chryst.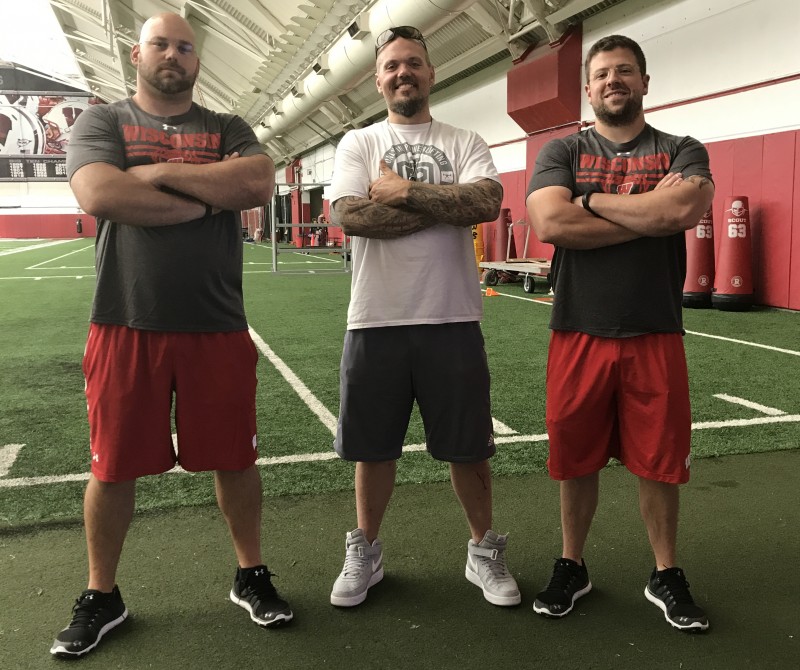 When I was an undergraduate in exercise science at East Stroudsburg University, I did a few internships. They included coaching at a private facility that trained special needs youth powerlifting and working with the NC State football program in the summer of 2010. I'm a firm believer in "knowledge is power" and not by being an internet guru. I have obtained several certifications, such as: Certified Strength and Conditioning Specialist (CSCS) through the NSCA, Certified Sports Nutritionist through the ISSN, USAW Level I Sports Performance Coach, National Association for Speed & Explosion, Functional Movement Screening Level 1, and Reflexive Performance Reset Level 1. I have earned my master's degree in exercise science from California University of Pennsylvania in 2014 and am currently pursuing my Ph.D. in health and human performance. I like to train and compete in strongman events when work permits.
What are some positives you see in the NCAA Power 5? 
I was fortunate to have different experiences with Division II, Division I - MAC/Atlantic 10, and Division I – Big Ten. One of the main positives of being a member of the Power 5 would be the resources. Those resources include a number of coaches, nutrition budget, facilities, recovery modalities, etc. For example, some institutions only provide one Muscle Milk recovery drink as post-workout fuel. In contrast, others give post-workout protein smoothies (calories meet demand), fresh fruit, a plethora of Gatorade products, and still provide multiple meals per day. We know the athletes need fuel within 45 minutes of a workout, and some may need more than 700 calories. Muscle milk is a good product, but it is not enough to replenish the calories expended during most workouts or practices. Resources aren't the only reason to choose an institution, but these resources will assist in optimizing the performance of the student-athletes.
What advice do you give to the reader who wants to advance to a high level such as Wisconsin or Division I?
WORK! It comes down to working hard, being loyal, and expanding your knowledge. Mike Golden said something simple, but it stuck with me, and that was "Attack each day like it is a job interview, and you will succeed." Simple right? I love what I do, and I wouldn't want to do anything else for my "career." I get to work with superior athletes and help transform them physically but, more importantly, as men. There are few things better than an athlete reaching a PR and the camaraderie that goes with it. Being a part of that progress is a surreal feeling. If you want to work with a prestigious program, then ask yourself if you love what you do. If yes, then do you have the credentials for the job you want? What is your end goal? Are you on the right path to obtain those credentials? Lastly, do you love to train yourself? When is the last time you pushed yourself to the limit and fought through that breaking point? If you don't push it, then how do you expect the athletes to listen to you? Past achievements only go so far. Separate yourself from other candidates if you want to get your foot in the door. It is primarily about who you know, but you still must seize the opportunity. Also, having your ducks in a row will increase your preparedness and confidence.
Side note: Do not be the guy who will only work hard enough to meet his current salary. Salary should not dictate how hard you are working if the athlete's well-being is your primary concern.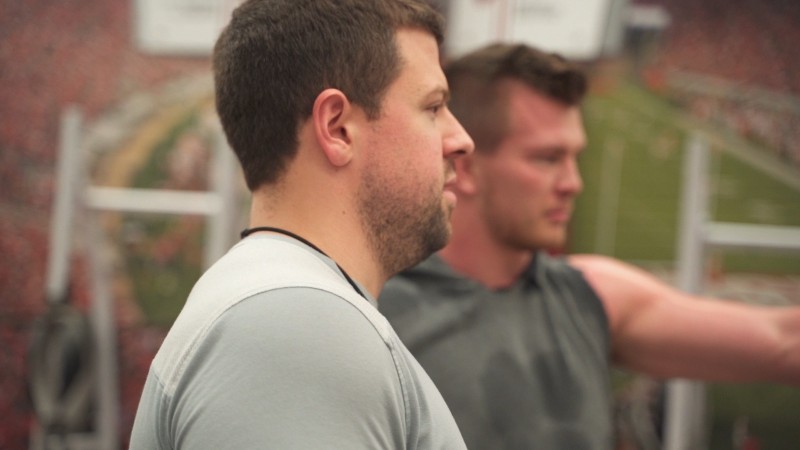 What advice do you give the reader who has aspirations to become involved in a similar position such as yours?
My advice is similar to my response to question 4. I would like to add that I have seen many interns come in entitled—some knowing a professional athlete whom they name drop and think it makes it okay not to work. Other interns who state, "I went to school for five years, and now I'm f****** wrapping burritos." Guess what? I went to school for more than five years, and if the burritos need wrapping, then I will wrap them. It's not a pat on my back. It is how you should be approaching your job. You will have to do many things to better a program, and it shouldn't matter what your current role is. What should only matter is that you are doing your part in making the program better. Remember that as you go through the process and work your way up the ladder. If you don't like your role, then change it. Don't complain about it or become negative.
I would recommend all future strength and conditioning coaches choose a bachelor's degree in a health-related field (dietitian, athletic training, exercise science, etc.) and choose many different internships. These undergraduate internships should challenge you and be different experiences. Make sure at least one is with a division 1 program if that is your end goal. Some examples of these internships include physical therapy, nutrition, medical (I observed cardiac rehabilitation), strength and conditioning, and sports psychology. Next, obtain a master's degree in exercise science, kinesiology, biomechanics, exercise physiology, etc. Hopefully, this is through a graduate assistantship, and if it is not a major division 1 program, then use contacts from prior internships. Lastly, certifications and licensures are important to separate yourself from other candidates. Think about pursuing yoga, nutrition, FMS, massage therapy, and being fluent with computers. There are many different certifications, so these are just examples that have helped me.
I recommend reading the new age of strength coaches (I still include myself in that) to read The Golden Age of Strength & Conditioning Foreword by Boyd Epley. Don't just know the strength and conditioning coaches you hope will help you out. Invest in the world of strength and conditioning, powerlifters, strongmen, weightlifters, athletes in your desired sport, and check out their routines and habits. What makes them great? How can you apply these habits into yourself and athletes?
First, make it a habit, and then it becomes a lifestyle.
Quarantine and social distancing make it difficult to be active. Any recommendations?
The COVID-19 pandemic has us self-quarantined and limits many athletes from having adequate equipment. You can still be active, eat healthily, and make each day count. Have a plan for each day and make a checklist. Don't just play Fortnite, Call of Duty, or binge-watch Netflix. I'm a movie buff, but you can still be productive and get a good three hours of couch recovery while binging Netflix. We have access to technology, and in a few moments, we can find a bodyweight workout to do at home. Just now, I found a few on elitefts. You can also hop on Instagram and find workouts. Just a few days ago, I sent two workouts posted by World's Strongest Man Žydrūnas Savickas (@Savickas_bigz), and they enjoyed the pump! If you don't have the luxury of having free availability to a coach or trainer, then find someone who will participate in workouts with you. Social distancing doesn't restrict you from sending videos and challenging yourself and others. Find a workout routine you and your friends will enjoy and get after it! Don't make excuses; go get results!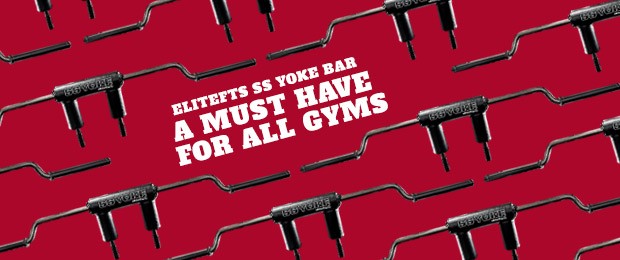 Loading Comments...