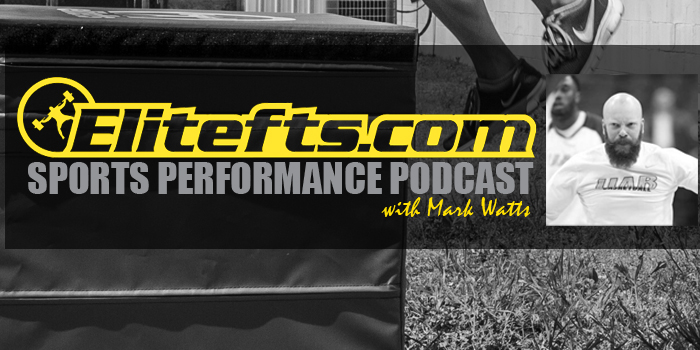 Even after gaining national recognition during the NCAA tournament as "Crazy Beard Guy," Cory Schlesinger shifted the limelight to his athletes and their efforts. Schlesinger knows all too well the countless hours it took to get the UAB Blazers a first-round upset victory during March Madness and who should be credited for it. His beard, his demeanor, and intensity may have blown up on Twitter, but his ego would never replicate that.
To say Schlesinger was thrown into the fire of the strength and conditioning field is an understatement. His situation as a young strength and conditioning coaches forced Schlesinger swallow his pride and seek out the expertise of Mark Uyeyama and Dan John. Schlesinger has given credit to all the mentors that have given him an opportunity and their knowledge to make him a better coach.
If you really want an in-depth and unique perspective on training basketball players (or any sport athlete at that), this podcast covers it all. Cory goes through all phases of his programming and specific exercises he utilizes. His real-world advice for young coaches in the profession is invaluable. Cory Schlesinger has risen up through the ranks of strength and conditioning for the right reasons. Listen to this interview and you'll understand why.
Topics Covered in this Podcast
 The Nautilus Checklist
A Strength Coach at Age 19
Intern to Director
The Advantage of Being An Assistant
General and Foundational Strength
Noon Ball to a New Job
The Coyote Kettlebell Club with Dan John
Primal Movements — Motor Skills
Movement for Body Awareness
Complexes for Multiple Modalities
Assessments for Basketball Players
Joint by Joint from the Ground Up
You Don't Need to Be a Genius to See Dysfunction
Modifications by Height
Olympic Lifting Variations for Taller Players
Multiple Squat Variations
The Wingspan Phenomena; Training Spiders
Off-Season = Most Variation
Changes in Basketball Culture
Physicality Can Dictate Play
The Beauty of the Young Sport Coach
The Southern Culture in Basketball
Players Are Not Educated — And It's Not Their Fault
Technology in Sports Performance
Technology Reinforces What You Already Know
How Weight Training Can Turn into Regeneration
Experience Beats Technology
Perceived Maxes Based on Velocity: Fast and Smooth
Programming Strength Training In-Season
Off-Season Training
Linear Periodization Using RPE
Olympic Complex
Conditioning through Extensive Complexes and Sled Work
Transparency
Find the Universal Language
Mentoring
Learning How to Learn
Identify How Others Learn
Feel to Replicate
Give Credit Where Credit Is Due
How to Reach Cory
The Cory Schlesinger File
Cory Schlesinger is an Assistant Director of Sports Enhancement to work with the Blazers' men's basketball program along with the men's golf program.
"Coming to UAB is a dream job and it is a destination," Schlesinger said. "Mainly because I get to work specifically with Coach Jerod Haase. I believe in Coach Haase, and I believe that he will win and win at a high level."
Schlesinger served a pair of internships at the University of North Carolina, in 2008 and 2009, while Haase was an assistant coach on Roy Williams' staff with the Tar Heels.
"Cory's knowledge for strength and conditioning is something that I love," Haase said. "He is always trying to learn and grow as a coach, but what he brings with his knowledge is what already really sets him apart from others. He is young and energetic like the rest of our staff and will fit right in.  We have a chance to be really good in a lot of different ways and I think strength and conditioning is in good shape."
Schlesinger plans to not only get the Blazers' men's basketball players in best possible shape for the upcoming 2013-14 campaign, but also have their bodies ready for the long, grueling season.
"One of my major goals is to impact the team in the offseason but also in season, when traveling with the team on the road," Schlesinger said. "Whether it be training, nutrition, supplementation or regeneration sessions, I want the guys recovered and ready for the next game."
Schlesinger, a native of Hillsville, Va., spent the last three years as Director of Strength and Conditioning at Santa Clara University, working with student-athletes on the men's and women's basketball teams.
Prior to joining the staff at Santa Clara, Schlesinger spent time at the Olympic Training Center in Colorado Springs, Colo. In addition, he was a sports nutritionist for the San Jose Earthquakes (MLS) along with being a certified strength and conditioning specialist through the National Strength and Conditioning Association (NSCA) and also earned certification in United States Weightlifting.
Schlesinger earned his master's degree in education with a concentration in exercise science at Campbell University in 2011. During his time as a graduate assistant, he worked with the volleyball, men's soccer, swimming and diving, golf and tennis programs, while also assisting with football.
A former basketball player at Berea College in Berea, Ky., Schlesinger graduated with a bachelor of arts in physical education with a concentration in exercise science and sports medicine in 2009. During his time as an undergraduate, Schlesinger completed a pair of internships at Wake Forest in 2007 under strength coach Ethan Reeve and a pair of internships at North Carolina in 2008 and 2009.
At UNC he worked under strength coach Jonas Sahratian where he helped train the men's basketball team.
"None of my experiences and I would not be where I am at today without Coach Jonas Sahratian," Schlesinger said. "He's my mentor and biggest influence and I owe everything to him for helping and guiding me."