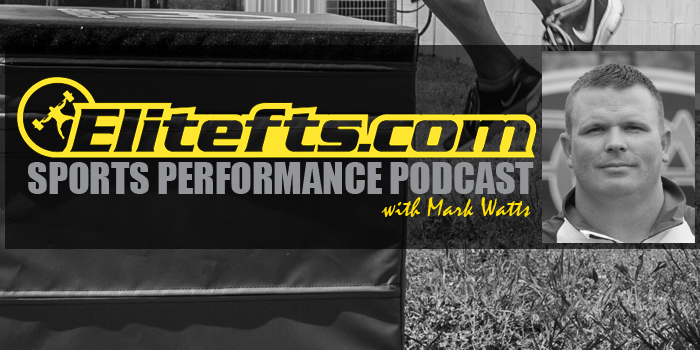 Not every high school's strength and conditioning program is the same. The differences between facilities, staffing, and especially the culture can be night and day across the country. These differences can be attributed to geography, funding, community support, and hiring the right people in the right positions. Battle Ground Academy in Franklin, Tennessee figured that last part out by hiring Fred Eaves three years ago.
Coach Eaves will be the first to admit he is fortunate to be in the situation he is in at Battle Ground. Nonetheless, Eaves has developed a system and a culture that not only develops young people physically, but as young men and women as well. Eaves admits and relishes in the fact that the most important part of his job is the growth of his students and athletes off the field or court.
After following and interacting with Fred over the last few years, I finally got to meet him in person at the NSCA National Conference where he was a presenter and received the NSCA High School Strength and Conditioning Coach of the Year award. After talking with him in Orlando and conducting this interview, it was easy to see why he is one of the most respected coaches in our industry. Eaves has developed a very creative system of training athletes at the high school level my adapting the Tier System and adjusting to the school curriculum and schedule. Fred Eaves has dedicated his life to getting others better. This interview will relate to anyone wanting to do the same.
Topics Covered in this Podcast
How Coach Eaves Got Started in the Profession
Taking Over a New Program
Assessing the Situation 

Identifying Roadblocks

Exceed Expectations

Under-Promise, Over-Deliver
The Multi-Sport Athlete
Over-Specialized and Under-Generalized

The Correlation Between the Number of Sports Played and Injury Rates 

The Throwback Kid: Physicality, Menta

lity

, and Resiliency

The Benefits of Competing in Other Sports Year Round
Block Zero (Wildcat) Assessments

The Dynamic Movement Screen

Relative Strength

Movement Quality
Eight-period Rotating Schedule

Tier System for Everyone

Regressing Non-Athletes in Class

Wildcat, White, Grey, Gold, Blue Programs

Technique, Velocity, Load

Counter-Culture What the World Tells Us 

D

o More of What They Are Not Getting 
In-Season Adjustments with the Tier System
M

anipulating Sessions, Volume, and Intensity

In-Season: Keep High Intensity and Control the Volume

Empowering Older Athletes

RPE Scales and HS Athletes
Rotating Schedules for Athletes

30-Minute Sessions During School Hours

MWF =

Strength training, 

TH

=

 Movement and Restoration

Complex for the Strength Coach = Simple for the Kids and Coaches

Mixed Gender Versus B

oys and Girls Only
Trap Bar DL

OlympicLifts

Overhead Squat

Swiss Bar Presses

Exercise Selection for Stress Management

Baseline with 3 Regressions and 3 Progressions
Why Monitor If We Can't Do the Basics

 Be the Best You Can Be 

APRE Numbers for Tracking 

Can't Be Numbers-Driven 

If You Only Look at the End Number, You Miss the Big Picture 

Fighting against the Culture
Mentoring/Character Development
The Most Important Aspect of the Job 

Model the Behavior

Be Accessible

Transactional Versus Transformational

All You Leave Behind is How You Effect, Trickle Down, Cyclical 

Set the Legacy

Perception is Reality

Put Accountability Back on the Player
Differentiate Yourself

Humility

It Is A Unique Field: Sacrifice

Bringing Others Down to Build You Up 

Stay in the Eye of the Storm
How to Contact Coach Eaves
---
---
The Fred Eaves File
Fred Eaves is currently the Director of Wellness and Athletic Performance at Battle Ground Academy in Franklin, TN. He has 16 years of experience in the field that includes stops at UT-Chattanooga, the University of Tennessee, and Louisiana State University as well as multiple high schools in the state of Tennessee. Eaves was voted the 2013 Samson Equipment and American Football Monthly Central Region High School Strength and Conditioning Coach of the Year. Battle Ground Academy's Athletic Program has had tremendous success in the last year with state championships in men's basketball, men's soccer, Final Four appearances from baseball, women's soccer, and a State Quarterfinal appearance from the football team. Eaves holds degrees from UT-Chattanooga, Tennessee Tech University, Lincoln Memorial University, and the University of Missouri. He currently serves as the Tennessee State Director for the National Strength and Conditioning Association (NSCA).
Coach Fred Eaves is entering his second season as the Defensive Line Coach for the Wildcats.  This is also Coach Eaves 16th year coaching overall. Coach Eaves coached three State Championship football teams and 1 state championship weightlifting team before coming to BGA. In addition to coaching, Coach Eaves is the Wellness and Athletic Performance Coordinator for all BGA students and athletic teams. Coach Eaves has trained 32 NFL Draft picks as well as 10 NCAA All-Americans. Among these players are Jerod Mayo, Arian Foster, and Randall Cobb. Coach Eaves has also been a featured author for American Football Monthly and Gridiron Strategies. He is also a featured speaker at the Hammer Strength clinic series. Coach Eaves has been a strength coach collegiately at the University of Tennessee at Chattanooga, The University of Tennessee, and Louisiana State University. He is married to Kristy Eaves and has two step children: Savanna and Grant Allen.