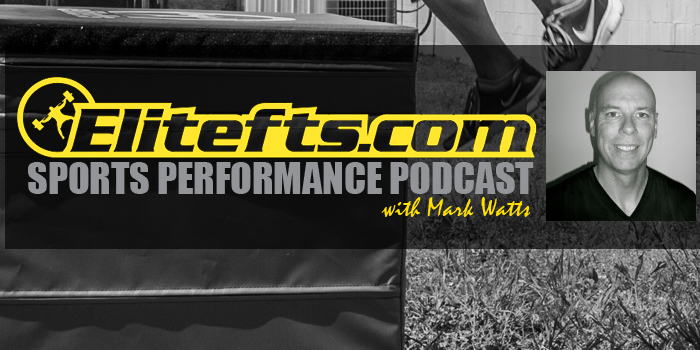 Mark McLaughlin had a little more purpose than most when he decided to become a physical preparation coach. Citing multiple incidences of catastrophic injuries in youth athletes, McLaughlin started a career with passion and intention to fix an injury problem in youth athletics.
McLaughlin learned from and still learns from some of the best coaches in the business including Charlie Francis, Jay Shroeder, Dan Pfaff, and Henk Kraaijenhof. Mark has used that knowledge and his hands-on experience to help the next generations of athletes and coaches alike.
Combining a global understanding of performance management with critical communications skills has set McLaughlin apart and serves as a lesson for all coaches.
Topics Covered in this Podcast
Mark's Journey
Catastrophic injuries in youth athletics

3 cases that got Mark's attention to research training

Individual Training to Volunteer to

F

acility Owner
Assessments
Extensive medical questionnaire

Subjective information form athlete: What are your goals

Omegawave assessments

Warm-up and performance testing

S

ports

S

pecific 

C

onditioning

S

trength

A

ssessments

How much time are they willing to train?
Balancing the athletes schedule with training
Number of games, fitness level, particular team or coach
Communication with Sport Coaches
Educating parents and the athletes to avoid

The Training is only one part of it

Recovering is a crucial aspect

Recovery need s to be individualized and personalized

Recovery becoming a natural endeavor

Avoid glycolytic and lactic environments

Allowing athletes to recover naturally

HRV Fight or Flight vs. Rest and Relax
Training Youth Athletes
Ban AAU Basketball and youth club sport games

Educate coaches and parents

A Platform for the education process

Can science give us the data we need

Governing bodies
Long Term Athletic Development Model
The coaches don't have the tools to manage the process

Education for when is the right and wrong time

Differences between males and females

The Formula 1 Analogy
HRV and other technology
Charlie Francis observation of Ben Johnson

Jay Schroeder Auto-regulation

Coaches becoming great listeners

Technology to embody the mission statement

Buddy Morris, Tom Myslinski and the Omega Wave

Observation plus training methodologies

Learn from other coaches and how they implement their programs
Athlete Buy-In
Quality trumps quantity

Reducing Injuries in Athletes

Educating parents and athletes on playing sport year-round

Reducing games = reducing injuries

Consistency of being active

Helmets on before 9th grade?

Concussions reducing exposures

Best practices in terms of techniques
 What Athletes Need to Work on
Running technique can fix itself depending on age

Jumping, landing, bounding, etc

Strength training: single leg bodyweight movement first

Squat, Deadlift, Depth Jumps, etc. when the athlete is ready

Its not the exercises but how they are integrated
The Best advice for young coaches
Be extremely open about everything

Best practices of the most successful companies

Develop a deep passion for learning

Communication by embodies your values and must connect with a multitude of work
---
---
The Mark McLaughlin File
Founder of Performance Training Center. Mark attended college at the College of Sante'Fe in New Mexico. He is a native Oregonian currently living in Portland. His passion of all athletics flourished throughout his teen years. He participated and competed on various teams and in a variety of sports. Through his years of participation in sports and later in his education, Mark developed a deep commitment not just to sport but also to the complete well being of the athlete. This passion and commitment leads to continual self-education in the field of athletic performance enhancement. Mark has been active in the field of athletic performance enhancement since 1997. Mark has trained over 700 athletes on every competitive level ranging from Olympic, professional (NFL, MLB, CFL), college, high school and grade school athletes. As well as working with individual athletes, Mark works and consults with professional organizations (NFL, MLB, NBA), NCAA universities, high school, club, and youth sport organizations. In addition to Mark's training and consulting services, he conducts speaking engagements with various organizations locally, nationally as well as internationally.
Courtesy PTC
---
Articles by Mark McLaughlin
The PTC Philosophy: Preparation of an American Football Player
Short-Term Periodization: Get More Bang for Your Buck