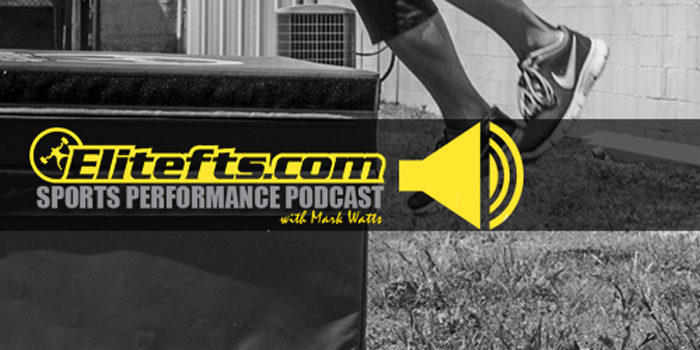 Ross Bowsher is doing everything in his power to give the athletes at Arkansas Tech University the best experience possible. Bowsher took his experience, knowledge, and passion to a Division 2 school and holds them to a higher standards. Removing doubt, excuses, and obstacles to equip his athletes to train optimally is a large part of the process.
Bowsher has used his experience on the platform, working with mentors like Dwayne Carlise, and his own desire for education to help Arkansas Tech improve in all physical aspects of development. From communication to consistency, Bowsher sets the standards high for his athletes and himself.
Topics in this Interview
How Ross Got Started in the Profession
Networking through Powerlifting
Mentors That Allow Their Assistants to Grow — "You Can Make It Other Ways"
Training Is Training No Matter Where You Are
Motivating Athletes: "You Have to Want to Have to Train"
Running A DI Program at the DII Level
Why Haven't Small Schools Adapted This Model?
Trusting Your Assistants by Trusting Who They Learned From
Velocity Based Training
Using Force Plate to Determine Strength and Speed Qualities
Weak Point Training at the Highest Level
Brian Mann Is the Man Using VBT for Preparedness
Knowing Your Athletes: Jousting Preparedness by Bar Speed
Developing High Force at Slower Speeds
Differences in Technique Based On Body Types
From Charlie Francis to Dwayne Carlisle; From the Weight Room to the Field.
Speed Work and the Weight Room Are Married
Working with Throwers
Weak Point Training with Throws
The Law of Individual Differences
You Have to Survive to Be Great at It
The Best Advice for Young Coaches: Compete
I Am at My Best as a Coach When I Am Training
If You Have Not Pushed Yourself, These Kids Do Not Believe in You
Three Things to Learn from Johnny Parker
Harold Nash and Moses Cabrera Box Squat
Max Effort Deadlift with Pat Ivy
This Does Not Happen if You Do Not Live the Life
The Ross Bowsher File
Ross Bowsher, who has spent the last nine years as a strength and conditioning coach at the Division I level, has been selected as the first Head Strength and Conditioning Coach at Arkansas Tech University, announced Director of Athletics Steve Mullins on Tuesday.
Bowsher, who most recently served as Sports Performance Assistant at Big Ten member Purdue University, will officially begin his duties at Arkansas Tech on July 1.
"We are excited to have Ross join the Tech family and serve as the leader of our strength and conditioning program," said Mullins. "The addition of a comprehensive strength and conditioning program will benefit all of our student-athletes and programs here at Arkansas Tech, and we are confident that the knowledge and expertise that Ross brings to this position will help prepare our student-athletes for great success in competition."
At Arkansas Tech, Bowsher will be responsible for the strength and conditioning efforts for Tech's 10 sports programs and nearly 300 student-athletes, designing and implementing strength and conditioning plans for all of the Wonder Boys and Golden Suns athletic teams.
"I feel privileged to be at Arkansas Tech," said Bowsher. "I feel like I've worked under two of the best strength coaches in the nation in coach Jim Peal and coach Duane Carlisle. I spent time at Purdue under coach Carlisle building a sports performance program from the ground up that is considered one of the nation's best, and I'm excited to bring what I learned under both coaches to Arkansas Tech."
Bowsher has served as the Sports Performance Assistant at Purdue from 2011-14, where he oversaw the sports performance programs for baseball and the track and field throwers while assisting with football. Previously, he spent 2005-2011 at Butler University on the staff of veteran strength and conditioning coach Jim Peal, who worked with four national championship teams, four Final Four squads, and one FCS national championship team in football.
Prior to joining the staff at Butler, Bowsher served as the Associate Director of Sports Performance at Athlete's Edge in Indianapolis from 2003-05.
Bowsher received an associate's degree in health and human performance from Vincennes University in 2001, before completing the NSCA 18-credit hour certification program in 2004 from IUPUI. In 2008, he earned a bachelor's degree in kinesiology from the University of Indianapolis. He is currently certified through the CSCCa.
He played baseball at both Vincennes and the University of Tennessee-Martin.
Bowsher has attained elite powerlifting totals in both the 242 and 275 weight classes, and is a member of the International Powerlifting Association and American Powerlifting Federation. He is currently in the top 50 in the world Power Lifting USA rankings in the squat and deadlift, and is in the top 100 in the bench press.
Courtesy Arkansas Tech University