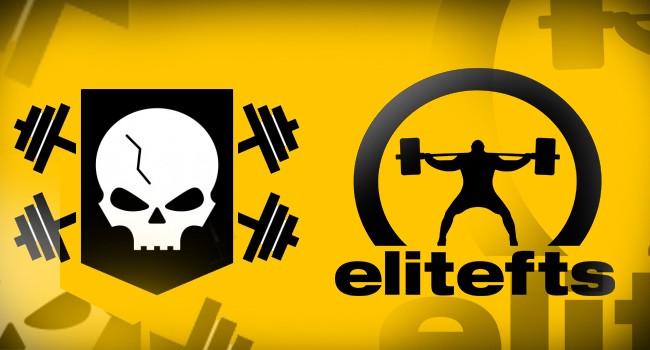 One of the most powerful components of a team is shared passion for a common cause. When I interviewed the coaches from Power Athlete, that passion was evident in all of their answers. John Welbourn, the founder of Power Athlete and CrossFit Football, has assembled a group of coaches who share the same unrelenting commitment to getting their athletes, clients, and course attendees better. Whether it is moving better, moving more weight, or both; Welbourn and his PAHQ Crew are dedicated to helping others.
Dave and I were lucky enough to be guests on the Power Athlete Radio. Being interviewed on their podcast opened my eyes to how passionate of a crew they were about training athletes. This was the first time I had interviewed multiple guests since Nic Bronkal and J.L. Holdsworth. Cali and Luke helped me immensely with the technological obstacles to make this happen. This time, it was a pleasure to flip the script and get some insights from this great group of coaches.
John Welbourn, Luke Summers, Cali Hinzman, Tex McQuilkin, and Bobby Goodfellow all chimed in on a variety of topics. Different experiences and multiple points-of-view added to a great dialogue and an exceptional amount of knowledge. There is a ton of great viewpoints and coaching advice with a lot of passion for coaching and training in this episode. Enjoy.
Topics in this Podcast
1. How Power Athlete Started: From the NFL to Training Athletes
2. The Most Important Takeaway for Attendees of a Seminar
3. The Challenge of Teaching Lifters to Be Athletes: The Missing Link of Movement
4. Mental Barrier of Training
5. Starting Position Determines Success on the Field and the Weight Room
6. Adapting Training to the Population and Their Goals
7. Key Component of the Warm-Up (Targeting the Population and the Movements)
8. Addressing Demands and Opportunity: Scaling Across a Population
9. ACL Injury Prevention Strategies: Identify Injury Mechanisms, 4 Factors
10. Performance Perspective Cuing
11. Coaching Cues and Addressing Weak Points for the Olympic Lifts
12. Emotional, Tactical, and Mechanical Cues
13. Using the Olympic Lifts as a Means to an End
14. Common Mistakes with the Olympic lifts and Strategies to Fix Them
15. Violence in the Pull and Using Strongman Implements to Teach Hip Extension
16. The Tone of Coaches Dictating Athletic Performance
17. Assessing Grip Training for the Overall Athlete
18. Speed and Agility: Progressions and the Best Carryover
19. The 5 Exercise Question (Well...Maybe More)
20. Motivating Athletes in a Variety of Settings (Collegiate vs Private)
21. Upcoming Events and Contact Info for Power Athlete
What is Power Athlete?

Power Athlete is a training system and community for building strong, efficient, fast, powerful athletes.
With performance at the forefront, we see the emergence of Power Athlete HQ, a site continuing where CrossFit Football leaves off; as an online resource dedicated to providing coaches and athletes of various backgrounds comprehensive insight into meeting their training goals.
From day one, CrossFit Football has had a singular focus to develop strength, speed, and athleticism in its power athletes.  While fitness is just one component of athleticism, efficient movement and stability are paramount in sport.  We strive for perfection of movement, strength of body and mind, and put an emphasis in training as we fight. Power Athlete HQ worked with thousands of athletes ranging from amateur to professionals and have decades of experience coaching and playing at professional levels.
One thing is clear: in competition, very few rise to the occasion, the majority tend to fall to the level of their training. To account for this, we believe in the persistent pursuit of perfection with our athletes.
The Power Athlete team is dedicated to providing relevant content to our followers with one goal in mind: creating strong, efficient, fast and most importantly, powerful athletes.
John Welbourn
John Welbourn is the creator/operator of CrossFit Football and Power Athlete. He is a 10 year NFL veteran. John was drafted with the 97th pick in 1999 NFL Draft. He went on to be a starter for the Philadelphia Eagles from 1999-2003, appearing in 3 NFC Championship games, and for the Kansas City Chiefs from 2004-2007. In 2008, he played with the New England Patriots until an injury ended his season early. Over the course of his career, John has started over 100 games and has 10 play-off appearances. He was a four year lettermen while playing football at the University of California at Berkeley. He graduated with a bachelor's degree in Rhetoric in 1998. John also is owner of CrossFit Balboa, an S&C gym in Orange County, CA. CrossFit Balboa is one of a handful of Westside Barbell certified gyms in the world. In addition to training MLB, NFL and other professional and Olympic athletes, John travels the world lecturing on performance and nutrition. You can catch up with John as his personal blog on training, food and life, Talk To Me Johnnie.
Power Athlete's Founder John Welbourn's Brutal Honesty
Luke Summers
Luke has been training athletes in CrossFit, Weightlifting, and Olympic Lifting since 2007. He spent 6 years pushing pencils in "Corporate America," spending 3 of those years moonlighting as a Strength & Conditioning Coach before and after work. Luke was an athlete his whole life and played multiple sports, but his primary focus was football. He played up through college until a neck injury forced him to hang it up. He travels with the CrossFit Football staff and has coaches a variety of athletes from amateur to professional levels in football, baseball, and track.
Cali Hinzman
A strength and conditioning coach since 2009, Cali has worked with numerous athletes spanning from rugby players to cross country skiers.Almost immediately after finding CrossFit in 2010, she was introduced to a program that better suited her athletic goals.With her existing background in powerlifting and football, she became a natural devotee to CrossFit Football and testament to it's effectiveness.In 2012, she left D.C. and headed for the state named after her to be a part of the CrossFit Football Seminar Staff and a Jedi of Power Athlete HQ.
Tex McQuilkin
MS, CSCS, CHES
Former collegiate lacrosse defensive midfielder, 4-year letter winner and 3-year team captain. Coached strength and conditioning collegiately with Georgetown University Men's and Women's lacrosse and Women's Crew, as well with the University of Texas at Austin's football program. Apprenticed under Raphael Ruiz of 1-FortyFour-1 studying proper implementation of science based, performance driven training systems. Head coached CrossFit Dupont's program for two years in Washington D.C. Received a Master's in Health Promotion Management from Marymount University in 2010, and has been a coach for Power Athlete since October, 2012.
Bobby Goodfellow
Bobby grew up in northeastern Pennsylvania where coal-country football and wrestling rule the land.  Like most kids in his blue collar town, Bobby played football, ran track and field, and wrestled from a young age.  It didn't take long to see his affinity for football and it became the focus of his interests through high school.  Bobby competed in powerlifting and strongman, and was a professional ski instructor and alpine race coach throughout college.  After college, Bobby chased a job to Washington, DC, got the field sport bug, and jumped head-first into Super League Rugby – playing Inside Center for Potomac Athletic Club.