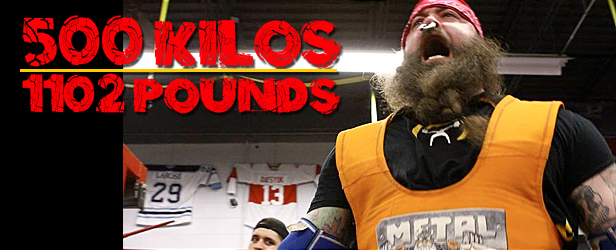 There is one principle above all others: we must stand up for what we believe, no matter what the odds or consequences. When the world tells you to move, your job is to plant yourself like a tree beside the river of truth and tell the world, "No, you move!"
500 Kilos
This weekend I competed at the UPA Twin City Barbell Backyard Show of Strength. I took this meet on the fly for two reasons:
To help push my training partner and mentor Jason Ehlert. Jason has had a huge squat in him for many years and this was the meet he was going to collect. I wanted to finish his training side by side and push him to the huge squat he deserves. Unfortunately, he ended up hurting his quad on his second squat attempt of 1025, which he did get to complete despite the injury.
To take 500 kilos (1102 pounds) on my third attempt, regardless of how I felt or how my first two attempts went. I think that I have had this squat in me for a while but have been too scared to take it in a meet. I've worried about missing it and messing up my total. This was my opportunity to take 1102 for a ride with nothing on the line. It was a chance for me to continue to work on my meet anxiety that Dave Tate has been helping me with for the last year or so. This is the second meet in a row that I have had a great meet. Dave and I have really started to make headway on my issues.
Drought
Before Relentless Detroit in November I had gone two years without a squat PR. I was starting to seriously lose faith in my squat and in my ultimate goal of someday squatting 1200 pounds. Two years of trying and failing can take a huge toll on a person's confidence.
The drought wasn't caused by a lack of training — if anything I trained too hard. Dave and I were troubleshooting different ways to work through my anxiety and started to treat every meet like an experiment. But they were experiments with months of training to gamble with. The approach that seems to be working for me is the abyss approach. I don't try to fight the anxiety and horrible feeling; I just let myself fall as far as my mind takes me. Dave told me that I better have someone there to stop me from running from the meet screaming, because I would most surely feel that way. He was right. At Relentless I honestly wanted to quit I felt so horrible.
But it worked. When I got up on the platform I was so focused on what I needed to do that everything went without a hitch. I took the same approach this past weekend. I didn't think about the competition until I started to warm-up. Then the tidal wave set in like a rabid animal and I fell into the abyss. I know the abyss will not work forever, but it feels good to finally have some control over my future. I finally feel like my goals are a reality. 1200 is a possibility.
Meet Day
All of my warm-ups felt great. I brought my own breakfast this meet instead of going out to eat. For the first time in a long time I had a full belly for meet day. For me, that's a good thing.
I took something around 900 on my first attempt. It was easy and fast.
I jumped to 1003 on my second attempt and actually missed on depth because the bar started rolling on my back. I knew that my plan was all that mattered, though, so I didn't care about missing.
Third attempt. Time for 500 kilos. 1102 pounds. Rob Bailey's "What I Live For" was blaring in the background. My whole team was at my back. Reality was setting in. I was finally attempting the weight that has been on my mind for years.
I took it out of the rack. I descended. And then I stood up with it easier than I could have ever expected. It was smooth on the way day and I got a hair forward on the way up, but was able to correct it and finish the lift.
Admittedly, I cried right after the lift. It instantly erased the last two years of doubt. I was the first person in the state of Minnesota to squat 1100 pounds. I am not quite sure how many men have squatted 500 kilos, but I know it is a smaller list than I was on before. I couldn't be more stoked.
I wasn't very prepared for my bench and deadlift. My main goal for the meet was taking my squat, but I swung for the fences on my third bench and deadlift attempts. It just didn't pan out.
My plan now is to take a week off to recover and then roll right into training for the XPC at the Arnold in March. I will compete in the 275-pound weight class.
There are a lot of big developments in the works for me in 2015. It's going to be an exciting year for me, my family, elitefts, and Metal.
Photos courtesy of Kim Boatman