elitefts™: Everywhere You Go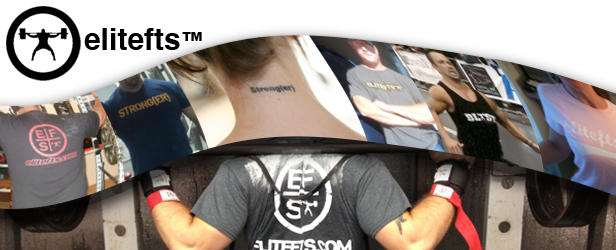 We love to see our loyal customers using our equipment, wearing our clothing, and embracing the elitefts™ lifestyle. A few times a year, I make a post on Facebook for people to send me their photos sporting elitefts™ swag. Here is the most recent batch!
Derek Lankford
One of our loyal contributors is Derek Lankford. In this collection of pics, Derek is using the Metal King Pro Deadlifter suit, Old School Super Heavy wrist straps, Onyx Bands, EFS Heavy Wrist Wraps, and the Econo belt. For attire, he is sporting the Empowerment t-shirt (given away at our LTT Seminars), an EFS Gray P3 T-shirt and a Strong(er) beanie. The first photo is of him interviewing for a human forklift job at Jiffy Lube.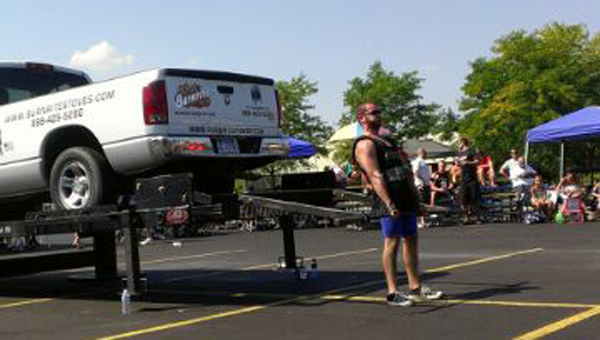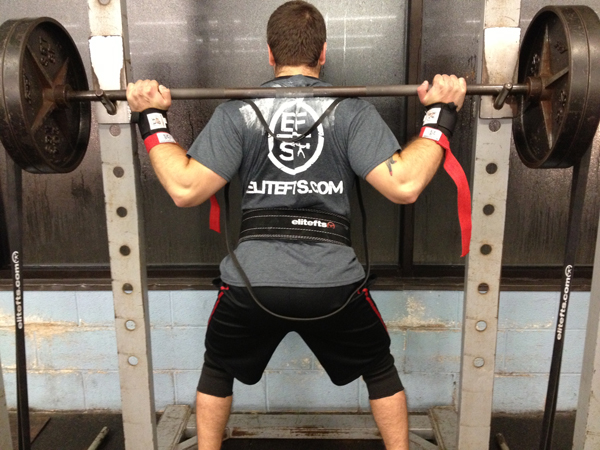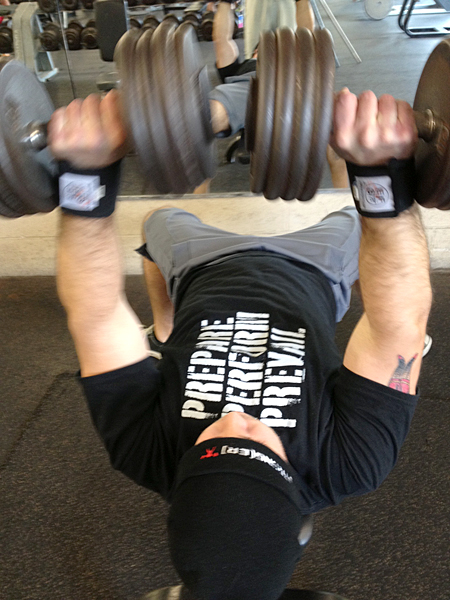 Jon Abbey
I met Jon Abbey at our last Learn To Train Seminar. He is hungry to learn and devoted to his training. In this photo, he is wearing an EFS 2012 Lifter Hood from our Limited Edition Collection. Here is what Jon sent me with his photo:
Elitefts™, as of 2012, has complete changed the way I live my life both in and out of the gym. Elitefts™ is more than a clothing company, a place to get amazing advice, or a place that sells workout equipment. It is a family, that once you ask your first Q&A, put on you first piece of clothing, or buy a band, you are a part of.

My name is Jon Abbey, and I am doing Mountain Dog training with plans to step on stage in 2014. I am currently interning with JL Holdsworth at The Spot Athletics.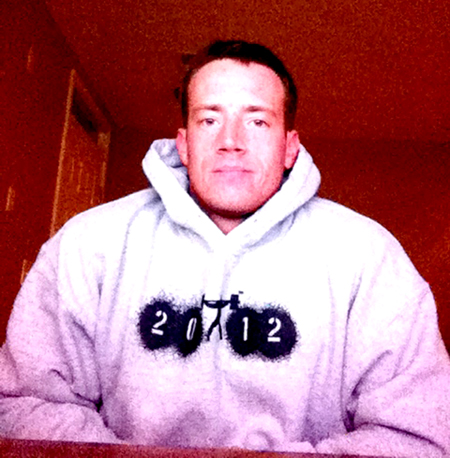 Francisco J. Figuero

We get photos from all over, including the Middle East. In this photo, Cisco is sporting an EFS White Train T-shirt in a military gym in Kuwait.
I'm a civilian contractor at Camp Arifjan, Kuwait. The soldiers here have assembled a gym out of equipment that was left behind in Iraq. Thank goodness they had enough for my 505-pound attempt. This is my very first attempt at lifting 500+, and since I was wearing a elitefts™ 'TRAIN' t-shirt, I thought I"d shoot you guys an email to see if you'd post it on your website. I know you folks have done this before for me when I wore your wrist wraps a few years ago, I'd like to see if you'd do it again. Also, I can't find the link that has the pictures of your customers wearing your elitefts™ gear. Thank you and God Bless.

Francisco J Figueroa
Contractor, LogiCore
1109TH TASM-G
Camp Arifjan, Kuwait

John Teichroeb
John is another customer that I was lucky enough to meet at one of our Learn To Train Seminars. He is a big proponent of the SS Yoke Bar, bands, box squat box, Spud Inc. 3-ply deadlifting belt, Heavy Gripz and the Spud Dip Belt.
Hey Steve,

These are my pictures. As far as information about myself goes....

I work three jobs at the moment, at Domino's Pizza (full time, shift runner), at The Muscle Hut (part time, sales), and my own business out of my garage, Elite Athlete Training, or EAT as I call it sometimes, since I love food. I am obviously hoping that this becomes my only job one day and to move out of the garage and into an actual facility. Right now my sights are on getting married to my beautiful fiance. I am hoping to be training kids from our local and surrounding high schools next summer. I started competing in strongman this year and am training towards four competitions this coming year as well as hoping to do a powerlifting meet as well before next year is done.

- John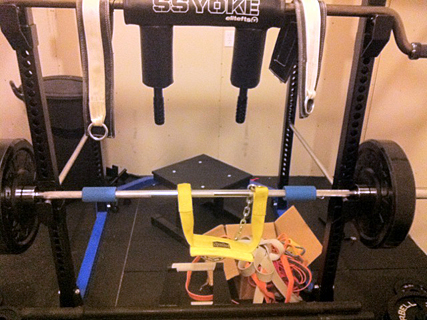 Richard Sutfin
According to Richard, this is a picture of his son, Ethan, "prepping to go outside to kill zombies and ride his Huffydavidson." No outfit is complete without the Conquer hat stolen from dad. Since we no longer carry the Conquer line, this hat is now a collector's item!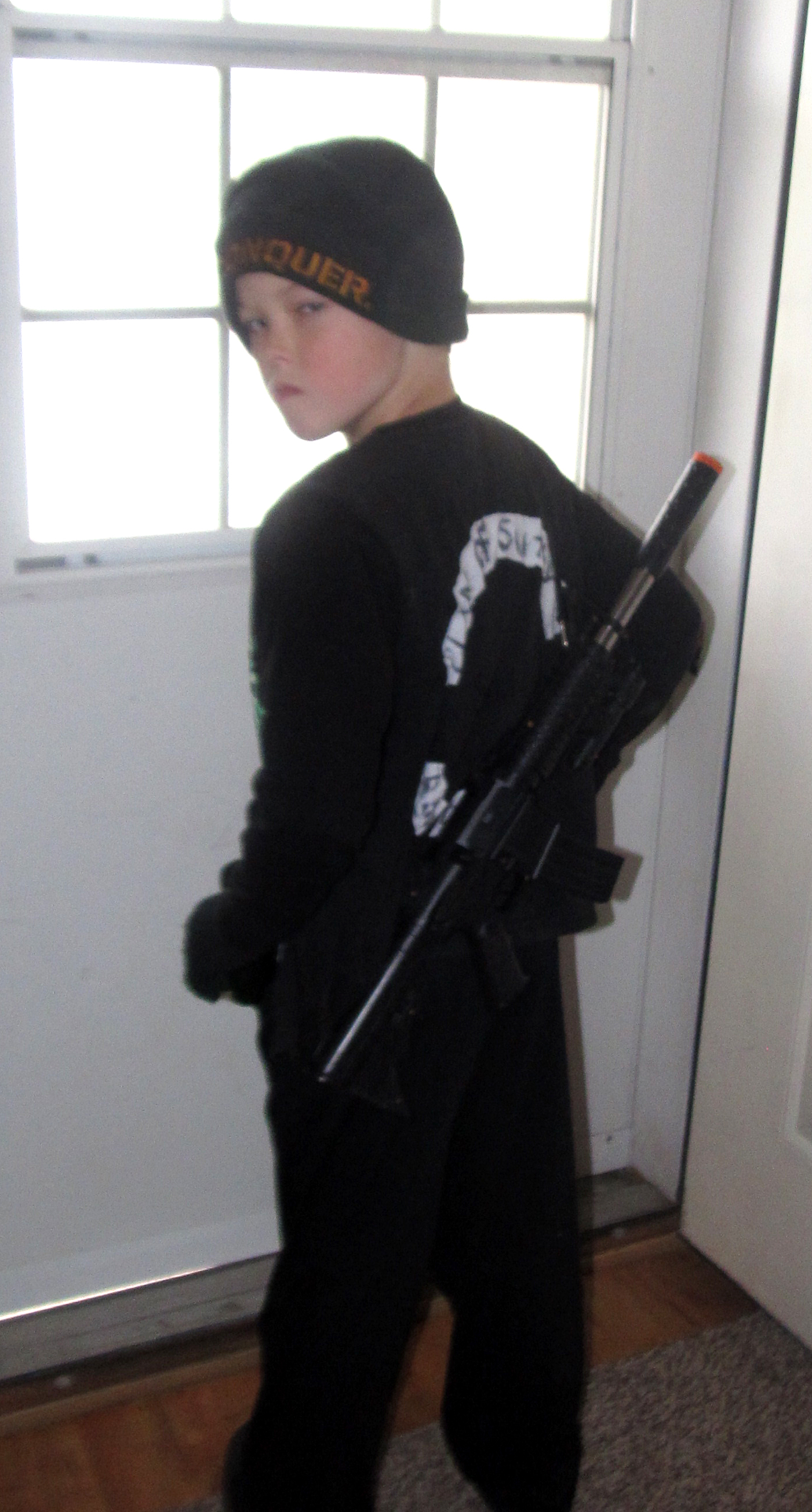 Aaron Gaines
Our elitefts™ team members our out Living, Learning, and Passing On. Here, Brian Schwab congratulates Aaron on both his lifting and his EFS Knock Out T-shirt!
I'm 22, married, and the Owner of Ocala Barbell here in Florida. I'm new to powerlifting. Only been training for powerlifting for about a year...Oh yeah, and I'm an elitefts™ whore.

The picture was taken at Orlando Barbell at Brian's annual Push/Pull event. That was actually my first official APF meet. I took first in the raw 242s and best overall raw lifter for the Ironman.
Nice job, Aaron!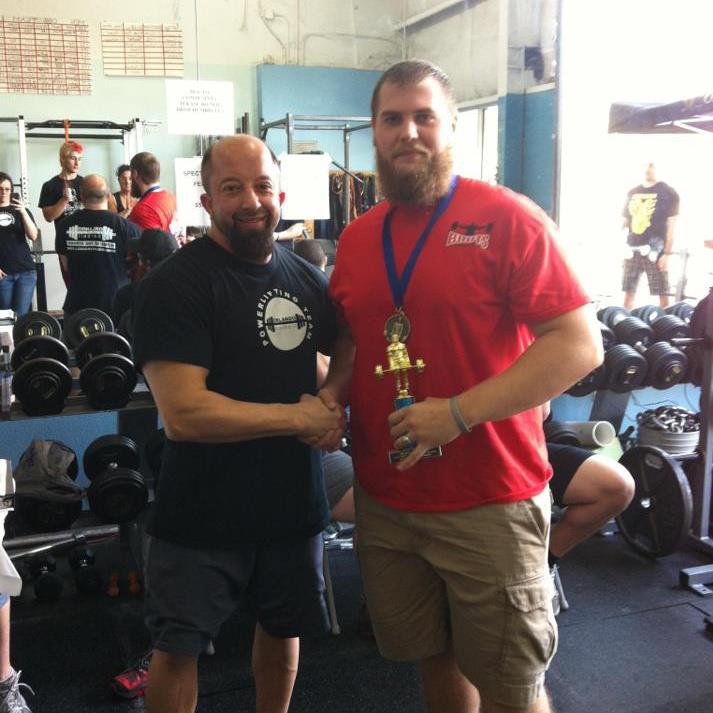 David McKenna
David McKenna is both a reader and a contributor to the site, and one hell of a customer to boot. He sent this message:
I submitted a holiday wish list article (A Gift List for Somebody Who Is Trying to Go from Formerly Jacked to Currently Jacked)
Looks like my wife was paying attention…Strong(er) shirts, EFS Constrictor Wrist Wraps, and Blue Heat – Merry Christmas to me!

OK, truth be told...she managed to order the wrist wraps and a 50 dollar gift card. But it still worked out!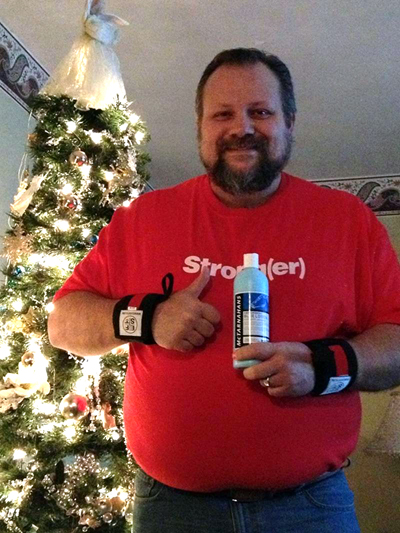 Dan Evans
Does elitefts™ have a presence at the Olympic Games? Well, that is quite possibly the most ridiculous question I have ever heard! Of course we do. Every strength coach in the world worth his whistle and clipboard comes to this site for all the latest training info. Even our customers take a hand in the events including Dan Evans, who sent me the following message:
Here I am wearing my Strong(er) hoodie with my friends holding a genuine Olympic torch as part of the London 2012 relay.
 Nice job, Dan!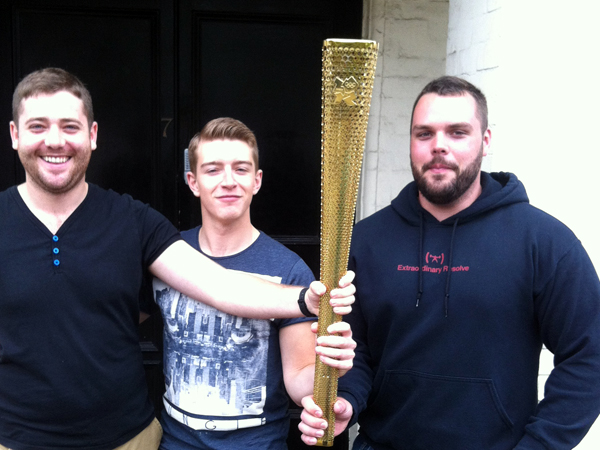 Chris Jonesy
Chris is a 38-year old lifter from Brooklyn, NY. I like this guy. Not only do we share a preference for elitefts™ but for brunette women as well. Play on, playa! I guess the girls like his Stronger Brotherhood t-shirt and EFS Strong(er) Hoodie. I may need to toss my extensive Ed Hardy shirt collection based on Chris' success rate.
I was in the I.T. game for a few years but gave it up to become a full-time trainer and coach in 2007. I work mostly with private clients, and I work out of a few gyms in and around NYC. I am actively looking for my own gym space now. Elitefts™ helped me out in so many ways by unfucking all of my core lifts and overall knowledge of strength training.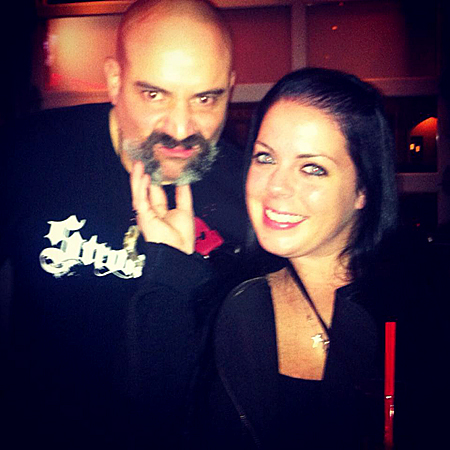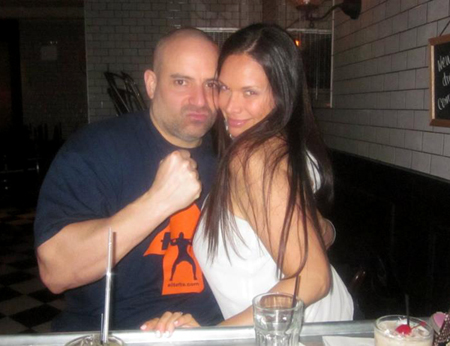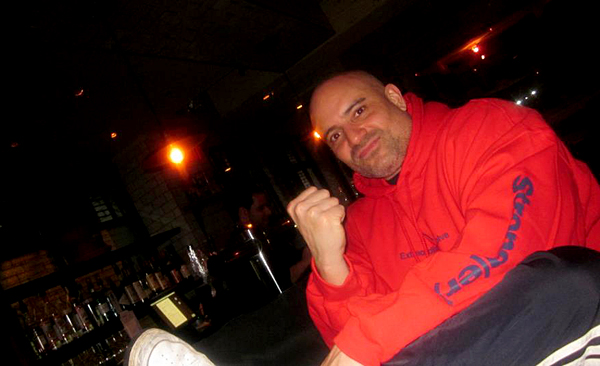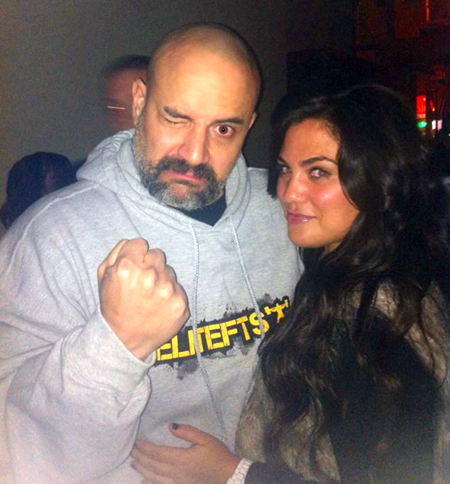 David and Jonathan Shreckengost
We got this submission from David Shreckengost and his son, Jonathan. While they are sporting the Strong(er) towel in this photo, we can offer you something more unique than a Nike shirt for future pics. There is nothing greater than training together to strengthen a father-son (or parent-child in general) relationship. Keep it up guys!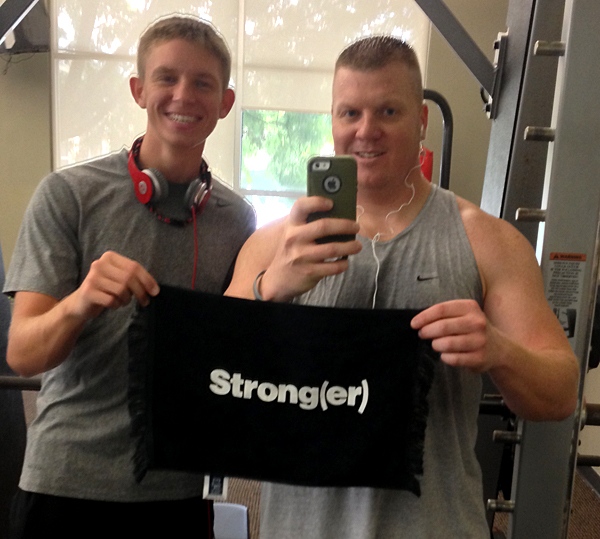 Mike Lohman
A very obviously proud father, Mike wisely wanted to indoctrinate his daughter into the iron lifestyle by letting her rest in the soft embrace of a (now discontinued) Conquer hoody. With his guidance, she will be a future world conqueror as well. Here is his e-mail:
This photo was taken on December 27th, the day my daughter was born. It's too soon for her to start lifting, but I fully expect her to follow in my powerlifting footsteps someday. What better way to get her started than to teach her that "The will to conquer is the first condition of victory."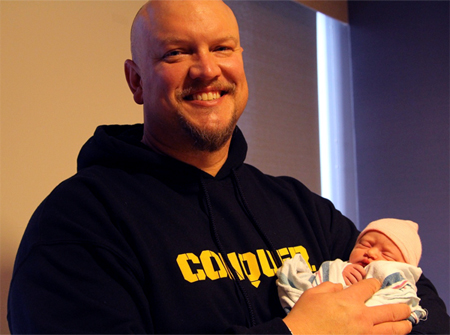 Jon Osucha
It should come as no surprise that elitefts™ tattoos are very popular in the PL world. Instead of stamping the name of the girl you met at the bar across your chest, why not go with something you KNOW is going to last? The iron will always be there and the goal of developing extraordinary resolve and being strong(er), in all areas of our lives, is eternal. Here are two that have dedicated themselves to improvement:  
My name is Jon Osucha. I'm 21 years old and I train at Precision Barbell in Rochester, NY and have my first "bench only" powerlifting meet coming up in April. This pic just shows that everywhere I go I take a little elitefts™ with me.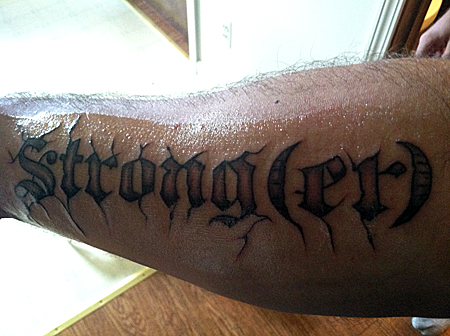 Ryan Rice
My name is Ryan and I am a competitive strongman. I am writing you today simply to tell you that I truly believe in your products and your vision for equipping the strongest athletes on the planet. I have adopted your mentality of being strong(er), not only in my approach to training and competitions but it has also helped me to overcome many struggles in my everyday life. There have been numerous times when I have had to be stronger than I thought I ever could be, and for that I would just like to say thank you for all that you and your athletes do, and for all that you stand for. Recently I got my first tattoo, and it was really a no-brainer on what I wanted, so I thought I would share it with you in hopes that it may help to inspire someone somewhere to be strong(er) than they think they are. Again I thank you. Keep up the great work.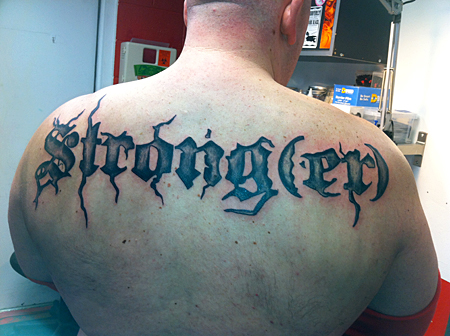 Thank you, Ryan. Keep fighting the good fight, brother!
Mason Tranbarger
I got this e-mail from one of our most loyal followers. He is new to serious lifting, but I expect to see big strength gains from Mason over the coming years:
Hey Steve,
My name is Mason. I'm 25, and I started training for powerlifting about six to seven months ago. My friend introduced me to the site, and I've been hooked ever since—watching videos, reading articles, and finding new heroes (Dave Tate and Marshall Johnson). I've also been soaking in as much information as possible to get strong(er). Needless to say, it's worked. I've put up more weight in these past few months than ever before, adding over 50 pounds to my bench and over 100 pounds to my dead and squat. Honestly, I owe a lot of that to elitefts™ and the information that is available by people who know what the hell they're talking about. The least I can do is buy the sweet gear and show my support.
Seriously, thanks to everyone at elitefts™ and everything you do for people you don't even know. Your tips and words help motivate more than you know!
Sincerely,
Mason Tranbarger
The pic below is from my dynamic day, where I am pulling 225 with 8 chains for 8 sets of 2. I got my chains from elitefts™, Texas squat bar, and EFS arch t-shirt.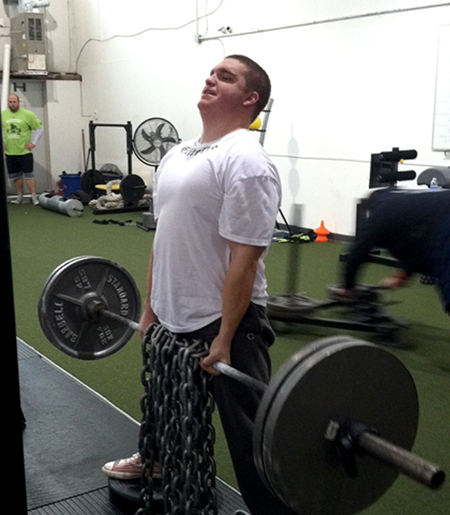 Joe Lowrance
I'm a big elitefts™ gear fan! Im 36 and started powerlifting a little over a year ago. Hitting new PRs with the help of elitefts™ gear. This is me in my EFS black lever belt and red elitefts™ shirt.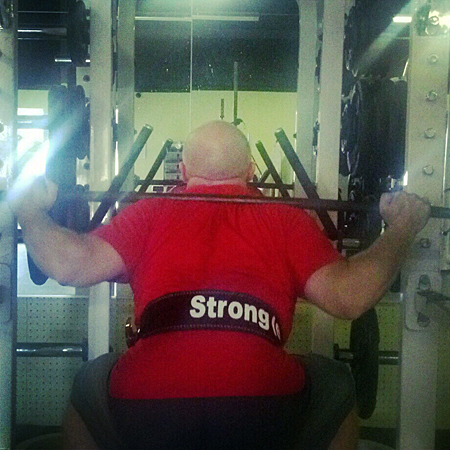 Trevor Epperson
Dear EFS Staff,
Forgive me as I only believe I have one worthy picture for some sort of publishing. To even call it worthy would be a stretch, which brings me to my back story...which I will keep brief. I'm a 21-year-old nobody from DC who lives for this shit.
This picture  of me wearing the EFS Rocky Hoody was taken by my good friend and training partner, Kyle McKinna, in my garage, where I do all of my training. It was a 305 x 5 work set on the squat. I refuse to be a part of the bullshit  fitness industry and "workout" at a commercial gym or even worse, "a health club." When I was 17, I spent my savings on outfitting a gym where I could bench, squat, pull, and train the way training was meant to be, and I have been working hard ever since. Anyway, thank you for your time.
I like how you think, Trevor! Stay true to yourself and create the training environment you want to lift in. When your strength gains require an upgrade to a power rack, we will get you set up in style!
Jason Richart
I received an e-mail from Jason a few months ago. As part of a school project, Jason needed to create a pinewood derby car with the logo of a company of their choice on it. Jason didn't have to think long before he selected elitefts™ as his company of choice. His father has written an article for us, and Jason plans to be an author on the site in the future. It was an honor having you pick us for your project (an I recognize that blue-tinted version of our logo as the one I use as my signature in my e-mail). I have no doubt you will be hearing a lot from Jason in the future.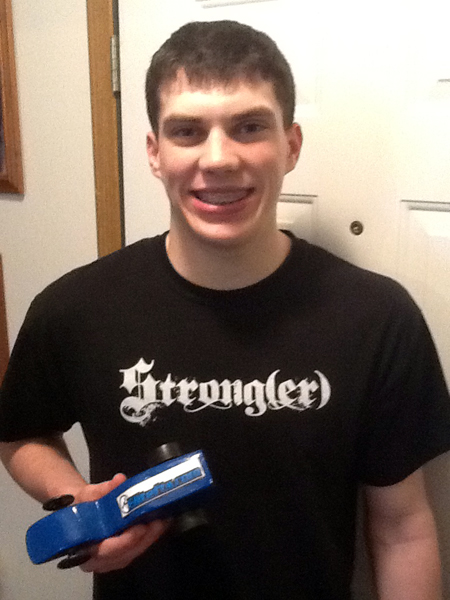 Jeff Jewett
Jeff is a 47-year-old powerlifter seen here rockin' an EFS arch t-shirt while on vacation in Virginia Beach. Thanks for sharing, Jeff!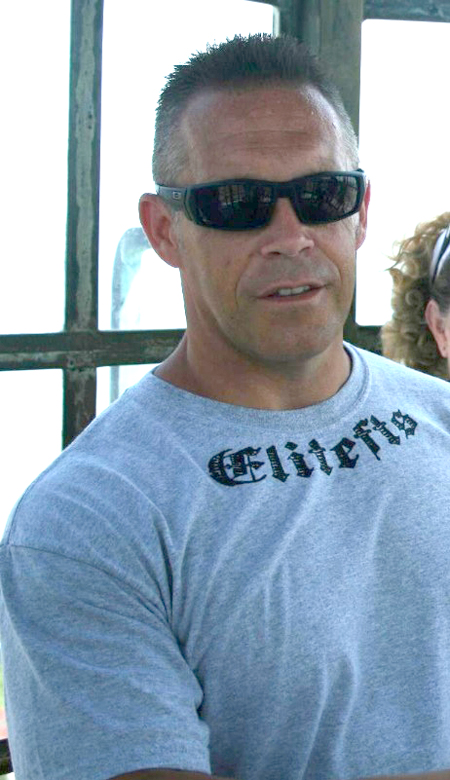 Caleb Kelsey
One of my favorite e-mails of this batch came from Caleb Kelsey:
I'm getting stronger thanks to some coffee and an elitefts™ Strong(er)beanie in the morning, while also getting my daughter ready for school!
A little bit about me: I quit drinking and started lifting about a year and a half ago. Best decision(s) I ever made. I'm pursuing a degree in kinesiology with the ultimate goal of becoming a strength and conditioning coach. I got this beanie a while back and got a GREAT 12" foam roller for Christmas this year that I absolutely love!
 Talk about devoting yourself to the things that really matter! As you develop as a coach and perfect your craft, we hope to have you as a contributor to the site, Caleb!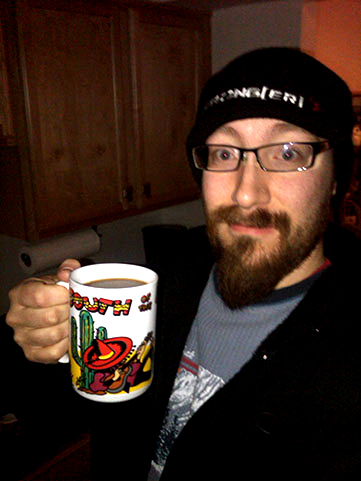 Matt Holder
And yes, we do get all sorts of pictures. Special thanks to Matt Holder for passing on the following photographic gem to us. In his e-mail, Matt said:
My wife wanted me to share with Dave and the elitefts™ family her love for elitefts™ and her love for squats.  I didn't know who to send this to. I thought it was creative so that's why you are getting it.  Is there a better platform for this?
Thanks,
Matt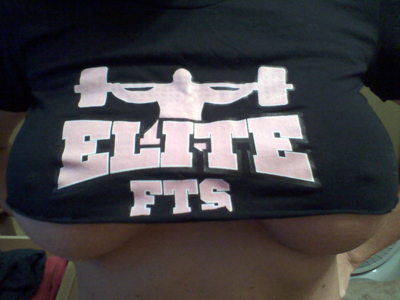 No, thank YOU, Matt! Thank you. And yes, all similar photos should definitely be sent directly to me! Matt's wife is wearing an EFS Girl AP Pink Block Squat T, but I suspect she either altered it or went a size too small, because they don't normally fit like that (which is not saying that there is anything wrong with it).
Thanks again to all of you who contributed photos and e-mails to this article. We have the best readers in the world and all the hard work we do if for each of you.
If you would like to be in the next installment of "elitefts™: Everywhere You Are", send your photos (with some background about you, where the photo is taken, and what you are doing) to guns18@elitefts.com with "everywhere you go" in the heading!
Loading Comments...