Motivation, Podcasts, Sports Performance, Sports Performance, Strength & Coaching
Elitefts Sports Performance Podcast (Episode 6)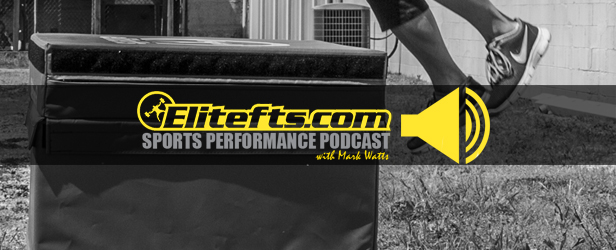 Interview with Joe Kenn
Head Strength and Conditioning Coach
Carolina Panthers
Joe Kenn is one of the most influential strength and conditioning coaches in the industry. The number of coaches that "House" has had an impact on stretches throughout the professional, collegiate, high school, and private sectors. Coach Kenn has been a mentor to me since I started reading his articles on elitefts™ and read The Coach's Strength Training Playbook which outlines the Tier System; a system that I have used with my athletes with great success.
Joe has become a friend and I am able to speak to him regularly. I was honored to introduce him when he presented at the NSCA National Conference this past summer and privileged to be one of the first to review his new eBook: The Coach's Strength Training Playbook for Football, before it was released.  Here is my review of his manual:
In today's saturated sports performance market, there are eBooks that surface left and right on various topics with an underlying motivation to make a profit. Most of these manuals turn out to be promotional platforms written by individuals who have never actually coached athletes in a team setting. Real coaches want to cut through the creative formatting and flashy marketing without reading through another theoretical guide based not on anecdotal evidence but on personal beliefs. This is not that kind of eBook.

Make no mistake, Joe Kenn's "The Coach's Strength Training Playbook for Football: A Championship Program" is anything but watered down and solely theoretical. Coach Kenn opens the door to an entire off-season of training in a detailed format. This data was collected during the off-season training of a highly successful team in a BCS conference with a number of NFL drafted players. No component of preparation was left undocumented including sets, reps, percentages, target times, and performance testing data.

There is a reason Joe "House" Kenn is arguably the most decorated and influential strength and conditioning coach in the industry. His attention to detail, straightforward guidance, and unwavering integrity is evident in every one of the 280+ pages. Coaches that truly want to help their athletes succeed on the football field and in the weight room will appreciate the effort and honesty of coach Kenn's writing. This is the type of information that strength coaches covet and will flourish with.  This is a must-read for any coach beyond the over-simplification of athletic performance. "The Coach's Strength Training Playbook for Football: A Championship Program" is written from the sack. Words Win.
It was an honor to do this interview, although it didn't feel much like one. It was more of a conversation that we've had many times before.
Part 1
Topics Covered in Part 1
Coaching in the grid of the NFL season
The transition from the collegiate setting to the professional level
In-season training and exercise density
The evolution of the Tier System
Limitations on coaching at the college level
Part 2
Topics Covered in Part 2
Mental toughness
Young coaches platform and the"new methods"
Embracing the process
Surviving the profession
Advice for young coaches
More from Joe Kenn
Loading Comments...