Orlando Strength - June 2013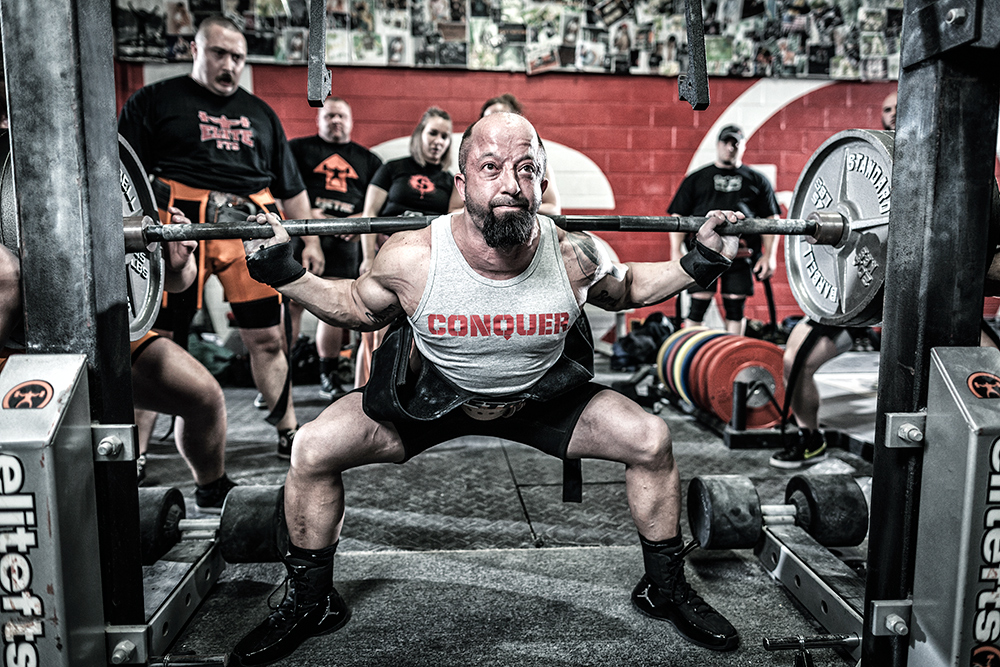 Orlando Barbell Updates
It's been a while since we've posted an update on how Orlando Barbell and our Powerlifting Team has been doing.
Orlando Barbell had a great showing at the Orlando Europa on 4/20/13. Our girls represented well with Nikki Bowles placing 1st, Shannon Thompson 2nd, and April Harper 3rd overall by formula in the raw meet. Here's the video of their attempts:

Nikki actually benched 154.2 on a third, but I believe I got all of her other attempts correct.

I believe April actually squatted 242 on her second attempt.
Congratulations again girls! They all did awesome, broke records, had fun, and are looking forward to the next meet! It's great for them to be so close in strength for friendly competition and motivation.
Orlando Barbell's 14 year-old, Paulo Sevick, also had a great day breaking all four National records in the raw teen 13-15 165s with a 297.5 squat, 225.7 bench, and a 402 deadlift.
Unfortunately, Ronnie Paras was fighting coming back from an upper respiratory infection and wasn't able to make it through the bench, but I'm sure will be back soon.
We had five lifters compete in the APF Gulf Coast on 5/4/13.
Orlando Barbell's 14 year-old, Paulo Sevick, competed again, this time in the 181s, squatting 275, 303, and missing 331, benching 209, and missing 231 twice, and deadlifting 363, 396, and 413 for a 925 total at 181 at the APF Gulf Coast Meet on 5/4/13. Paulo continues to improve and is going to be a monster!
John Hallman squatting 865, 914, and 947. He's benching 501, 522, and 551, then deadlifting 606, 622, and missing 650 for a 2,121 total at a bodyweight of 273 to win first place in the 275s and best heavyweight lifter in his first equipped meet at the APF Gulf Coast on 5/4/13. John had a great day, especially for his first equipped meet.
Ethan Wash competed raw at the APF Gulf Coast where he squatted 451, 468, and 485. He benched 270, missed 286 twice, missed 496 on the deadlift opener then got 496 and 534 for a 1,289.5 total in his first meet at a bodyweight of 211 on 5/4/13.
Stephen Harper competed in his first equipped meet where he squatted 573, benched a big 501, then deadlifted 535 for a 1,609 and first place in the Junior 198s.
Jim Sevick squatted 628, 655, and 688, benched 473, 501, and missed 529. He deadlifted 501, 529, and 551 for a 1,740 total to take first place and Masters Best Lifter at SHW at the APF Gulf Coast Meet on 5/4/13.
Rick decided to include a raw bodyweight for reps challenge to help raise money for raise money for Tadarius Jackson, who needs a kidney transplant. We thought this was a great idea so April and I gave it a shot.
April hit 135 for 15 reps!
I got 35 reps with 170.
Everyone had a great day and I was impressed with everyone's numbers. We ended up taking home the team trophy as well!
Taking a Break
As for me, after competing for almost 20 years, my body needs a break. Training is on the back burner for now as I focus on completing a couple of business projects:
One of which is a rackable low back and glute attachment. This will be a must have for anyone with a home gym. As with the Home GHR it will be economical and very effective. It should be ready for production within the next couple of months.
The next is an ebook that I have decided to name, The Minimalist Method, since I feel it produces maximal gains in the minimal amount of time with a minimal number of exercises. I feel that The Minimalist Method is the most efficient training program for increasing raw strength and lean muscle. It's a 3-day split designed to reduce training time and potential for injuries while maximizing results.
I have tried just about every powerlifting routine you can think of, but none of them worked quite right for me. Since I've always documented my training, I had a great resource for information to review what worked best for me. I've been successful in competing at a high level in powerlifting for almost twenty years with NO SERIOUS INJURIES! I've never even had to go in for an MRI. This is unheard of in the world of powerlifting. My basic training principles will allow for you to train with higher percentages with less risk of over training and injury. The programs are complete, I just need to finish the body of it and it will be ready to go. Look for it to be released within the next couple of months as well.
Recently, a member of Orlando Barbell and film student, Tyler Marino, made a short behind the scenes powerlifting documentary focusing on Orlando Barbell. Tyler realized that most people didn't have had a clue what powerlifting was when he tried to explain his new-found interest in it. He saw that he had the perfect opportunity to bring more recognition to our sport by making a short documentary for an independent study. Here it is:
Documentary
We received so much positive feedback from it that he decided to make the effort into making it into a full-length version. Here's the promo:
Promo
The plan is to follow several members of Orlando Barbell, including myself, as we train for upcoming meets. I plan to kick things up in August to prepare for the Relentless Detroit Meet on November 2nd. If you're interested in supporting the cause to make this a full-length movie, please check out Behind the Iron at this link:
Thanks to Tyler Marino for producing this behind the scenes look at the sport of Powerlifting and the Orlando Barbell Team!
Orlando Barbell Club
If you are in or visiting the Orlando area check out Brian's Gym Orlando Barbell.
Orlando Barbell offers a unique environment geared specifically towards individuals who fully intend to accomplish their strength and fitness goals. Our no frills attitude will allow you to put the neon and gossip of the franchise gyms aside and let you get to work! Members have 24-hour access, so there is no time for excuses. We have all of the equipment necessary for you to accomplish what you set out to. Big gym quality with a comfortable gym environment and cost.
Related Articles:
Frequently Asked Bench Questions
What Schwab Does When He's Not Lifting
---

Loading Comments...