Balanced Breakfast?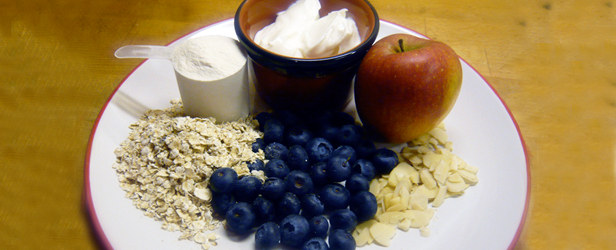 Breakfast is a contentious issue. Some say it should be the biggest meal of the day, fueling you for what you are about to achieve. Others go for a protein-only approach, while some skip it altogether. Of late, John Kiefer has written a great deal about skipping breakfast, and the research and benefits certainly add a great deal of weight to that argument. I am also a fan of Dave Asprey's bullet-proof coffee for breakfast, and I'm pretty sure John would approve of that as well. That being said, I do like a "traditional" oat-based breakfast, but it doesn't currently sit well with my diet and training goals. However, this doesn't stop me.
This easy batch-style breakfast will last for about five days in the fridge if you store it in an airtight container. Also, because you're making it in bulk, there is no prep on the day you actually eat it. So, if you're like me and you don't eat this sort of thing in the morning, do what I do and have it as a post-workout delivery of carbs and protein.
Ingredients:
(The ingredients are per portion, so just multiply each to suit your needs)
1 cup oats
1 cup Greek yogurt
1 cup blueberries
1/2 cup of flaked almonds
1 grated apple
1 scoop of vanilla protein
1 cup milk
Mix everything together, making it a nice consistent mess, and store it in an airtight container in the fridge for at least two hours before you eat it to allow the oats to soften.
Loading Comments...