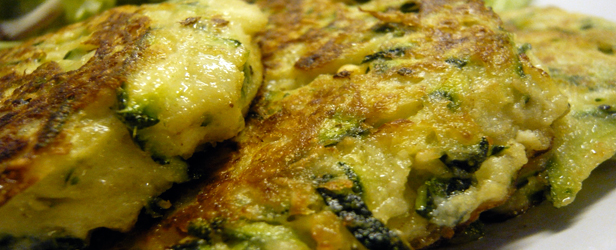 This is a nice way to disguise the nutritious zucchini if you don't like the things in their normal form. These fritters taste amazing and are a great way to up your intake of Potassium, Vitamin A, and Folate.
You'll need:
2 medium to large zucchinis
1/2 cup grated Parmesan cheese
2 whole eggs
4 tablespoon oatmeal
1 teaspoon chili flakes, or chopped fresh chili
Directions:
1. Shred the zucchini with a grater and then squeeze out as much of the moisture as you can. The best way to do this is to wrap them in a clean cloth and then twist it till the majority of the water comes out.
2. Combine the shredded zucchini with the rest of the ingredients and mix up well.
3. Heat a pan on the stove and add your oil of choice, a tablespoonful or so.
4. Drop spoonfuls of the mix into the pan and squash down into individual fritters.
5. Cook until both sides are nicely browned.
Simple as that, give them a go, and thank me later.