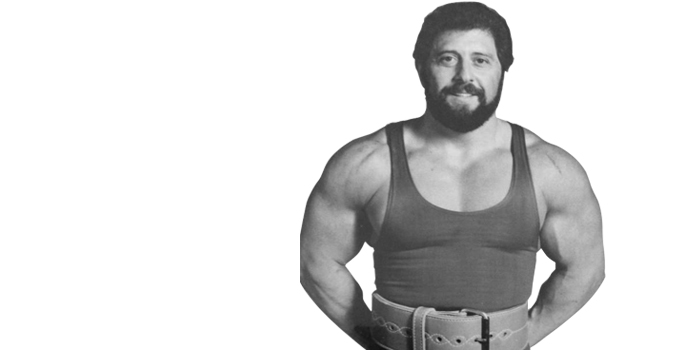 Source: As told by Larry Pacifico from Pacifico Power Systems (July 2017)
On October 4, 1980 I lifted at a meet in Dayton, Ohio that I promoted. I invited several well-known lifters of that time: the great Mike Bridges, Terry Dillard, Dave Waddington, Steve Wilson, and Mark Chaillet. Tony Carpino agreed to fly in and ref and help out. My team was also lifting, including Eric Stuber, Mac Richards, John Topsoglou, and several others. I felt good that morning and was ready to push it. Everyone has asked me, "Why do a meet only a month before trying to win your 10th world title?" Well, Bridges and I were using it as a workout. We both didn't try to make weight. I came in at 226 and Mike at 183. My training put me at 835-580-800-2215. The squats went well. I went 760, 810, 832. I can honestly say 848 would have gone up.
---
RECENT: Joe "The Lad" Ladnier Mississippi Monster
---
Then came the tragedy on the bench. I opened with 540 very easy, then the 242 world record of 578. I lowered it, but too slow. I drove it to within an inch from locking it out. The place was cheering wildly for me to take again. Against my good judgment I took it again. This time I lowered it a bit faster. Just before it touched, my left pec began to tear. To this day 37 years later, I don't know why I tried to bail out from that bar. I drove it back over my head, I guess to keep it from tearing my pec worse, and to keep the bar from sinking in my chest. Well, the bar didn't cooperate. I slid under it and the bar hit me just over my left eye, tearing off half my eyebrow. Then the bar hit the supporting brace below the bench on the left side. My hand was slipping off the bar when it hit. My middle finger and both the fingers on each side were caught.
This accident took maybe a second and a half. My friend Eric Stuber and the two side spotters couldn't even react in time. By the time they could react, I had fallen off the bench and went to feel my eye where the bar hit. I lifted my hands up and that's when I saw it. Blood started flowing and I started to stand up, but I passed out and rolled back on the platform.
I had plenty of ice packed around my hand. The rescue squad got there in 10 minutes and away I went. Once inside and rolling, they put the piece of finger that came off in some of the ice and stuck it in my sweatshirt pocket. They took me to Grandview Hospital where a doctor friend of the family met us. He sewed the two pieces together temporarily while they made arrangements for me to meet a helicopter at the University of Dayton arena to fly me and my wife Carol to Louisville, Kentucky.
Today special hand surgeons are in every hospital, but in 1980 the best hand surgeon was at Jewish Hospital in Louisville. Within three hours I was on the operating table. While I was there, in came a man from Texas who got his hand ground up in a meat grinder. There was also another little boy who came in from Tennessee. He got his little finger caught in a sliding door. I got a shot under my left armpit and I didn't feel anything for three days in that arm (it's called an arm block).
I slept on the flight down and drifted in and out for the next eight hours, but I was able to watch most of the operation — not only mine but both of the other two as well. Dr. Kunitz would go back and forth from one to the other to the other. Mine was over first. It took him three more hours to fix the other hands. He saved them all. What was remarkable was the little guy's finger was as tiny as you would expect, and with the help of microscopic lenses he worked a miracle.
I stayed there for three days. Mac Richards drove down and took Carol home. Then he came and got me. A week later Mac and I flew to California. He was lifting at National Masters and I was his coach. Then a week after that, Frank Zane and I had a seminar in New Jersey. You won't believe my luck.
Well, finally the final chapter to this event: As I mentioned, Mac Richards came back down to pick me up in Louisville. I was never as happy as I was to see Mac walk in my room to take me home to Dayton, Ohio. It was a beautiful day to drive, but once we got 50 miles away, Mac said we needed to pull over. I said, "Are you all right Mac?" He said, "I will be in a minute." He went back and opened the trunk and brought back two tall, really cold bottles of beer. I loved Mac Richards, but I never loved him as much as when he handed me that beer. It was a great trip home.
Those of you out there who knew Mac Richards know exactly what I mean when I say he was a great guy, great lifter, and a best friend to us all. A week later Mac and I were on a jet headed for Los Angeles. As promised, I left with Mac to coach him at the World Masters in Victorville. Mac's first meet was two months before this when he qualified to lift in Victorville. I trained Mac for a year. He started lifting at 58 and was that one-in-a-thousand who had that Special Super Strength. At 198 he went 450-315-440 to win. He went on to win seven national and three world titles.
Now, while I was there Mike Lambert of Powerlifting USA took the first picture of my hand and ran it in the January 1981 Issue — the same issue that ran the results of the 80 worlds. It was the first issue where my name wasn't there for the first time in 10 years. And it's still very hard for me to write after all these years.
Anyway, I digress. Tragedy struck again on our way back to Dayton. Our flight out of LA was fine. We landed in St. Louis five hours later. We had a five-hour layover. I was completely drained. I couldn't sleep on the flight. So when we landed I told Mac that I needed to find a place to sleep. He said, "Okay, just be sure you're at the gate in time." I checked my watch and had three hours to sleep and make the flight. I walked around and found a check-in counter down a hallway. Perfect — I went around and took off my coat made a pillow out of it then took off my watch, laid it down, and fell sound to sleep.
When they had reattached my finger weeks earlier, they put a long pin through the top of the finger. It was stuck in about four inches down. The top of the pin stuck out about a quarter inch with a tiny loop that bent around. I suddenly woke up startled and couldn't remember where I was. I went to get up but the pin was hooked into the carpet and I couldn't move. I checked my watch and I had only 10 minutes to make my flight. I tried to roll over but couldn't. Back then I was a big man with a big chest. Nothing worked. By this time I was pouring sweat and time was running out. So in a desperate effort, I rolled to my left and the fucking pin pulled all the way out. I unhooked it and stood up.
My finger was bleeding and I was sweating and I had to make that flight. So I wiped the blood off with my coat and pushed the pin back down my finger. It went all the way down except for about half an inch. I ran to a restaurant and grabbed some napkins and ran to the gate just in time to board. Mac was frantic. We took off and I told him what happened. When we landed my finger was twice the size. The next day I called Dr. Kunitz and he said to call my doctor. I called him and he got me in and said it might never straighten out again. I flew back to Louisville every other week for two months. He finally pulled out the pin and said it may never be straight again. Here's my finger today.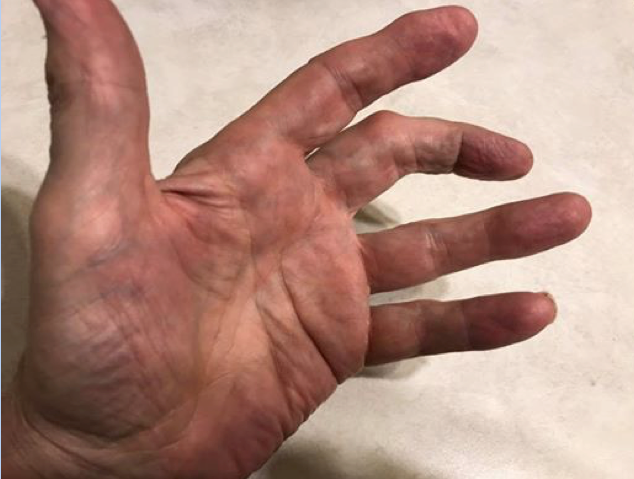 ---
Larry Pacifico is widely regarded as one of the greatest powerlifters of all time. He won nine consecutive IPF World Powerlifting Championships from 1971-1979 (198-pound to 242-pound weight classes) and set 54 world records during his powerlifting career. World's Strongest Man Bill Kazmaier has referred to him as a "god in powerlifting," and world-champion powerlifter Don Reinhouldt has said, "Larry will always be a legend of all time to us."
Pacifico's best competition lifts are an 832-pound squat, 592-pound bench press (without a bench shirt), a 771-pound deadlift, and a 2061-pound total. Exhibition lifts include an 885-pound squat, 610-pound bench press, and 815-pound deadlift, for a total of 2061 pounds.
He was inducted into the York Barbell Hall of Fame on June 28, 1998.