Most will agree that furthering one's education at a university or college is important. Also, most, if not all, would agree that getting financial help through a scholarship is a major bonus. HOPEFULLY, EVERYONE AGREES that powerlifting while at college is a NECESSITY!
It's really cool to see the sport of powerlifting become more and more mainstream. Some of us older powerlifters wish this were an option while growing up.
This article is for parents and high schoolers who might not know about scholarship and club options. I asked four colleges for more information to help someone be better prepared to earn a scholarship or a powerlifting club invitation.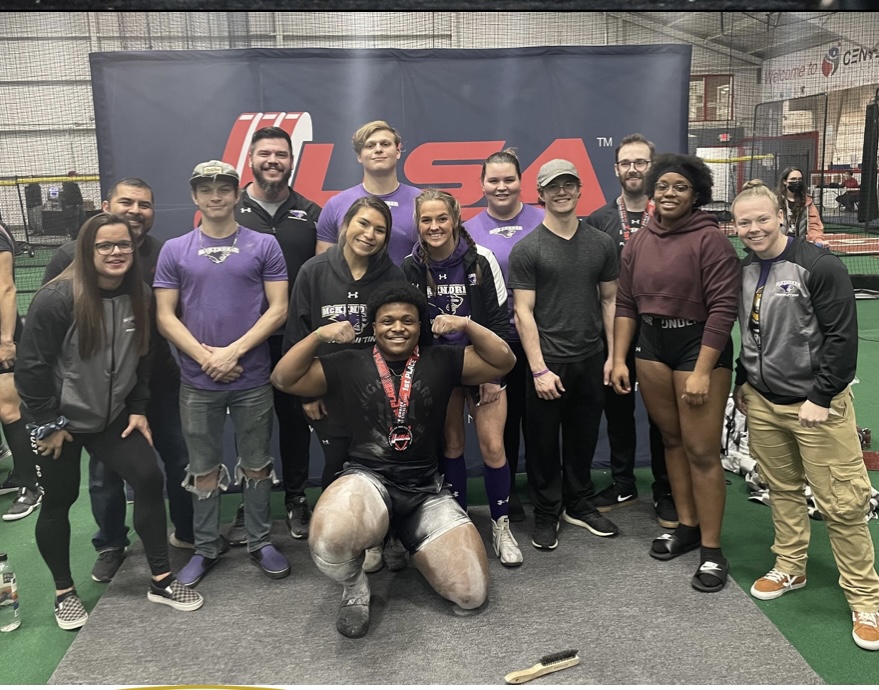 Bradly Bechel
McKendree Powerlifting is a fully funded and well-established athletic program that offers students the opportunity to receive a powerlifting scholarship while pursuing higher education. This program boasts a large, up-to-date training facility reserved for team practices. The program covers all the equipment an athlete requires, including belts, knee sleeves, wrist wraps, bench shirts, squat and deadlift suits, knee wraps, singlets, membership cards, entry fees, travel, lodging, meals, continuing education, and much more.
McKendree University welcomes walk-ons, allowing the athlete to receive funding from merit scholarships and all of the program's benefits. For students with an eligible GPA, scholarships are available for up to $17,000 per year.
Recruitment is a multi-faceted process. Academics are always the most important part of a McKendree athlete. An athlete must graduate high school with a GPA of at least 2.75. Athletes must also have their talent known, either in way of social media or meet results. We have recruited athletes with 20 meets under their belt and some with none. Athletes need to post their training lifts, meet results, and current ranking if they have them. Competing in high school demonstrates an athlete's ability to be coached, their ability to be a team player, and a ranking system within the states that host high school powerlifting for coaches to track (Illinois, Michigan, Wisconsin, Texas, Mississippi, and Louisiana).
---
MORE: Here's How You Can Land a Collegiate Scholarship for Powerlifting
---
If an athlete is in a state that does not have access to high school powerlifting, the best option is to compete in the USAPL. McKendree Powerlifting is part of this federation and it's helpful to learn the requirements of equipment and competition standards. The USAPL has the premiere stage for youth athletes. They host the largest high school Powerlifting Nationals in the USA, a prime location for recruiting and being seen by colleges. They also have an online ranking system specific to their federation, making tracking athletes easy for coaches.
Athletes should not just be coming to McKendree to compete. Education is the highest priority, and setting athletes up for success after leaving the university is a pillar of the program. That being said, we have made arrangements with our local USAPL chairs to give our seniors the opportunity to take the test for the USAPL coaching and referee certification so they may continue their passion into their adult lives.
With the combined opportunities of competing at the collegiate level and becoming a USAPL certified coach and referee upon graduation, athletes are provided the chance to hit the ground running in this industry.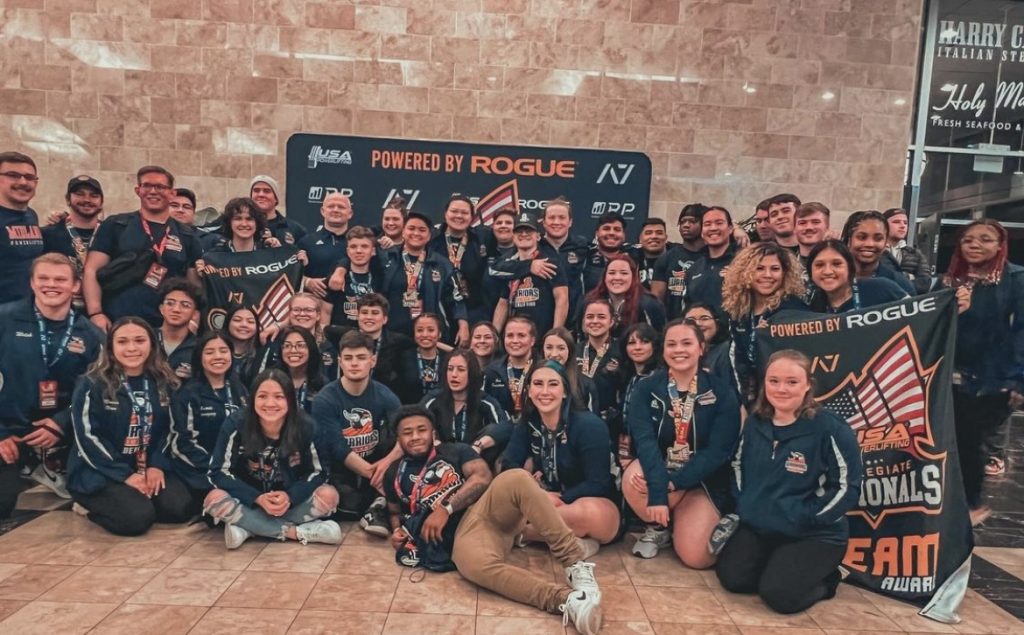 Tim Anderson
I have served as Midland University's powerlifting coach since the start of the program in 2016. Before coming to Midland, I led the USA World Bench Press Team to 12 international team awards from 2012-17. I have been involved in powerlifting for 30+ years.
In my tenure with Midland, the Warriors' men's and women's programs have won fifteen national titles and have produced 72 individual national champions. The men's program has won the USA Powerlifting Men's Raw Collegiate National Title five consecutive times dating back to the 2018 season. The women's program has four-time defending champions of the USA Powerlifting Women's Raw Collegiate Nationals title dating back to 2019. In 2022, Midland University swept all four team titles at USA Powerlifting Collegiate Nationals.
Midland University powerlifting competes in four team divisions: Men's Raw and Equipped and Women's Raw and Equipped. These divisions provide our athletes with the flexibility of competing in one or both divisions during their time at Midland.
Any student-athlete we are recruiting must meet entrance requirements and be accepted academically to Midland before they can be considered for any scholarship offer. We do not give verbal offers to athletes.
We look at several characteristics when we are recruiting athletes. First, we look at powerlifting accomplishments on the platform and evaluate their potential as a collegiate powerlifter. They must have a passion for the sport of powerlifting, not just lifting weights. They must be coachable and able to accept input from coaches and apply it to training. And most importantly, they must be a good teammate. We are a powerlifting team; we train as a team, compete as a team, and we look for athletes that make great teammates.
Do your research on several of your top college choices. Do not just accept the first offer you get. Check into the coaching staff, the team, and how much the school supports the program. Not every collegiate powerlifting team is equal. Make sure to do a campus visit to your top two or three schools and ask a lot of questions. Don't limit your search to just collegiate teams that offer scholarships. There are great collegiate programs at schools that are club sports. Pick a school and team that best fits you as a student-athlete.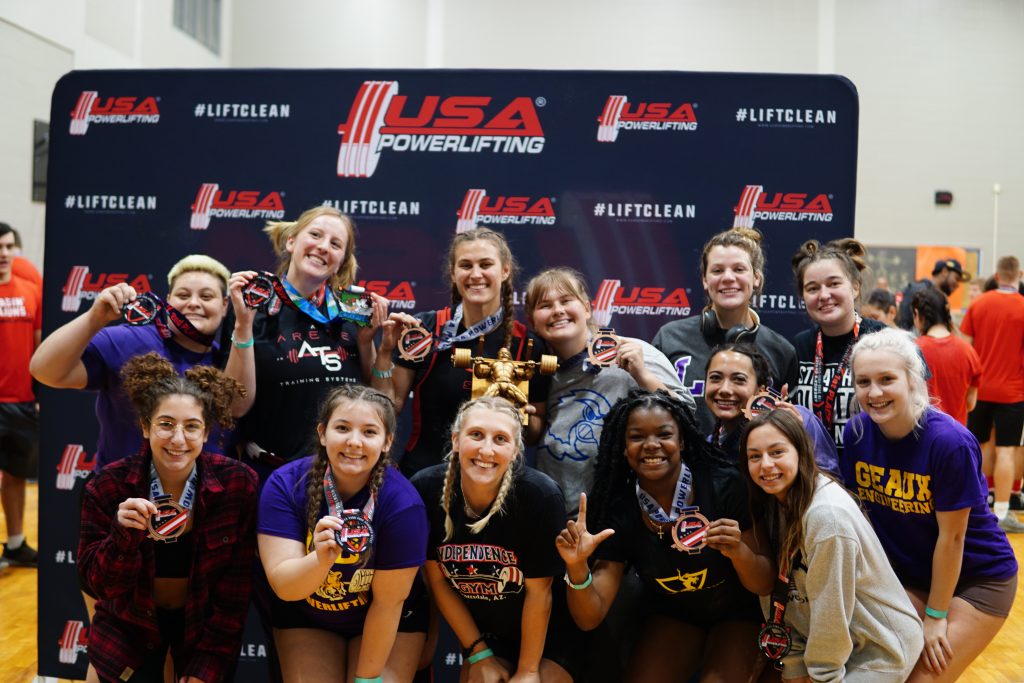 Ashton Berret
LSUPL was founded in 1999 as an official university sports club. Since then, we have won nine national titles comprised of two men's team titles, four women's team titles, and three combined titles—most sports club wins at LSU. Over the past two years, we have averaged roughly 35-40 members, with a relatively even split of men and women. Over the last two to three years, the team has transitioned from a fully equipped team to a primarily raw team, though we do have a handful of equipped lifters.
To join the team, the potential member must a) be a full-time student, whether in an undergraduate or graduate program, b) maintain at least a 2.0 GPA, c) be in good academic standing in relation to declared major, and d) be younger than 25 years old.
We use four major categories when evaluating potential new members: strength, coachability, dedication, and the ability to be a team player.
Strength
While we take members of varying strength and experience levels, this is a numbers-driven sport, and strength is weighted heavily in the evaluation process.
Coachability
Coachability is also weighted heavily in the evaluation process. While powerlifting may be a relatively simple sport in form, it is very complex in its intricacies, whether related to the physical or mental aspects of competing. The team and I put a lot of effort into helping members:
Improve technique.
Become more efficient lifters.
Enhance the member's mentality in their day-to-day training and competition performance.
Members need to be receptive to this feedback and successfully implement these changes.
Dedication and Team Player
The last two categories go hand-in-hand. While powerlifting is an individual sport, team members rely heavily on each other for support and train together at organized practices at least three times per week. You have to be dedicated enough to attend practice and team-related events while managing all the other demands of college life.
I very strongly encourage those interested in reaching out to members. Powerlifting, specifically collegiate powerlifting, has a great community that I'm blessed to be a part of. I joined the community and began powerlifting with practically no strength training experience, and now I've been able to find lifelong friends and work on creating a career out of powerlifting. Again, it's an amazing community and sport that I can't recommend enough.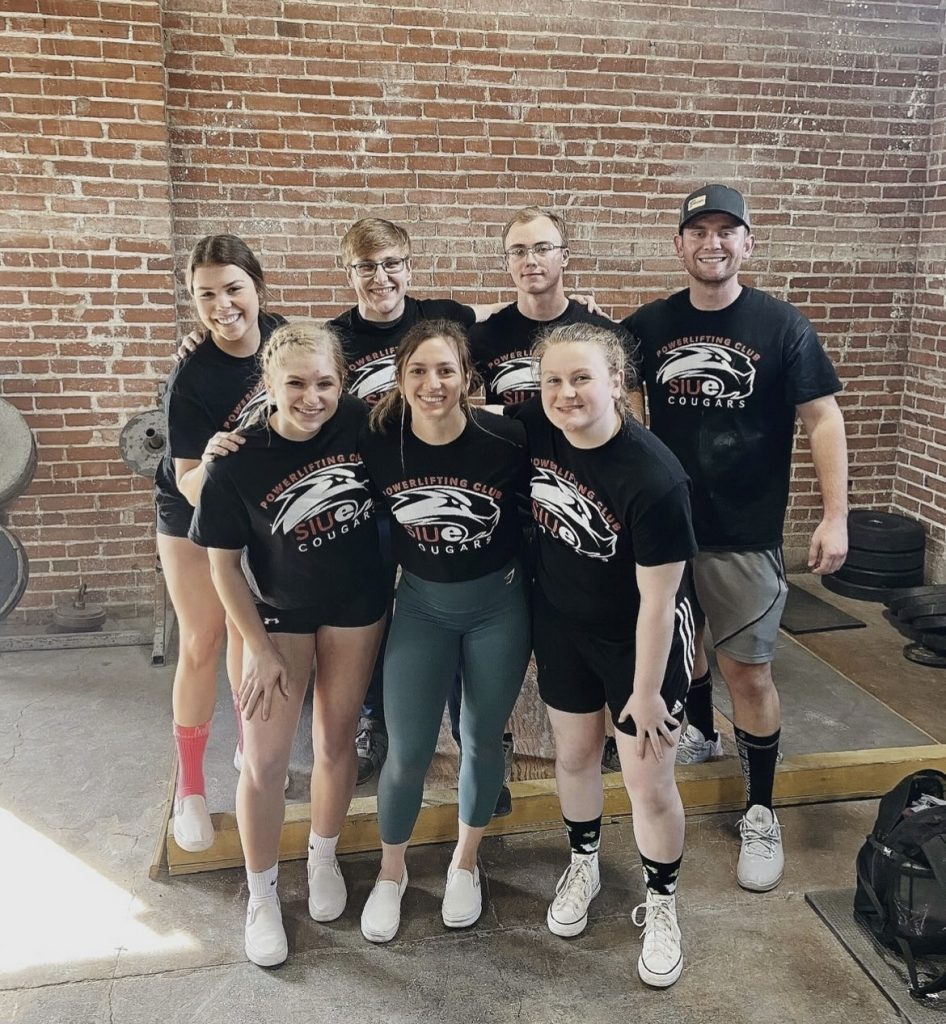 Ashley Ivec
When I arrived on campus, I discovered that the club had been inactive, so I took steps to bring it to life again. The club lifts Mondays, Wednesdays, and Thursdays. Friday is a no-lift day, just strictly team bonding.
There are no requirements to join. I believe that all powerlifters start at all different levels of experience, and there will always be room for growth, even if you have never set foot in a gym.
Safety is our number one priority. Each member must attend one to three practices weekly, showing dedication to the club. Everyone is always encouraged to have a positive attitude and is ready to have fun.
Thanks for the read and to everyone involved in sharing the information. Please pass this article along and share it with others.
---

As a top-ranked super-heavyweight, Chris Janek earned the nickname "Tank." As a two-time all-state wrestler and an all-state, third-team all-American football player, he received multiple full-ride scholarship offers, choosing to play football for the University of Wisconsin. During his collegiate football career, Janek was a four-year letter winner and a two-year starter. He was part of four Bowl Games (two Rose Bowls, which they won). After college, he furthered his football career with a tryout with the Cleveland Browns and an eight-year career in the now-defunct Arena Football League. He is the owner of Tanks Training Facility in Granite City, Illinois, and has devoted himself to multi-ply powerlifting. In 2010, Janek totaled 2660 to win best lifter at the GPC Worlds (in Prague). In 2014, he won first place and best lifter overall at the XPC Finals with a 2725 total.