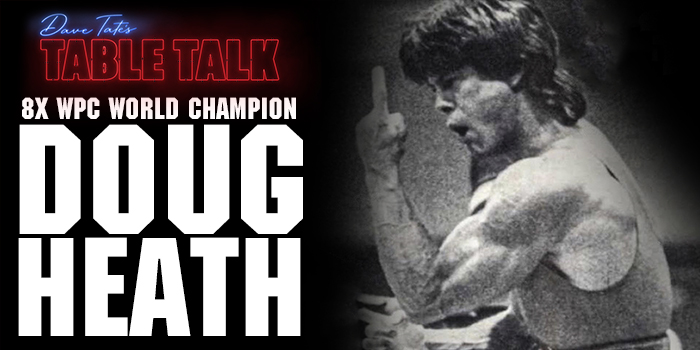 In this 119th podcast episode of Dave Tate's Table Talk, Doug Heath, and Adam Zevchik take a seat.
In September of 1976, Doug Heath met Louie Simmons at The Ohio State University. In Louie's mind, Doug was "strong as hell, but really eccentric, to say the least." In Doug's mind, Louie was the biggest guy he'd ever seen as a 20-year-old (traps to ears) and was enamored to be invited to train with Louie in his basement (before Westside Barbell existed) based on strength—deadlifting nearly 365, weighing 117 pounds.
In this episode, topics include:
What benefited Doug working as a shift worker (working nights and regarding recovery)?
Advice for someone who wants to double their current squat at roughly the same bodyweight.
Increasing strength while maintaining a low body weight.
How powerlifting has changed (comparing the 80s and 90s to the present day).
Mental prep for big lifts.
What it was like training Buster Douglas when prepping for Mike Tyson.
And more!
Two months later, Doug competed in his first meet. Fast forward to 1984, he won Senior Nationals with a 1306.2 total, weighing 132.
Adam Zevchik, the newest elitefts athlete, trained under Doug for roughly seven years. Through Doug, Adam feels his powerlifting career took off after he learned the historical makeup of the sport and harnessed Doug's mindset.
Adam was born and raised in Columbus, Ohio. He graduated from Ohio State University with a degree in sustainable plant systems with a specialization in turf grass science and a minor in business. He's the superintendent at The Golf Club at Little Turtle and manages the golf course and off-site landscape operations.
As a multi-ply powerlifter of twelve years, he has one AWPC and three WPC world titles. He holds the junior squat record in the WPC at 148. He's ranked in the top-30 all-time at 148 and 165.
Adam's most recent competition was APF Nationals (June 4th).
Learn more about Adam Zevchik
elitefts Table Talk Podcast #31 - Doug Heath
About the Host
Dave Tate is the founder and co-owner of elitefts.com. He is the author of twenty books and has logged more than 40,000 hours of training and consulting. Dave is married to elitefts co-owner Traci Arnold-Tate, and they reside in London, Ohio, with their two sons. Personal Credo: Live, Learn, Pass on™.
Join the Crew!
Support the podcast by Subscribing to our Glow.FM and take advantage of the super cool perks!
Sponsors
Marek Health is the telehealth platform that connects customers to partnered providers focusing on hormone optimization and preventative medicine—offering self-service labs at great prices and guided optimization.
Build your custom panel or a preexisting panel at marekhealth.com.
Visit MarekHealth.com/tabletalk to order a comprehensive panel, lab analysis, and optimization, plus 10% off your first order when you use code "Tabletalk" (one word) at check-out.
IG @marekhealth
elitefts is a proud sponsor of Dave Tate's Table Talk Podcast. If you can put it in a gym bag or load weight on it, we have you covered. Get 10% off your first elitefts order by using the discount code: TABLE TALK.
NEW elitefts Limited Edition T is available today!
Check it out: https://www.elitefts.com/shop/apparel/limited-edition.html
elitefts Shop: https://elitefts.tiny.us/yt
elitefts IG: https://www.instagram.com/elitefts/
Smarter nutrition for harder athletes—receive the best coaching from bodybuilding and powerlifting champion Justin Harris and Team Troponin. Troponin Nutrition provides monthly coaching to help you build muscle, increase strength, and follow a customized nutrition plan.
Get started: https://www.troponinnutrition.com/collections/coaching-diet-plans
Listen Here!
Thank You to Our Sponsor!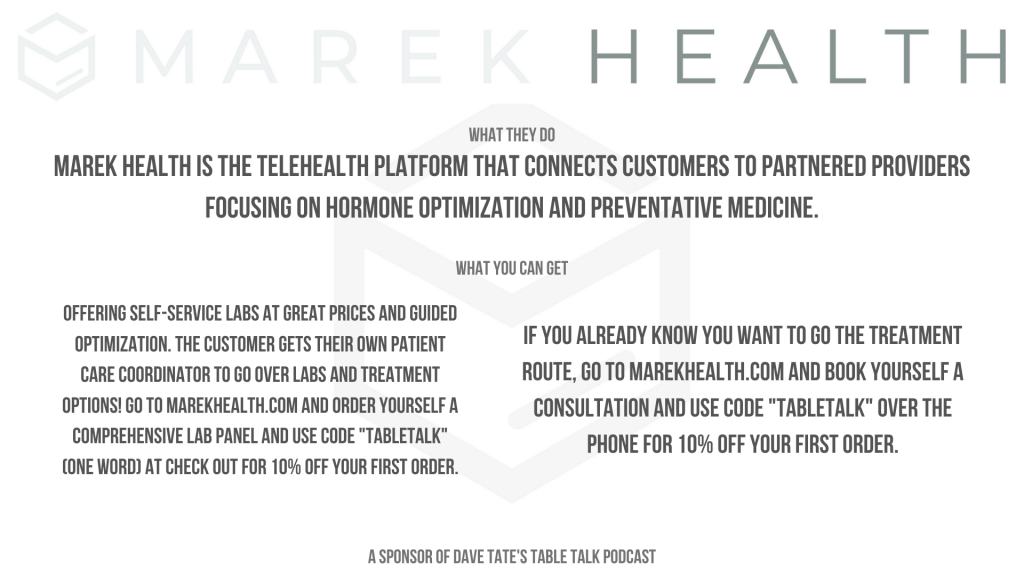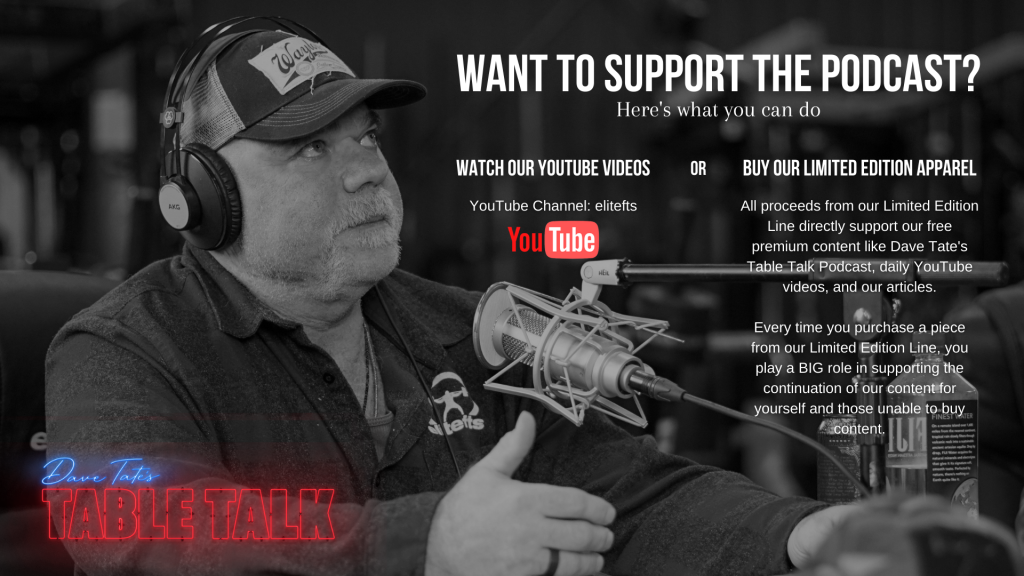 ---
Download Our Podcast Here!