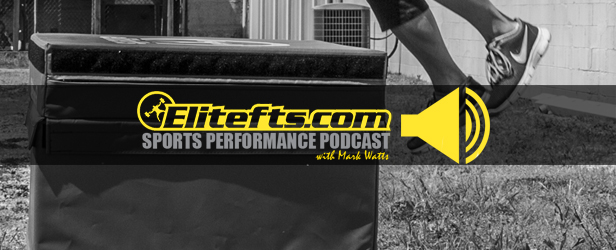 It's darker than a loan shark's heart here, Mark.
Now say that back with an Australian accent and you'll hear what I heard Dan Baker tell me when I called him at 3:30 p.m. Ohio time. It was 5:30 a.m. his time. The now-retired professional rugby strength and conditioning coach was gracious enough to do an interview with me a few weeks back. I first met Dan when he spoke at the 2013 NSCA National Conference in Las Vegas. He presented on wave cycles, and his organization and thought process on organizing in-season training convinced me that he is the real deal. Rugby is not the easiest sport to program for, especially in-season. But, after 30 years of being a strength and conditioning coach, he had figured it out as much as anyone.
In my fortunate position of interviewing some of the best coaches in the industry, I often hear the same names referenced over and over again. Dan Baker's name came up frequently. So, between his reputation and his body of work, I knew his knowledge and insight would benefit listeners as much as any podcast we've done.
Dan opened my eyes. He shares his opinions on deloading, the physiological aspects of in-season training, bridging the tactical-technical-physical gap, and the simplest and most effective method of conditioning. Dan Baker is in the same class of coaches who has utilized his education and experience to better everyone he has come in contact with. Enjoy.
Topics Covered in This Podcast:
Coach Baker's transition from professional coaching
Wave-cycling for in-season training
Neural deload vs. volume deload
Maintaining intensity in-season
Coach Baker's go-to lifts
Reflection of strength vs. building strength
Weekly in-season training schedule
Training for rugby vs. other sports
Monitoring strength and power during the season
The psychological aspect of training in-season
The state of strength and conditioning in Australia vs. in the rest of the world
The biggest mistake when conditioning team sports
The biggest issues of LSD conditioning and circuit training
Integrating the technical & tactical development with physical development
Coach Baker's best lessons
The Dan Baker File
Dan Baker is one of the worlds leading authorities upon strength and power training for sports athletes. A PhD in sports science specializing in the testing and training of strength and power, he has the scientific knowledge and practical know how to implement effective strength and power training for sports athletes. Unlike most Phd's he does not work as a full-time lecturer or in a laboratory – he trains athletes. No science bullshit – just the stuff that works.
As a Strength & Conditioning Coach
Strength and power training coach of the Brisbane Broncos Rugby league team since 1995 (title winners 1997, 1998, 2000, 2006)
Former champion powerlifter and powerlifting coach
Strength and Conditioning Coach to elite international and national level athletes in the following sports – rugby league, rugby union, powerlifting, diving, soccer, track & field, netball, mixed martial arts to name a few
A Level 3 Strength and Conditioning Coach and Master Coach of Strength and Conditioning as recognized by the Australian Strength and Conditioning Association
As an Educator and Mentor for Strength & Conditioning Coaches
Dan is the National President of the Australian Strength & Conditioning Association (ASCA) which is the not-for-profit body recognized by the Australian Federal Government to educate and accredit strength & conditioning coaches within Australia
Dan continues to lecture to all levels of ASCA coaches, from Level 1 beginner Coaches through to the Level 3 Elite Athlete Coaches
Dan is a sought after Educator of Strength & Conditioning Coaches because he makes the science easy and tells it straight. The practical implementation is what it is all about.
Life memberships
In Australian sport and social life, the "Club" is important. Dedicated club members are sometimes bestowed an honour titled "Life Member" for endless hours of dedicated work on behalf of the Club or Organization. Dan has three Life Memberships.
Dan is a Life Member of the ASCA
Dan is a Life Member of North Kirra Surf_Lifesaving Club
Dan is a Life Member of the University of Queensland Powerlifting & Weightlifting Club
Bio courtesy of danbakerstrength.com

Journal Articles by Dan Baker
Some cross-training workouts to enhance your energy system fitness
Recent trends in high-intensity aerobic training