Pro Linebacker Develops Next Generation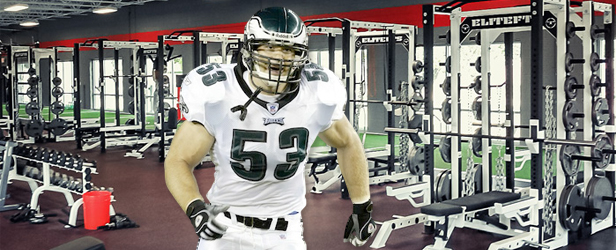 Mark Simoneau
Philadelphia can be a violent place on Sunday afternoons when the Eagles are playing. It's a city, and a crowd, to be plenty wary of—especially during the second half, when 60,000 lunatics, oiled up and filled with a dormant-yet-readily-awakened sense of loathing since the moment they pulled into the parking lot, transform Lincoln Financial Field—and the Vet before it—into the world's largest human powder keg, its detonator timed to blow as soon as an Eagle dares to make a mistake.
These are the people who booed Santa Claus, for crying out loud. The Vet, Lincoln Financial's predecessor and quite possibly the most despised venue in the history of professional sports, had in its bowels a makeshift courtroom—complete with a municipal judge, the first and only sporting arrangement of its kind in the United States—to more efficiently deal with offenders. Rough town, rough people.
Smith Center, Kansas—population 1,665—sits squarely in the north-central part of the state, four hours from Kansas City, thirty miles from Phillipsburg, and hard by the middle of nowhere. Map it on Google, and you'll have to zoom out at least three times before you see any other signs of habitation in the region.
This rough-hewn settlement on the plains is where former NFL linebacker Mark Simoneau grew up—two-and-a-half hours from Kansas State, where he forged a career culminating in consensus first-team All-American status in 1999, and it's where his parents lived, in the same house, until his senior year in college. Smith Center is America, literally. It's one of the closest incorporated areas to the geographical center of the country. Philadelphia, however, it's decidedly not.
The Anchor
Simoneau excelled in Philadelphia, though, putting the screws to damned near everyone in visual range for the better part of three years. After three seasons with the Atlanta Falcons, Simoneau more than made his mark patrolling the same defensive backfield as Chuck Bednarik and Bill Bergey, using his three-year tenure in Philly to become one of the most widely-respected linebackers in the NFL—and, perhaps more importantly, a favorite of the city's often irrationally fickle fanbase. He was, after all, everything they fancy themselves and their city—tough, consistent, and absolutely unforgiving between the lines.
Four more solid seasons and a Super Bowl ring with New Orleans followed his time in Philadelphia, at which point the Great Plains, in the form of his hometown Kansas City Chiefs, beckoned. The Saints released Simoneau in early 2010, after he'd sat out the entire 2009 season with a torn triceps muscle. Nearing the end, and knowing it, he figured he'd give it one last shot close to home and signed a one-year deal with the Chiefs.
To watch Simoneau play was to see a man possessed by the minutiae of the sport. If you can read plays, you can make plays—and Simoneau made them by the truckload. When you're laying the wood to people on every play, however, initiating full-on contact at ramming speed thirty or forty times each game for the better part of ten years, it starts to hurt after a while. By the time he began training camp with the Chiefs in 2010, Simoneau's nose for the ball had squeezed the last bits of remaining juice from the body he'd thrown from sideline to sideline with such abandon for a decade. He'd never play a down in Kansas City.
So, What Now?
Life after football can be an absolute minefield for even the most financially and psychologically disciplined players in the sport. The difficulties some face, however, have nothing to do with a lack of money or ambition. Instead, it's about a sense of drastic change they don't want, and never did.
"As a player," Simoneau says, "you put everything into it for so long, from the time you're a little kid. You're just playing and playing, and then it goes away. It doesn't matter who you are. It goes away for everyone at some point, and when that happens, if you don't have anything to look forward to, it can be pretty hard. It's hard on a lot of guys."
The mid-career idea, then, was to look ahead—to proactively derail the NFL player's traditional post-career malaise by figuring out where, exactly, his passions resided outside the game. With more than twenty years of training for multiple sports under his belt, Simoneau knew that starting his own business in the sports performance sector was something he definitely wanted to try.
"I went on IR (injured reserve) for my last two years," he says, "so I had a lot more time than most guys to think about what I was going to do when my career ended. By 2010, I made a decision about what I wanted to do, and I started trying to find a place to build a facility."
Kansas State of Mind
There was one major condition, of course: The gym had to be in Kansas. Feel free to connect the dots here. Smith Center. Kansas State. One last lap with the Chiefs. Where else would the man look to break ground? "This is absolutely about Kansas," he says. "I knew I wanted to come back here when I was done playing, and I want nothing more than to be part of this community. There's a lot of talent here, and I don't think it's recruited as heavily, from a football standpoint, as other areas. I think it should be more than it is, and I want to have something to do with that."
After doing a dry run in another area, using a smaller building, Simoneau made Overland Park, a suburb of Kansas City—and the former headquarters of the NCAA—the permanent location of Simoneau Sports Performance, a mammoth full-service facility that caters to athletes from all sports.
The idea to open his own spot wasn't something Simoneau simply conjured up one night at the bar. His older brother, Tim, started a similar facility, Pure-Formance Training in Wichita, in 2007. Given his first taste of a feasible, logical, and appealing post-career option through working in his brother's new business in the offseason, Simoneau was hooked.
"I started really thinking about it in the middle of my career," he says. "It seemed like the right thing, especially since one of my two older brothers was already doing it successfully. They were a lot older than me, and it always fascinated me watching them get bigger and stronger and becoming better athletes. Helping people improve like that just seems like a natural thing to me."
Training Age
One unique aspect of Simoneau Sports Performance's website is the online credit Simoneau gives to the coaches with whom he's worked. There's a long list, and they're all there. Spend four years playing major college football, then ten in the NFL, and you'll come across more philosophies and approaches than you could possibly count. They may not all work for you, but they'll surely leave an impression. Simoneau says he's taken a little bit of everything from everyone, then combined it with a solid dose of personal experience—the things he did, both right and wrong, during his own career—to form an athletic training philosophy he can tailor to any athlete from any sport.
"There are definitely certain things with training that I would have done differently if I had it to do over again," he says. "One of the major things we didn't focus on very much back then was mobility and flexibility, especially at the hip, so I'm big on that now with all my athletes. Later in my career, I worked with a stretch therapist who showed me where I was really lacking, and I now know the kinds of things I wish I could have done earlier in my career. They would have made a difference, but now I can pass that on."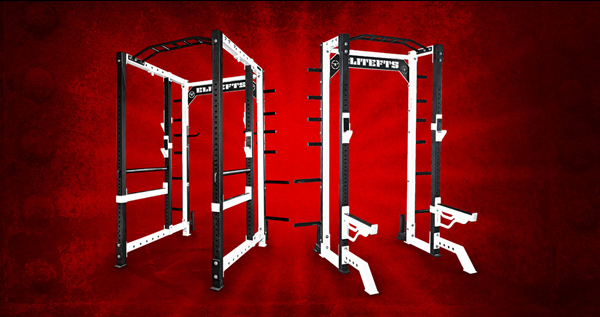 No Stone Unturned
Simoneau Sports Performance is housed in a 9200 square foot building that boasts a massive 4200 square foot weight room. Among the pieces of elitefts™ equipment Simoneau purchased for his new location, open since August 2013, are six Collegiate 3x3 Power Racks, four Collegiate 3x3 Half Racks, four Collegiate 0/90 Benches, ten complete sets of chains, three Box Squat Boxes, and a huge assortment of specialty bars, bands, and grip accessories. After training in collegiate and professional weight rooms across America for the better part of fifteen years, Simoneau knew precisely what he wanted: elitefts™ equipment.
"I love the racks," he says. "It's that simple. I love the way they look, I love the setup, I love everything about them. What appealed to me about elitefts™ was the hardcore, no-nonsense approach they take with everything. It's all about performance for me, and I wanted the best equipment in the world. Now I've got it, and I couldn't be happier with it."
Simoneau's first experience with elitefts™ equipment came during his stint in New Orleans, while training at a private facility in the offseason. "I remember saying when I used that stuff that I had to get one of those racks," he says. "I was originally thinking I wanted to put one in my house during my career, but I never got around to doing it. When I started my facility, elitefts™ was the first place I went to start looking for equipment. Any facility owner knows that your racks are going to be the centerpiece of your gym, and nobody provides that look or performance better than elitefts™."
No Limits
Given the owner's background, a common misconception would be to assume Simoneau Sports Performance is entirely football-centric. It's not, because prior to his time at Kansas State, Simoneau excelled in multiple sports, including baseball, basketball, and track and field—where he was the Kansas state champion in the shot put and state runner-up in the 100 meters, turning in a personal best time of 10.8 seconds.
"We've got every different sport at every different level here," he says. "We have kids just starting out as athletes—the 12 and 13-year-olds—all the way up through college and professional athletes. The majority here are still developing, though, so it's mostly high school age, both male and female. This facility, and the training athletes receive here, is appropriate for any sport."

The underlying idea behind Simoneau Sports Performance was to create a gym that contained everything Simoneau believed he needed to perform his best during all levels of his career. The keyword here is create. The idea of building something of his own from scratch—something with the imprint of his ten seasons spent playing under the lights in the NFL—held an appeal that Simoneau couldn't ignore.
"The whole time I was playing, trying to figure out what I wanted to do, I had this idea that it would be great for me to build a business like this," he says. "To start it and create it, thinking like an athlete in terms of how I would have wanted it."
Far Removed, Yet at the Epicenter
Football still has its allure, and Simoneau says he's often thought about coaching—especially when he sees young players missing reads and failing to anticipate things that to him are patently obvious, albeit from the stands. The idea of doing his own thing at this point in his life, however, holds far greater appeal. "Being any kind of coach in college or professional football, you're often a little handcuffed because everything is about what the head coach wants you to do," he says. "Owning your own business, you can be creative, and you don't really have to answer to anyone except the athletes themselves."
Everything Simoneau represented during his career is here in Overland Park—leading, teaching, coaching, caring, and helping young athletes avoid making the mistakes that curtailed his own longevity as a player. He's all Kansas, too, and a major facet of his new career involves the honor and privilege of helping young athletes from his home state—and what promises to be his home forever—reach their goals and put the place on the athletic map.
"When I see what we can do in this gym, from an athletic perspective and with everything else, it's just a great feeling. I'm surrounded by so many great people, in the best gym I've ever seen with the best equipment in the world, and I'm just blessed to be here doing this. I love being here, I love my career, and I love this gym."
Header Photo courtesy of Simoneau Sports Performance™
---
Loading Comments...