Joe Dowdell Guides to Become the Ultimate You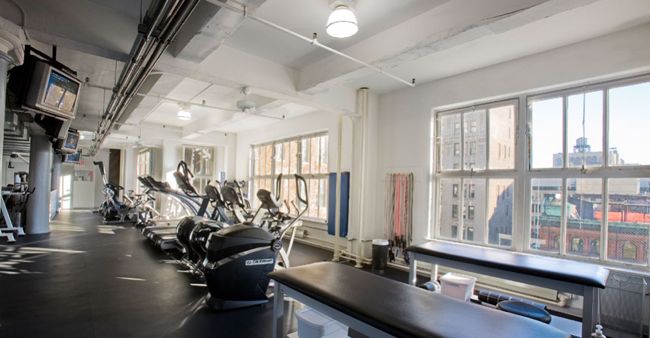 1.)    Tell the readers a little about yourself. How you got into training, some celebrities you've trained, certifications and training experience, pro athletes you've trained, etc.
I own a 10,000 square-foot training facility called Peak Performance in NYC. It was recently voted by Men's Health Magazine as one of the top 10 gyms in America. I kind of got into the fitness industry in a roundabout way. I was modeling all over the world and my ex-girlfriend - at the time - was working with a personal trainer. So I ended up getting into a discussion one day with him about the industry. Shortly after that discussion, I decided to make the transition into a fitness professional and never regretted it. I started racking up as many certifications as possible, doing mentorships and internships with various leaders in the industry. I continue to do these even today. I'm a big believer in the value of the continuing education process for both myself and my trainers.
As far as my clientele goes, I've worked with a lot of people in the fashion and entertainment industry over the years, such as Claire Danes, Natalie Portman, Eva Mendes, Anne Hathaway, Natasha Bedingfield, Kate Hudson, Gerard Butler, Derek Luke, Chris Noth, Jimmy Fallon, John Leguizamo and dozens of models from the Victoria Secret Catalog and Sports Illustrated Swimsuit issues.
In addition, I've worked with lots of athletes from various sports, including a few NBA guys, like Troy Murphy, Mike Dunleavy and Marko Jaric; a couple of Olympians, including the female Turkish National Champion in Windsurfing who just competed in Beijing Olympics as well as several mixed martial arts fighters and Jiu Jitsu competitors.
2.)    What kind of equipment is found in your facility?
We have an amazing facility at Peak, starting with an awesome management team to a friendly staff to top level trainers. They not only know their stuff, but actually look like they train. As far as the equipment and layout, the facility is world class. We have everything including power racks, two Olympic platforms, kettlebells, two Prowlers, dragging sleds, Farmer's walk handles, log training bar, sandbags, ropes, Woodway treadmills, including the Force Treadmill, Jacob's Ladder, VersaClimber, a Concept 2 Rower, three Power Plates, PlyoBoxes, the VertiMax, Fairtex Heavy Bags, Mancino Jiu Jitsu Mats, the I-Mett VO2 Testing System and a brand new, sophisticated Body Fat Testing System, and so much more.
3.)    I hear you have clients use the Prowler quite often. How do your clients feel about this? Any specific challenge you'd like to share so our readers can try it?
Yeah, we use the Prowler all the time at Peak. Our clients have a love-hate relationship with it. Unlike other facilities, it's even a bit more challenging here because we're pushing it across a rubber floor, which adds a greater level of friction to the exercise. Plus, we have about 75 feet for them to push it each way. With my MMA guys, we'll do three to five - 5 minute rounds of Prowler and sled work, rope drills, medicine ball slams and throws with a 100 pound grappling dummy as part of an overall metabolic circuit. It's pretty brutal. But, MMA guys are tremendous athletes and are always up to a challenge.
4.)    Your book, Ultimate You, was just released this May. What inspired it?
My book, Ultimate You, just came out and I'm really psyched about it. I teamed up with Dr. Brooke Kalanick, a naturopathic doctor who specializes in hormonal nutrition and fat loss. Basically, the vast majority of my clientele are individuals seeking changes in body composition, with fat loss being my bread and butter. The book is not a rapid weight loss book. It's been described as a fat loss bible for women.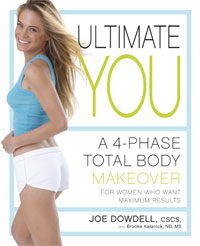 5.)    You said you can basically do most of the phases in the comfort of your home; can you give us some example exercises?
Actually, the first three phases, 12 weeks, can be done at home and it's not until the final phase that you need to transition into a gym. I think people can accomplish a lot at home, especially if they're willing to make a small investment in some good basic pieces of equipment. But, ultimately, I think training at a well-equipped training facility is really where people should strive to be.
As far as the program design goes, each strength training session begins with a few dynamic warm up movements, a couple of activation drill and then a series of resistance training exercises and finally it finishes off with some foam rolling and static stretching.
Some of the in home exercises include split squats, push-ups, supine swiss ball leg curls, flat dumbbell bench press, RDL's with dumbbells, seated dumbbell curl to shoulder press, prone and side bridging, dumbbell rows, mountain climbers, jumping jacks, etc.
6.)     It has four phases...how do they differ?
Each phase builds on the previous phase. Phase 1 is more of a preparation phase. The Strength Training program is designed to increase muscular endurance and core strength/stability. The Energy System Training is built around walking and is designed to improve the aerobic base as many of these people reading the book may be first time exercisers or relatively sedentary. During weeks three and four, they begin to use aerobic intervals as part of their sessions.
Phase 2 is about accumulation. There are two different strength training programs (A & B), which are alternated on non-consecutive days throughout the phase. The intensity of the exercises increases slightly and the rest periods between exercises decreases slightly from Phase 1. For the EST sessions, they'll use the stationary bike and begin anaerobic intervals. They also have one Aerobic Recovery/Flush session on Saturday's.
Phase 3 is an intensification phase, so to speak. The intensity increases a bit more, but they're also introduced to mini-circuits. Again, they'll alternate between an A & B program. In the EST section, we continue using anaerobic interval training, but none in the form of running. I find that many people introduce running too early in their client's training programs and they aren't ready for it, in terms of strength and stability.
Finally, Phase 4 is called Ultimate You. During this phase, they must use a gym. The strength training program is divided into three different total body resistance circuits. The rest periods are short between exercises and the density of the work is high. The EST sessions are a bit unique in that they'll use a combination of the stationary bike and/or the rower or VersaClimber. They are high intensity in nature.
Throughout all four phases, the nutrition component is ever present and they are able to fine tune things both on a hormonal level, as well as a dietary intake level. We have two tracks throughout the book in terms of carbohydrate intake (Allowable & Optimal).
In addition, recovery and regeneration techniques are discussed in an entire chapter in the book and are stressed as a key part of the UY plan.
7.)    Now, this book is tailored specifically to women. Do you think women should train differently than men and why? Also, what are mistakes you see a lot of women making in the gym/diet?
It's funny I really don't think women should train that differently than men per se. I think woman want to hear that and I think the media will try to claim that they should in order to sell magazines/books. In addition, there are the various training methodologies that vehemently claim that their method is designed exactly for women's bodies and will create long lean muscles without bulk.
Luckily, on this forum, you have very intelligent and well read coaches and trainers and we all know that these things are not the case. Women need to push themselves and challenge themselves when they train just like men. Obviously, training for fat loss will not be the exact same thing as training for maximum strength or power, but there's no reason why we can't periodically incorporate some power exercises, or even heavy resistance training, into our female fat loss clients programs. Let's face it, as we age, our ability to produce power decreases so who wouldn't benefit from adding some power exercises into their program? The key is to make sure that you choose the correct exercise based on that client's abilities at that given time - as should always be the case in all training.
8.)    Any amazing transformation stories you can share with us? Or even what it's like training a specific celebrity?
I think one of the more unique situations was a woman who was working on Wall Street, and she was at one time a competitive windsurfer.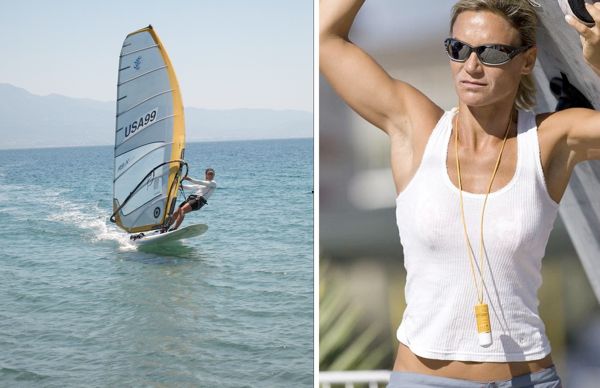 When I decided that it was probably my last chance to fulfill my childhood dream of going to the Olympics for Women's Windsurfing, I was a 32 year-old investment banker at Goldman Sachs in New York, and I had been away from the Olympic windsurfing circuit for 15 years. I was in decent shape for a wall-street banker, but nowhere close to being an Olympic level athlete in one of the most challenging disciplines for the Beijing Games. Olympic windsurfing requires the endurance level of tri-athletes, tactical skills of sailors, and technical abilities of professional windsurfers.
My extensive search for a trainer that would help me get there physically led me to Joe, who far exceeded my expectations and goals. With a highly customized program of strength endurance training 3 times a week and cardio endurance training 6 times a week, Joe made me look, feel and perform at the top of the world Olympic level women windsurfers in less than 6 months. I was even skeptical in the beginning with the short 45-minute sessions, but the results were amazing…  My body fat dropped from 25% to 14%, my sustainable heart rate (85% effort) increased to 175 for 45 minutes (target length one race) and my strength and endurance allowed me to train for 6 hours on the water (I could barely handle 15 minutes when I first started), and most importantly I won my national trials by a significant margin and became a credible competitor especially with my fitness level.  I could not have done it without Joe's unique, creative and efficient training sessions both in person, while I was in New York, and over the mail while I was traveling the world with the circuit training and racing.
Sedef Koktenturk
Turkish Olympic Sailing Team (Beijing 2008)
Women's RS:X Representative
9.)    If someone wanted to visit Peak Performance and get in a workout or schedule a session with a personal trainer, who should they contact?
We only allow private training, so they would need to schedule an appointment with my Director of Personal Training, Tim Davis. He can be contacted either by phone at (212) 229-3670 or by e-mail tim@peakperformancenyc.com
I'd just like to say thanks to Dave, Jim and the entire elitefts™ team for giving me this opportunity to talk about my book, Ultimate You, especially since it's not the typical topic of discussion on this site. So, I feel very fortunate and honored.  Thanks again.
Loading Comments...