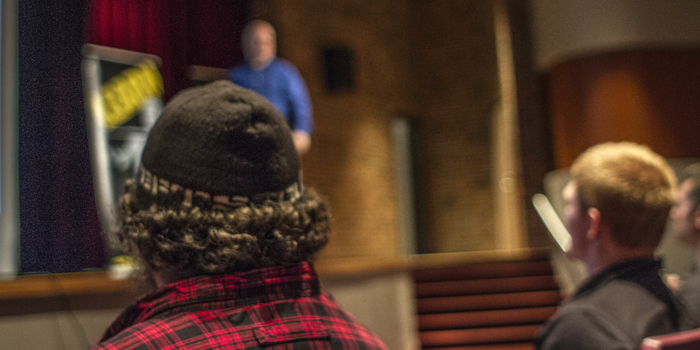 "Coaching is an art. Everyone knows the same science, but they have different ways of doing it."
That was a part of Joe Schillero's opening remarks at the 2017 elitefts Sports Performance Summit, and it's hard to find a better statement that encapsulated the event. The presenters gave you a glimpse into their philosophy and the why behind it.
The summit captured all areas of athletic performance. Buddy Morris, Mark Uyeyama and Justus Galac gave insight from the point of view of an NFL strength coach, Dr. Eric Serrano handled nutrition, and Dr. Ken Kinakin discussed muscle testing. And, of course, Dave Tate sent everybody off with some valuable words of wisdom.
---
WATCH: Table Talk with Nate Harvey — Why Do Football Players Run Long Sprints in Practice?
---
The presentations also had a wide reach. Whether you've been coaching for 30 years or just a couple, as is the case for me, you left a better coach. Each presenter gave actionable takeaways that could be implemented immediately.
Buddy Morris, strength and conditioning coach of the Arizona Cardinals, started the summit off with a bang. He brought the energy to get the day started off right and focused on the importance of the brain and recovery in regards to training, along with his continual drive to grow as a coach.
The parts on the brain and recovery were certainly important, but what stands out most with Buddy is how he always looking to improve. He went into all of the coaches he continues to reach out to and learn from and discussed the difference between an expert and a guru. Gurus don't understand the limits in their knowledge, while experts are always looking for more. If someone with Buddy's resume and experience is saying he's got more to learn, then I certainly have no excuse.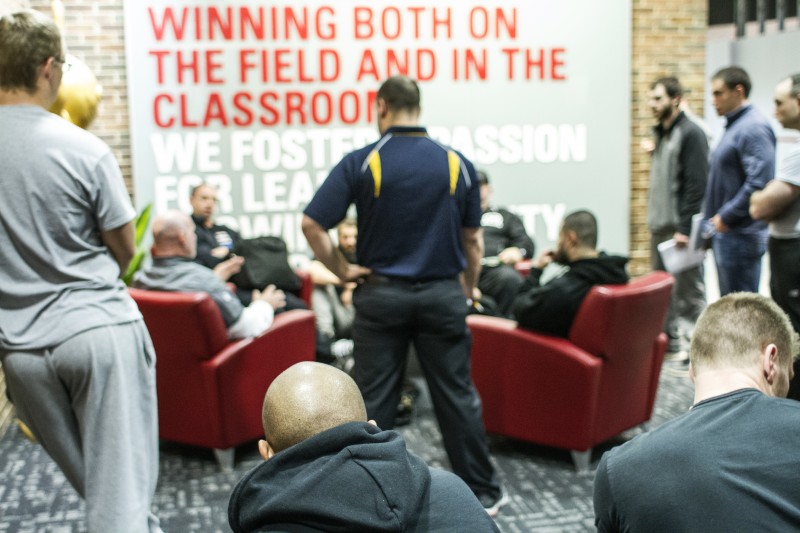 My education in the development of a coach continued with former San Francisco 49ers strength coach Mark Uyeyama. Mark stressed training with specificity and not letting the dogma of training interrupt what you do. Just because there's a way "we've always done it," doesn't make it right. We need to ask the right questions, continue to gain knowledge, and think in a logical fashion. There's a reason he's lasted through five head coaches — and it's that he bridged the gap and presented the training not just to the modern day, but with the best scientific thought. We need to think of the big picture as coaches.
Part of that big picture is establishing the right culture in the weight room, and Galac showed how he made that possible with the New York Jets. A common misconception is that pro athletes are also pro weightlifters. There are times where that is far from the case, and it's up to the coaches to teach them properly and keep them healthy. That's accomplished through being organized and telling the players what you want them to do and why it's beneficial to them. This will create more of a buy-in. Everything in the Jets weight room is labeled, and Galac also coaches his coaches so everyone is on the same page and delivering the same cues. He knew he had the right culture when coach Kevin Greene, a Hall of Famer, came in the gym and made sure the dumbbell was facing up in the rack. Establishing that culture provides the level of detail we are looking for as coaches.
On top of the NFL strength coaches, the summit featured two hidden gems in Dr. Serrano and Dr. Kinakin. They may not be the "headline" names, but they got the crowd's attention early. I've heard Dr. Serrano speak before and what amazes me is that his level of knowledge goes far beyond the scope of his presentation, yet he gives tangible information that can be used tomorrow. I'm the furthest thing from a nutritional expert, but I left his talk able to give nutritional guidelines to help with fat loss, strength, energy, and even endurance. You know someone is on a whole other level of intelligence when they are able to take complex topics and break them down to where someone without prior knowledge can learn.
[gallery columns="5" ids="155962,155961,155960,155959,155958"]
The same holds true for Dr. Kinakin. I know he's so much smarter than the information he's presenting, but he found a way to make it practical for everybody. He went through common upper body dysfunctions, the root of the problems, and simple muscle tests that anyone could perform with minimal equipment. He made it sound so ridiculously simple. I want to make sure I give both of these speakers their proper due. In terms of experience, I fall on the lower end of those present at the Fawcett Center, yet I felt like an expert on muscle testing and nutrition by the end of the day.
I did leave with one regret, though: I didn't know Dave was going to talk to everyone on stage at the end and had to leave during his talk to catch my flight. It was embarrassing to be the one guy who left, especially when it's Dave speaking — a person who has influenced my career in more ways than he knows. I should have known. Since when has Dave or anything associated with elitefts not gone the extra mile to make sure everything is perfect? There's a reason they are the gold standard.
However, I did catch most of his speech and left with a razor-sharp focus. Dave talked about having enablers and realists in your life. The enabler comes with some drawbacks, but will be the one who supports you through it all because they will fuel your soul. The realist will protect you from yourself, but you don't want too many of them because they will hold you back. You need both, but it's about where and when. The enabler is going to push you when everyone says you're crazy and get you past that point where the realist says you can't go. There's a lot more to Dave's story than my explanation, but I don't feel I could do it justice.
Elitefts delivered exactly what I expected with the Sports Performance Summit. I got to learn the why behind the philosophy of three NFL strength coaches, become better versed in nutrition and rehabilitation from two of the most well-respected doctors in the world, and got a much needed kick in the ass from Dave. This wasn't a seminar where you could just get the slides and it be worth it. The value was being there in person.
---
Charlie is a CSCS, NASM CPT and CES and CPPS certified trainer in Staten Island, New York. He was named the Strong Bastard 911 contest winner from Joe DeFranco and Jim Smith in 2015. Before training, he worked as a sports writer for the Newark Star-Ledger. He writes about his experiences in the fitness industry at Guthrietraining.com.