Training Through Obstacles and OBB Success at APF Gulf Coast Winter Bash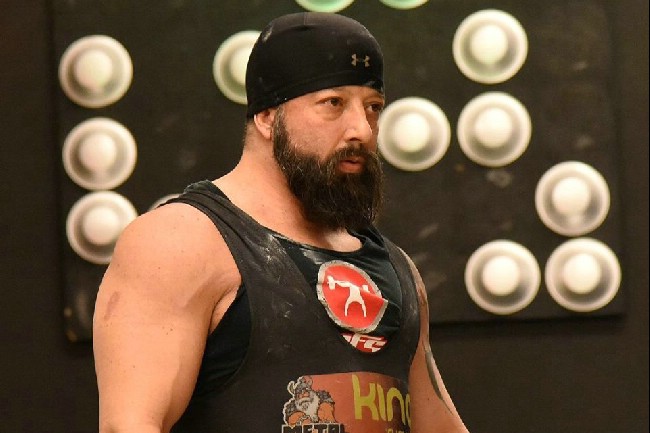 Before I describe how my most recent meet went, or what I've been through in the last year, I have to give credit to my friends and teammates who did a phenomenal job this past weekend.
Richie Hayes competed in his first meet in years. The last time he competed he went 335-195-350 in multi-ply at 114. This was his first raw meet and he went 352-226-435 for a 1013 total at 142 pounds. There are going to be some shameless plugs for my M2 Method Raw Training Ebook in here, but they're warranted.  Richie has been following the M2 Method verbatim and has not only greatly increased his numbers, but put on a significant amount of muscle as well.

My buddy, Mr. Producer Tyler Marino, competed in our Orlando Barbell New Year's Push/Pull two years ago where he benched 265 and deadlifted 425 at 165. He has been training with me for years now and a few weeks ago he decided that he wanted to take on the challenge of competing in a full meet. His improvements have been nothing short of astonishing. He has no choice but to follow the M2 Method (since he trains with me), but he hit numbers well above what he's even hit in training with a squat of 314, a bench of 314, and a deadlift of 501 for an 1129 total at 181.
Stephen Harper has also been training with me for years. Relatively recently Stephen opened up his own dynatuning and custom speed shop and is now spending long tiresome hours there. He's still managed to train three days a week and continues to make significant improvements while providing great motivation for me.  Last year he competed multi-ply where he went 573-501-535 at 198. This past weekend he missed his first two squats, but gutted through to get his third and continue on to out total me going 611-474-639 for a single ply total of 1724 at 198. This was over a 100 -pound PR over his multi-ply total! He also went out of his way to help me out by calling my depth.
Neal Cotton trains with none other than Mr. Jo Jordan. While preparing for the meet, he kept saying that he was going to erase Jo's deadlift from the 275 spot on our records board. Jo said this wasn't going to happen since he'd be calling Neal's numbers, but Neal in fact did just that with a big pull of 733, along with hitting huge numbers of 848 in the squat and 534 in the bench in his first meet back in six years. Similar to Stephen in the squat, Neal missed his first two benches, but gutted through to get his third to hit PRs on everything.
Congrats to the Orlando Barbell Team on winning the Team Trophy as well!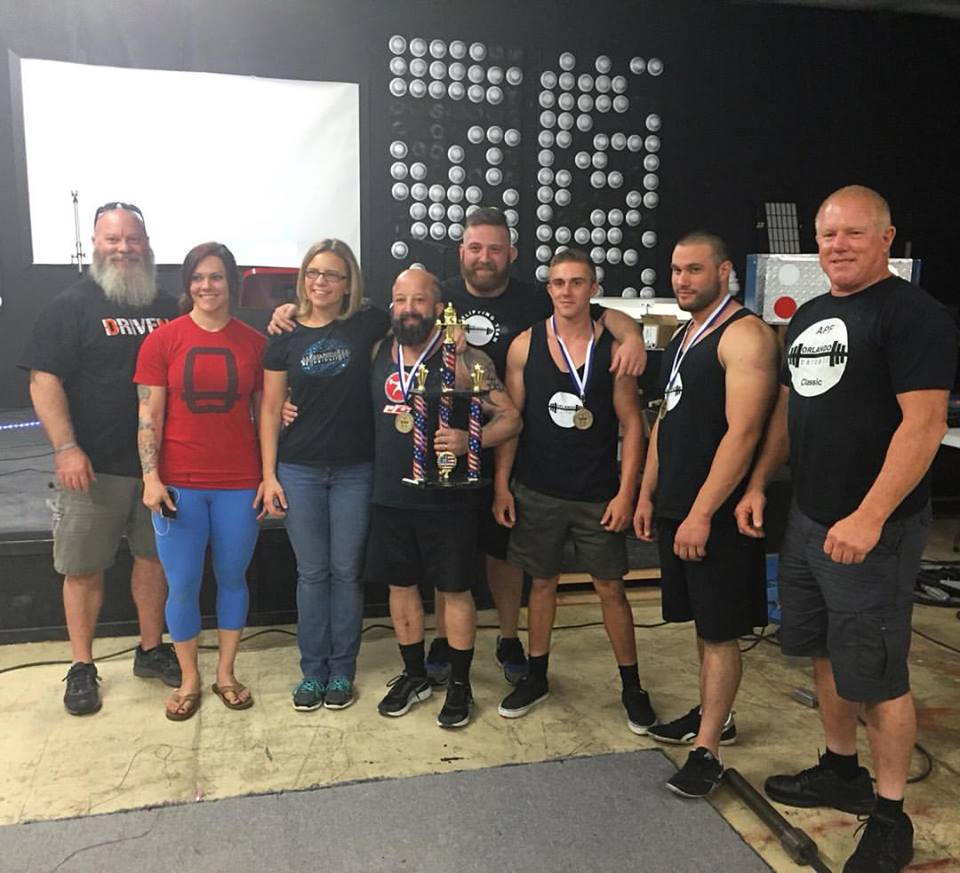 Here are Jo Jordan, April Harper, Trinity Schwab, me, Neal Cotton, Richie Hayes, Stephen Harper, and Rich Hayes (missing: Tyler Marino, Sara Nikles, Tyler Weaver, Amanda Crawford, Bri Otto, Sean Brownstein, and Andrew Blackton)
Now on to my path to this meet.
We all have difficulties in our life. Some are greater than others.  Sometimes these difficulties make us lose sight of our goals. Sometimes life gets in the way. In the world of powerlifting, this most often happens with injuries. Thankfully this hasn't been the case for me. In over 20 years of competitive powerlifting, I've never had a serious injury. Sure, I've had aches and pains that I've had to work around, but I've never had anything serious to deal with, until this past year.
Starting over a year ago, I got to a point where I wasn't able to put on any weight or strength. No matter what I ate, how I trained, or what supplements I took, I couldn't improve. Imagine how frustrating that would be, especially for a powerlifter. More than ever, I considered leaving the sport as my body couldn't handle it anymore. My spirit was wavering, but I never gave up. This may be TMI, but I went for a year where I shit blood 10 to 15 times a day (it always seemed to come and go so I thought it would eventually subside) but I was also continuing to lose strength, weight and energy. I finally went to the GP, then a GI specialist, and finally had a dreaded colonoscopy to eventually get diagnosed with Ulcerative Colitis (UC). Thus began the process of finding a combination of medication that would hopefully put my Ulcerative Colitis in remission.
---
MORE: How to Use the M2 Method in a Commercial Gym
---
Initially, the doctor precribed a pentasa enema (which was awful and worsened my symptoms), lialda (which I'm still on and it seems to help some but I believe is more beneficial for people in remission), Imuran (which worsened my symptoms as well) and a couple unsuccessful rounds of prednisone (which is an awful drug).  Unfortunately, our insurance Blue Cross/Blue Shield only covers generic prescriptions, and none of the UC meds come in a generic form. I was left with no other option but to attempt to get on a clinical trial that would then allow me to obtain a biologic at no cost. In addition to the meds and prior to the clinical trial, we had tried everything including a paleo diet, a gluten free diet, a sugar free diet, a non-processed food diet, supplements such as slippery elm bark, fish oil, and turmeric (all of which are supposed to help alleviate Ulcerative Colits), as well as a Garden of Life Probiotic with 85 billion live cultures. None of it helped. The fact is that Ulcerative Colitis is an autoimmune disorder and needs to be treated as such. Diet modifications seem to only provide moderate help during a flare up.
Although I was diagnosed in January, I know that I've been dealing with UC much, much longer. This past year has been somewhat frustrating in trying to find a medication that would put a stop to it. Even with the uncertainty, I decided a couple weeks into the trial that I would sign up for the APF Gulf Coast Winter Bash. My hope was that the biologic would work so that I could compete in a meet this year. Thankfully, it did. This is just one of the many obstacles I've faced this past year.
My point from writing this is to explain that we're all dealing with issues, life can always be worse, and no matter what your situation is, you can always find a way to get through it.
I weighed in light at 162, which I unfortunately often do. Here's how my day went:
Squats
First Attempt — 644, good.
Second Attempt — 705, came up easy but was red-lighted for depth.
Third Attempt — 705, came up easy again but was once again red lighted for depth.
I was pretty bummed after this since not getting the 705 took 60 pounds off of my total. But I continued on.
Bench
First Attempt — 407.7, good.
Second Attempt — 435.2, good for a single-ply PR.
Third Attempt — 451, miss.
Deadlift
First Attempt — 534.5, good.
Second Attempt — 573, good.
Third Attempt — 600.7, miss.
I totaled 1652, which is well below my best single ply total of 1735, but it was still good enough for 1st place, best single ply lifter, and most likely will put me in the top 3 on the Powerlifting Watch rankings. To be honest, just competing in this meet after what I've been through this past year was an accomplishment.

I have some work to do if I plan to compete in nationals in May.
My plan for now is to continue to work on improving my health.  I also plan to work on improving my hip and shoulder mobility which should make all three of my lifts more efficient.  We'll see where I'm at in a couple of months to determine whether or not I'll be ready.
Header image courtesy of Kenneth Richardson of Strength Sport's Photography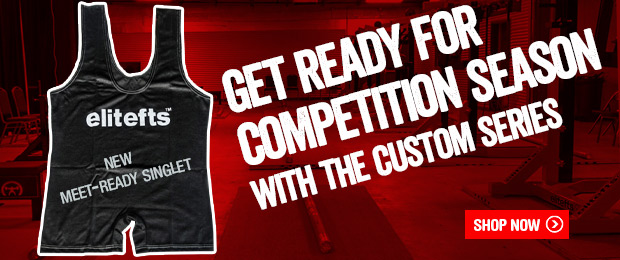 Loading Comments...