A Visit to the Compound

I recently got the opportunity to visit Elite Fitness Systems in London, Ohio for the first (and hopefully not the last) Learn to Train Seminar, with all proceeds going to the Make-a-Wish Foundation. Even though I've followed the company and have been a customer for several years, this was my first opportunity to visit their on-site training area (nicknamed Area S4, or The Compound) and meet their sponsored athletes and the owner of EFS, Dave Tate.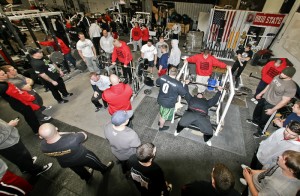 The first item on the itinerary for the seminar was technical instruction of the three power lifts - squat, bench and deadlift. After Dave took us all through some technical points on one of his lifters (Ted Toalston, who looks a lot bigger in person than in their videos), he asked the group, "So who thinks their squat sucks?" I had my hand in the air before Dave could even turn around, and was lucky (unlucky?) enough to be torn to shreds by Dave, as well as Todd Brock, a friend of Dave's and a great powerlifter himself.
While I don't have the most impressive squat in the world, I always thought it was rather technically sound, especially since I am pretty good at hammering the technical aspects into my training clients. However, it seemed like this was one of those cases of "even trainers need trainers," because I clearly wasn't practicing what I had been preaching.
The first thing Dave and Todd noticed was my grip - specifically, that I was completely incapable of fully gripping the bar with my left hand, no matter how hard I tried. I'm not sure if it's something to be proud of or terrified by that it was actually something neither had seen before, and didn't quite know how to fix. The answer seemed to be widening my grip out substantially. That seemed to take care of it.
Dave and Todd then spent the next 30 or so minutes making tons and tons of adjustments to my technique. Never in my life has it been so painful to squat an empty barbell before, but by the time they got done with me I had a list of things to fix and a smile on my face.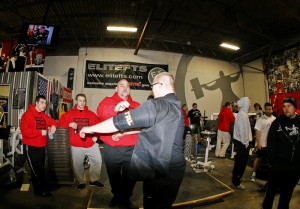 Then we all broke out into stations and received additional one-on-one coaching from some of the EFS-sponsored lifters. I think everybody got a little overzealous with the squat, because the group was originally allotted 30 minutes to practice, but ended up going for about two hours. Since I saw several personal records broken among even just the small subset of lifters at my station, I don't think anybody particularly cared that it ran long.
From there we moved on to the bench press, with Dave giving a relatively short, maybe 15-minute breakdown of the performance and leaving the rest up to the coaches who were handling each station. I think everybody was pretty gassed out from a few hours of squatting and we wrapped things up in about 30-40 minutes.
Last in the technical part of the seminar was the deadlift. Again, Dave did some quick review and left the coaches to make the bigger corrections. Although, I did hear Dave give one of the most logical, yet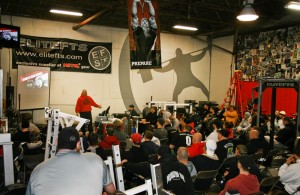 interesting, ways to get males to set up right for the sumo deadlift, which was, simply, "try to drop your nuts onto the bar." The best part was seeing all of the metaphorical light bulbs going off over a good twenty heads after he said it.
Since we were running late from a long squatting session, lunch was already there, so Dave told us to alternate between lifting and eating. Again, we broke out into groups, and Todd Brock was the coach working my station. Having helped coach my squat with Dave at the beginning of the seminar, he took one look at my deadlift and said, "Well, at least we know you're good for something!" Which is good, because the deadlift is the one lift I feel pretty comfortable with so it was nice to have a little affirmation.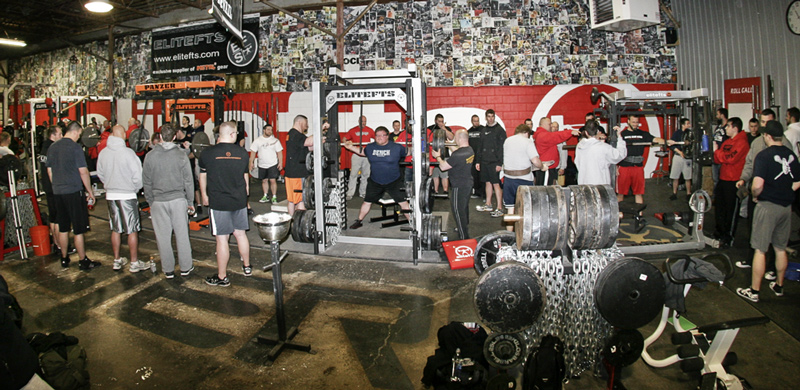 After we wrapped up the last of the technical part of the seminar, we moved into program design. While a lot was covered, I think one of the best takeaways for the day was the concept of making sure your programs fulfill three requirement:
1. Is it sufficient?
2. Is it necessary?
3. Is it safe?
The idea is that if you have to answer no to any of those things, the program is flawed. An example given was somebody who makes three attempts at a max weight and misses every one - were those last two attempts really necessary for the program to work, or was it just motivated by ego?
Finally, maybe about 40% of the group stuck around for the business discussion, where Dave shared the timeline of Elite Fitness Systems and covered a lot of the mistakes that he made in developing and growing the company.  The thing that really impresses me is that Dave is so incredibly open about where he has gone wrong and doesn't sugarcoat anything. I posed a question during the Q&A about a problem I had been having with one of my coaches not catching on fast enough, and after some back and forth he pretty much said (I can't recall the exact wording), "You're the one who's f*&%ing up by not making it clear enough what you want." I know some people wouldn't be as straight-up in their response, and I appreciated the no-BS answer.
I can absolutely guarantee that if Dave ever holds another one of these seminars, I will be going again and taking my entire staff. Those of us who got to attend this year are definitely a lucky bunch. Thanks again to Dave, Todd Brock, Jason Pegg, Ted Toalston, Steve Diel, and everybody from EFS who helped out. With any luck I hope to see you all next time!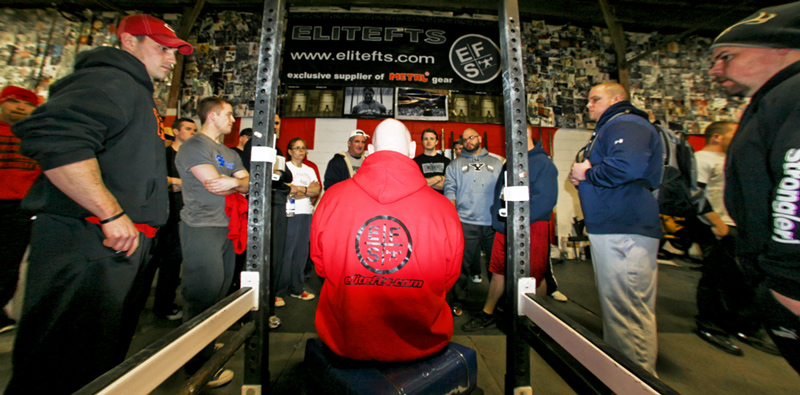 Loading Comments...