Bodybuilding, Motivation, Sports Performance, Training
2010 North American Strongman Nationals Write-Up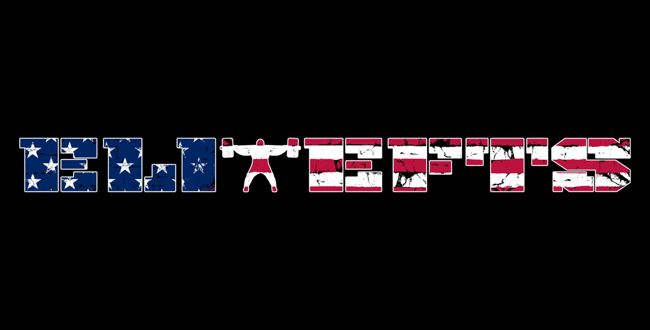 I arrived in Reno, Nevada, ready for a battle. The events for this competition were the heaviest I've seen throughout my strongman career, with the exception of World Strongwoman Championship in 2008. The field of heavy weight competitors was stacked beyond belief. There were ten women competing in the heavy weight division and 22 women in all three classes.
I knew which competitors were coming, a few of them I just hadn't competed with, so I wasn't sure what to expect from some of them. I had individual event goals and my overall goal was to place in the top three. My training program leading up to nationals was a mental stretch to open my mind to a different approach to strongman. My mantra through training was always to trust in the program. I did and it worked.
It's important to note that the official score sheet from the competition hasn't been posted yet, so my times and event placings are based off memory and videos I've seen. As for my own videos, I haven't had an opportunity to sort through them and load them up.
The first event was a 160 pound axle clean and press for reps in one minute. My in-hand max is 180 pounds, but I suspect it's closer to 190 pounds. In the current world of strongwoman that's an above-average press, but not great. Pressing continues to be my weakness. More and more women on the top-end of the sport are pushing 200 pounds with their pressing. I knew I'd take a hit on points with this event and I was right. I was using a double overhand grip on the continental clean and was able to do four reps. I had plenty of time for a fifth rep, but the double overhand grip failed me. In hindsight I should've switched to a mixed grip for the continental clean, but I didn't. The pressing portion felt great. Kristin Rhodes (three time America's Strongest Woman) and Melissa Garrett (powerlifting powerhouse) tied with eight reps and Christina Lafex who trains with Derek Poundstone, blew me away with seven reps. Four reps was only enough for sixth place and placed me in a tough spot to recover as far as points were concerned.
Next event was the truck pull for 80 feet. The heavy weight women were supposed to be pulling a 22 thousand pound dump truck. The parking lot had a significant uphill grade, so the decision was made to switch to a pick up truck with people loaded in the back. In addition to the grade of the parking lot, the last five feet of the course had a dip in it that stalled or substantially slowed many women down.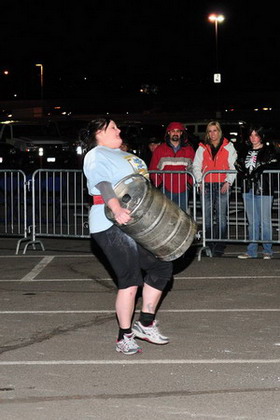 I placed third in this event with a score of near 48 seconds. Melissa and Kristin battled it out for first and second place and came in somewhere in the 43-second range with fractions of a second separating their placings. Melissa took first in this event. My placing helped recover some of the points I was behind with the pressing. Christina Lafex came in right behind me on this event, so it would continue to be a battle to make up some points.
By this time the sun had set and it was freezing cold outside. The competitors were all putting on whatever layers we had to keep warm, but most of us underestimated how cold it would be. Temperatures had fallen into the low forty degree range and this competition was turning into mental grit to hold it together in the freezing temperatures and compete well without injury.
The 500 pound yoke for 60 feet was next. Training went well for me and I finally figured out some speed techniques. Historically the yoke is my demon in competition and I drop it which slows down my time. During warm-ups we were establishing our heights for the yoke. I got plenty of advice on why I should increase my distance on the yoke from the ground. I wasn't going to switch anything and decided to stick with what I know and how I trained.
My time on this event was near 14 seconds, which was enough for fourth place. The best part is, I didn't drop it. Looking at my videos, I started out incredibly fast and after about 20 feet I remember thinking, "Oh my God! I'm not dropping it!" which slowed me down for a bit and then I recovered the speed once again near the end.
Kristin and Melissa once again battled it out with fractions of a second separating them in the 10 second range. Kristin won the yoke, Melissa second and Allison Bradshaw took third place in the 12 second range. So this was another opportunity to close the point gap with Christina and catch up.
The forth event was the 230 pound keg carry for 60 feet and then the 500 pound sled drag for 60 feet. John "Sarge" Allen from The Sequim Crew was doing his best at getting me amped up. He kept telling me that he knows I'm a very nice person and reserved, but I need to unleash the inner aggression and kill this event. Apparently he didn't think I was very open to his suggestions because he started yelling at me that, "Matt said my sister is better than me and Matt chimed in a few things about my mom." Of course I thought these were the funniest things I had heard in a long time and his plan back fired.
I'm a very calm competitor, rarely will you see any type of rage or aggression. I'm firing myself up in my mind and working through what I need to do. I very rarely grunt or yell and if I do, I end up laughing like I'm 12 years old and someone farted in class. It completely backfires.
We did decide to go the ammonia route for this event simply because the keg hurts my hands and I needed to continue to make up some points. I completed this event in the 40-second range. I'm not sure if I took third or fourth on this event. The 500 pound sled felt very light (still wondering if it really was 500 pounds) and in hindsight I should've trained more light sled pulls to work on speed.
The final event was a 240 pound atlas stone over a 51-inch bar for reps. At this point I was out of third place by two points, so I needed to dig deep and do well. I was going head-to-head with Christina on this event. I loaded two and was able to hear Christina's stone load and she was rocking it. She was at four by this point. I got my third load up to the bar and gave up. I knew I wasn't going to catch up to her and stopped. I completed two reps. Quitting, perhaps.
I was shocked I didn't do better and have no reason why I didn't. A 240 stone load has always been just another day at the office for me. Christina loaded five for this event, which was a three-way tie between her, Kristin Rhodes and Melissa Garrett.
In the end, I placed fourth. Christina Lafex placed third. I am pleased with that. My training went well and there was some crazy competition. Melissa Garrett was able to edge Kristin Rhodes out for the win with event wins coming down to fractions of seconds.
Melissa is one of the nicest people you'll ever meet and her strength is beyond amazing. Melissa has much improvement to make with technique, but she was able to hoss the weight around. I had flashes of Becca Swanson in my head watching Melissa handle the implements like they were toys. Previous three-time America's Strongest Woman, Kristin Rhodes had surgery on her knee this fall and has been battling some injuries throughout training.
Even with the close battle between the top two girls, the rest of the group was on their heels. One of the female competitors was always within a couple seconds of their time, one rep away or tied on an event. So this wasn't a sweep or a curb stomping. It was a good old-fashioned competition with girls battling it out to the end with event wins and losses coming down to seconds. I am more excited than ever for the future of Strongwoman in America.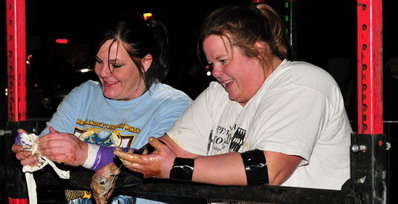 Loading Comments...