Married to a Bodybuilder: Three Women Share Their Support Role Perspectives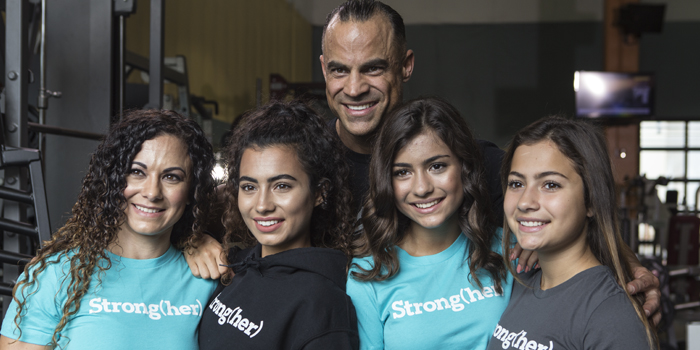 Roughly 85% of people get married and nearly 50% end in divorce. The average time to divorce for Americans is eight years. I quote marriage statistics simply to frame the discussion for this article. Life has a way of grinding down relationships, marriage or otherwise.
What else is relationally difficult? Bodybuilding, or any other form of physique competition. In a sport littered with derailed relationships and broken marriages, I often feel like an outlier. Don't hear my bragging — I'm not. I've entered a combination of nearly 50 amateur and professional bodybuilding competitions in the past 20 years of marriage, and it hasn't been easy. If you ask my wife, playing the support role often proves more daunting than the competitive role.
---
RECENT: Sleep Practices for Better Performance, Health, and Well-Being
---
I believe mine and Christina's longevity draws questions. How do you do it? How do you survive? How do you find balance? To that end, I wanted to provide some real-world suggestions — not some philosophical mindset or power of positive thinking, but authentic insight from the real pillars of strength: the women who play the support role.
The following is an interview of Georgia Watson, Loraine Sindayen, and Christina Dugdale. Georgia is married to Keith Watson, a national NPC men's physique competitor. Loraine is married to Mark Sindayen, an IFBB professional bodybuilder. You all know who Christina is married to.
I asked each of them the following questions:
How long have you been married?
How long has your spouse been competing?
How many kids do you have?
Do you train with your spouse?
What is the hardest part when your spouse diets?
How do you balance being a wife and playing a support role for your spouse?
What is the biggest struggle in playing the support role for your spouse?
What is the most difficult aspect of your spouse competing?
What is the most rewarding aspect of your husband competing?
What is the highlight of his career?
What have you learned throughout his competitive career?
Few relationships survive competing in the industry. How has your relationship succeeded?
What advice would you give couples involved in the industry who are struggling?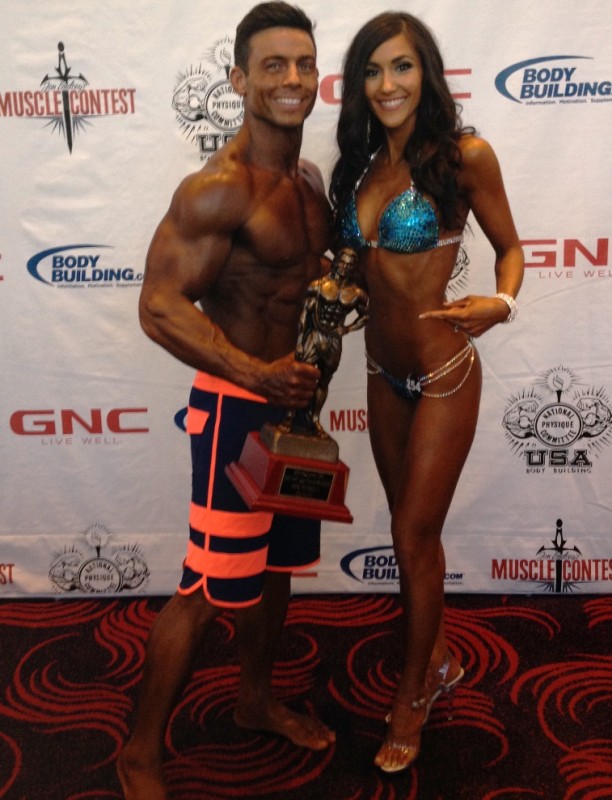 Georgia Watson
I have been married for five years but we have known each other for 10 years. Keith has been competing since 2013 and we have two children (twin toddlers). I do train with him. Previously our work schedules for a couple years only allowed us to train together on the weekends but now we are able to train together three to four times per week. It's been great, too, since it's our one-on-one time outside of the kiddos that we get weekly.
When Keith diets, the most challenging things is when a show gets close; the carbs decrease and I can tell his mental energy decreases slightly. So if conversations are lessened or shortened, I have to remind myself it's not personal and that it's just diet brain. I think being a wife means being a support role for my husband. Whether it's bodybuilding or another sport he would choose to do, I would support him in whatever makes him thrive. In this case that means cooking meals when need be (he does 90% of his food prep), joining in with workouts, or supporting the time he needs to put in at the gym, posing critiques, clean gym clothes, encouragement along the way, and being his go-to person and biggest cheerleader on competition day. To me, this is the same thing as being a wife.
I think the current biggest struggle providing support is trying to make sure I can be as involved as I was before kids. Now my attention and focus is split between my husband and our kids, and while I want to be a great support role during prep and show day, I have to make sure my kids are taken care of too. Having a husband on prep plus caring for two toddlers is no easy feat. Some days you just have to dig a bit deeper and have a spouse who is able to pick up where you need the extra help and help you give time for yourself. For that I am thankful.
The time that it can take away from family and free time is the most difficult part of Keith competing. Our weekend and weekday routines are scheduled with workouts and meal prep in mind, and while you do your best to make it balanced, it can have its challenging days — especially if there are special events. But watching him enjoy doing something that he loves and is great at is rewarding. He's a hard worker in everything he does, so it's awesome to see that translate into this sport and see him do really well. I'm really proud of him — and it doesn't hurt having a husband with a rocking bod too!
---
MORE: Olympia Qualification: 5 Factors Why I'm Not Competing
---
The highlight of his career would be placing runner-up to getting his pro card at the USAs. I've learned throughout his competitive career that this industry evolves and changes over time, and since it's a subjective sport, all you can do is be dedicated to your prep and workouts, do it all to the best of your ability, and on show day you will be competing at your best. That's a win in itself. This sport takes 110% dedication; this type of discipline can be applied to other aspects of life for success in many areas.
Having a foundation is key to any relationship, and ours is on Jesus. He is our example of love to one another, so we know that love of that kind is not just a feeling also means putting things into action. We aren't perfect by any means, but we respect one another and put our relationship and family first before competing. When it's in the right perspective, it is easier to pour the extra time and effort into this sport knowing that my husband holds us first. My advice to other couples involved in this industry is to remember that foundation, balance, and communication are key! Find parts of the sport you can enjoy doing together, whether that's working out together (gym or doing something outdoors), meal prepping, or working on posing together. Each person's feelings and ideas should be valued and respected, so work on a solution together for whatever that issue may be. It will only make you stronger.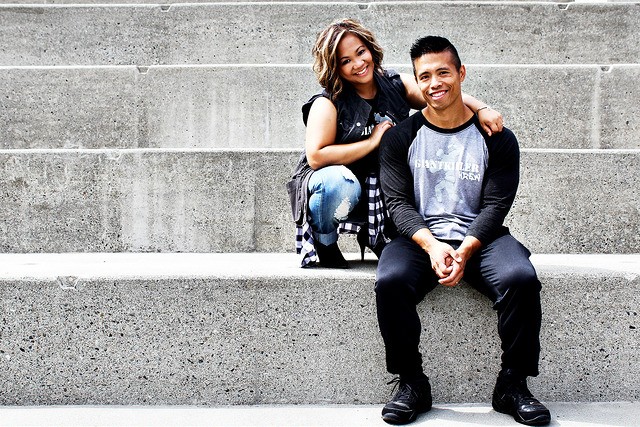 Loraine Sindayen
In August it will be 16 years since Mark and I got married, but we've been dating for the last 22 years since we met in college in 1996. We have two daughters: Macaela, 14, and Maleah, 4. Macaela is just like her dad: quiet but fierce. Maleah is like me: cautious but feisty.
Mark started lifting when he was about 14 years old, but he didn't start competing until he was 24. His first show was the NPC Vancouver Natural in 2000. I know some couples love training together, but that's just not us. My goal in the gym is to be trained, while his is to get in and out of the gym as quickly as possible, so it's better that he train someone that can train on his level. I actually don't mind when he's dieting. When he's dieting, I'm motivated to eat healthier, but where it becomes difficult is usually in the little things. A date night at the movies means we can't share a tub of popcorn, and dinner out means paying for the most expensive plain grilled chicken breast and broccoli you'll ever eat, so we tend to hold off on dining out until he's done dieting.
For balancing being a wife and a support role to Mark, I believe understanding and knowing my priorities is the first step. Being a full time career mom and bodybuilder wife is a constant juggling act that requires organization, pre-planning, and creativity. Thankfully, the Lord blessed me with those skills, so I think that's what makes me a good partner for my ADD bodybuilder husband. We have to make a conscious effort to make time for each other and our kids. We do this by maintaining a family calendar. In our calendar, we highlight all the important events, Sundays are blocked for family time, and once a month we schedule a date night. By nature, I'm an acts-of-service kind of gal. I don't know why God made me this way, but sometimes it's a blessing and a curse. I can honestly say that I never struggle with supporting my husband. In fact, I enjoy supporting him and it's not unlike me to go above and beyond the call of duty.
My biggest struggle I find is trying to not burn out or feel unappreciated while supporting him. Aside from bodybuilding not being an inexpensive sport, the most difficult aspect for me is competing for his time and energy. The closer we get to stage time, the more focused he gets. Trying to keep his attention is challenging. Even if he's physically present, he's not mentally present, and I have a problem with that. Add prepping for a show in addition to coaching other athletes doing the same adds a whole other level of distraction. But there's a lot of satisfaction I get from watching my husband do what he's passionate about. The most rewarding aspect is watching our kids' excitement as they see their dad on stage. Our daughters are his biggest cheerleaders. Whether he's competing or doing a guest posing appearance, there's no better feeling in the world for me than to witness my kids' eyes light up as they watch him on stage. You can just tell from the twinkle in their eye that any man to come into their life someday will have some big shoes to fill.
Some may think the highlight of his career was when he earned his IFBB pro card in 2015, but I think the actual highlight was at the 2013 NPC WA State BB Championships in Auburn, Washington, when he won his class and took home the overall. Throughout that accomplishment and others, not only have I learned how to train, eat, grocery shop, and pay attention to nutrition labels, but most importantly I've learned how to be flexible, gracious, and forgiving. Today, I choose my battles carefully — not just with him but also with my kids as well, to lessen any potential burdens I have a tendency to put upon myself.
Our relationship has succeeded because of three words: faith, communication, and association. The couples that make it understand the importance of all three. A couple that prays together, stays together. Faith in God and faith in each other is what builds trust, and trust happens when you're in constant communication with each other. We also believe that if you want to have a healthy marriage, you need to surround yourself with people who also have healthy marriages. Positive association is key! The darkest times in our marriage always happened when we were going separate directions in our lives. It's okay to have different goals and ambitions, but my advice to other couples in this industry is to, no matter what, never lose sight of the big picture. God put you two together for a reason. If you're a bodybuilder fortunate enough to have a partner that is supportive of your journey, do not take him or her for granted. Consider yourself blessed!
Christina Dugdale
This August, Mark and I will have been married for 21 years. We have three daughters who are all under two years apart (the oldest is 19). Mark has been training and competing since he was in his teens before we met. He has been doing it for approximately 25 years. We currently target three days per week to train together. However, we haven't always been training partners. There have been seasons we trained at the same time with different training partners.
The hardest part of when Mark diets is that he gets very introspective and quiet. The last six weeks are especially difficult, as he becomes eagle-eye focused on his competition. The closer we get to a show, the balance shifts as I take on more of the household tasks and parenting roles than during the off-season. The need to have special cooked food available to eat every two and a half hours limits our ability to do much outside the home. For aforementioned reasons, hugs and kisses become fewer and fewer as he approaches a show. I think this is the hardest part for me, since my love language is touch, but he makes up for it in the off-season.
Our Saturday night date nights definitely help maintain balance, as does training together. Being organized is essential. I have learned a lot about organization. Also, knowing my boundaries and saying no when my plate is full and only taking on what I can realistically take on in the season makes a big difference. Really being a wife and a source of support is one and the same. Never in our marriage have I nailed being the perfect wife during Mark's preparation season. I always go in thinking, "I've got this. It's only a season. I can do it," only to come out at the end having failed, usually, because I didn't get enough hugs and kisses, felt neglected, and threw a fit at some point. After all the years of competition life, no matter how prepared and cognizant I am of what is ahead of me going into dieting season, I still fail and allow my feelings and emotions to get the best of me. Pre-contest the focus is on him; off-season is on the family and me.
The most difficult aspect of Mark competing is dieting and traveling. Dieting for all the reasons already mentioned, and traveling because, throughout our married life, traveling meant needing to account for three kids. Are they going with us? Are they staying home? The details of preparing for either scenario is always a challenge, especially when you are hit with situations for which you're unprepared, like the stomach flu the day your husband hits the stage and ending up in the hospital twice (once for a daughter who was dehydrated, then a day later for a husband). I could write a book detailing our experiences traveling, which has both been a blessing and curse.
---
WATCH: Strength Plus Podcast Episode 2 with Ben Pakulski
---
The most rewarding aspect of Mark's competing has been the platform it has given him to speak about his faith, the most memorable being prison ministry. There is also a lot to be said about our constant pursuit of health and nutrition, for which I believe bodybuilding is largely responsible. I would say a highlight of his career was the prison ministry, but winning the overall USA title in 2004 in Las Vegas to earn his pro card ranks pretty high. Winning three consecutive IFBB shows in a row in 2016 was another major highlight.
Personally, throughout his competitive career, I have learned my weaknesses, strengths, and that I am a work in progress. This sport has taught me a lot in terms of balancing, organizing, and setting boundaries. Regarding the sport itself, you quickly learn the subjectivity involved. The competition is never about the other competitors; it is about how much you improved from your previous showing. Our relationship has succeeded because of following Jesus, not religion, and authentically seeking to mirror our lives to His.
---
I'm grateful for the insights shared by these ladies. I'm hopeful you've read something that resonates. Relational struggles are a given in life, not an anomaly. If you're experiencing angst finding balance or contending with how best to support your significant other who's engaged in the competitive physique world, may this article be a source of encouragement. You're not alone.
Loading Comments...