Interview with Strongman Steve Pulcinella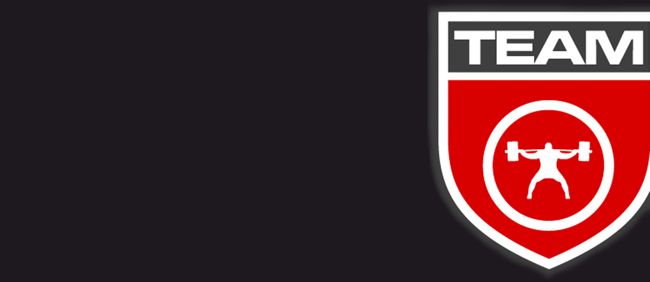 Q: Give us some background info about you personally, how and when did you get into strongman?
A: I started training with weights at around 13 years old, did my first powerlifting meet at 14, and have been competing in some form of strength athletics non-stop ever since. I enjoyed powerlifting and had a pretty good career but I couldn't get those images of those old strongman contests on Wide World of Sports out of my head. Back in the 80's the sport of strongman didn't exist in this country like it does now; I had to wait for it to arrive. In the meantime, I worked a full-time job in my father's printing company, bought a house when I was 20, got married, had my first daughter Alyssa when I was 21, and had another daughter -Carmen- three years later. I was really juggling a lot for a young guy starting out in life, but the fire to lift weights, get strong, and compete never left me.
In the early 90's a crude form of strongman contests started popping up around North America. I traveled here and there to give them a try and did quite well. My biggest title win back then would have been the 1993 North American Championships in Toronto, Canada. That victory got the attention of David Webster and Doug Edmunds who were looking for an American competitor for the 1994 World's Strongest Man. David called me from Scotland one day and asked me if I wanted to give WSM a try. I asked when it was; he said, "in three weeks." GULP! I said, "Uh ok, what are the events?" He replied, "We really don't know yet, we'll fill you in when you get there." Ok, count me in! Next thing I know I was in South Africa being tied back-to-back with a 340lb monster named Riku Kiri for a two-man tug of war. Don't ever let it be said I wasn't a gamer! I was young and strong and up for anything.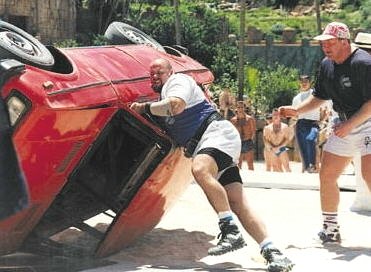 Q: How did Highland Games come into play for you?
A: It was also in the early 90's that I started competing in the Highland Games. There was a Scottish festival not far from where I lived and I really wanted to try it. Unlike strongman, the highland games involved a lot of skill and practice, but I fell in love with it right away. Basically, the highland games have two divisions: Amateur and Professional. My first few amateur games didn't go well and the first time I saw pro guys compete I knew I had a long way to go, but I also knew I wanted to turn pro FAST. It really didn't take long, I was a quick learner and more than that, I was a hard worker. I lifted weights three times a week and practiced the other four. I literally threw those weights into the night every day after work. My hands were constantly bloody and raw but it paid off. As soon as I turned pro in the games in 1995 I never competed in another strongman contest. I ended up doing over 20 highland games each year at the height of my career.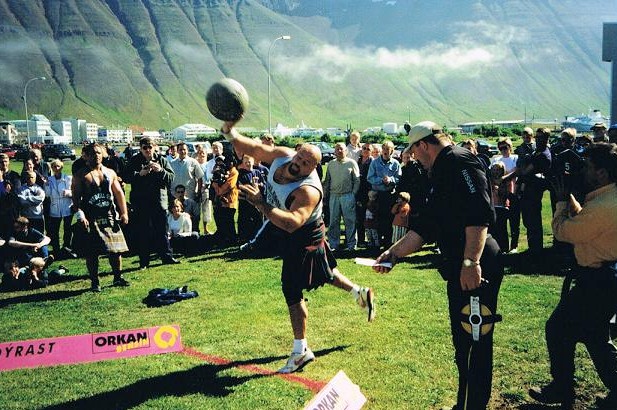 Q: What's your height and weight?
A: I have just really leaned down in the past couple years to 270lbs. I'm only 6'1" and the 325lbs I carried most of my adult life was just brutal on my body. After my last ankle surgery pretty much left me permanently screwed up I tried hard to lower by bodyweight just to be able to walk better. Weight loss has helped me a LOT and the extra mobility really helps my throwing. I also sleep a lot better at 270, which helps carry me through the day with more energy.
Q: What are your numbers and what achievements are you most proud of, both strongman and lifting?
A: My lifting numbers won't seem all that impressive by today's powerlifting standards:
I've squatted 755lbs in just a belt and knee wraps
I've deadlifted 765lbs in just a belt
I've power clean 420lbs
I've power snatch 310lbs
I've jerked 440lbs from a rack
I've got a touch-n-go Bench of 505lbs
And I've thrown a 56lb weight for height 17'6"(standing)
I think the thing I'm most proud of is the fact that I fell in love with weights back in the late 70's as a kid and I still get the same satisfaction from my current training as I did back then. I'm lucky enough to still be doing what I love every day.
Q: What was it like competing at World's Strongest Man?
A: It was all a blur. It wasn't like today where you get to compete in these same events at meets all year long and you know what to expect. It was a last minute decision; they flew me in non-stop from NY to South Africa. There were 16 guys there from 16 different countries and I didn't know anyone. They threw a bunch of events at me that I'd never seen before. It just wasn't like what you see today at all. But it was a cool experience.
Q: What are your current goals?
A: I have the same goal as anyone who is 45 years old with 32 years of heavy lifting under his belt… to try to stay in one piece and keep on competing. I have been doing some masters highland games over the past couple years but I'm really trying to get back in there and mix it up with the young pros again. This off-season training is going to be totally geared towards getting strong and healthy for next May.
Q: What is your training like?
A: Right now I train four days a week. I am always working around some kind of injury here and there so it's constantly evolving. Every week is always slightly different. This week it looked like this:
Monday: Light power snatch, heavy high-bar squat, RDL's, Spud Strap standing ab work
Tuesday: Flat bench- worked up to 1RM with 80lbs of chains, flat dumbbell bench (light, high reps), dips, heavy barbells curls
Thursday: SP Combos (three high pulls, one hang clean, three push-presses), heavy barbell shrugs, standing smith machine military presses for high reps, some dumbbell shoulder complexes, Spud Strap standing abs
Friday: Front squat, bent over rows, GH raises, hammer high rows, dumbbell pull-overs
Q: What are your best/worst moments in the sport?
A: My worst moment had to be in 1999. We were in Fredericksburg, VA at a big international highland games competition. We were warming up for the 16lb hammer toss. As Carl Braun was winding the hammer at full speed the 16lb lead hammerhead popped off the shaft and came towards me like a 90 mph fastball. It smacked me right in the leg and splintered my tibia to bits. (Editor's note: This might be one of the craziest sports injuries I've ever heard of). Yeah, that hurt. This was in May and I was out for most of that season.
I guess my best competition moment was winning an international pro highland games competition in Loon Mountain, New Hampshire in 2000 against a top field of guys who all threw really well. I just had one of those days where everything clicked and I was in the zone.
Q: Have you dealt with any injuries?
A: Finally, one subject that I'm an EXPERT in. I was bullet proof until I was about 38. I have had eight surgeries since then. I've torn just about all the tendons in both my ankles, which really slowed me down, and one of my shoulders is totally destroyed. I just work around that stuff and find ways to keep myself strong in other areas. For me, the hardest part about being sidelined is that as a gym owner I'm in the gym for sometimes 14 hours a day, and having to watch people train when I can't do shit is torture. I sometimes start to develop a deep hatred for my closest friends because they can train and I can't. But once I'm back in the game I'm good again.

Steve's clip from RTB3 from Mike Pulcinella Video on Vimeo.
Q: Take us through an example day.
A: Here was my day yesterday: I was woken up at around 4:30AM by my wife's terrier that sleeps in our bed. I call him 'cock block' for obvious reasons. I left for work at around 7:30. I arrived at the gym, only to find that it wasn't cleaned up to my standards, so I ended up cleaning for about an hour and a half. I usually train at around 10:00AM because it's the quietest time of day. The problem I usually run into when trying to train is that I run the gym alone and therefore I'm also on duty while I train. Between answering the phone, having people ask me questions, having to stop to write a check to a vendor, and potential clients stopping in, I tried to actually get my swell on. Then I ate lunch, answered emails, and trained a client. Then at 2:30 I saw a shady situation going down in my parking lot, which resulted in me trying to forearm club a car window, which resulted in police activity and me jacking my neck up. Then it was back in the gym to train another client and then my Olympic lifter wife who comes in to train at 5:00. All you guys who wish you had married a hot chick that's totally into lifting, be careful what you wish for. These female lifters are neurotic as hell! The mental anguish of her workout was over at 7:00, and I left the gym to rush home to grill up some food for dinner and the next day. Then I watched the Phillies totally blow it against San Fran in a playoff game and it was right back into bed with my wife and little cock block.
Q: Tell us about your gym, Iron Sport, and what you do there.
A: Iron Sport Gym is a gym my brother and I started back in 1995. There were no places around for real lifters so we rented this 1600 sq. ft garage and threw a club together almost on a whim. In 1999, we decided to make it a commercial gym and purchased a 7200 sq. ft building. My brother doesn't actually work there, but does my bookkeeping now. I do everything else. I'm there for about 70 hours every week with no vacations and almost no pay but it's worth every minute; I love the place and strive every day to keep making it better and better.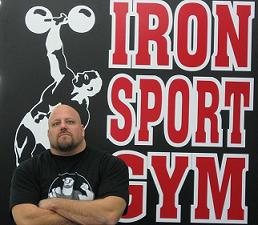 I don't really bill myself as a personal trainer and I rarely make any money by coaching people. If you are a member of my gym I will basically work with you for free as much as I can, but I'm usually either on the phone or eating as I coach, so its not like that personal attention you would get from an expert like Jillian Michaels.
We have some of the best lifters and strongmen in the Philly and south Jersey area training here and you never know what you are going to see. It's just a really interesting mix of people.
Q: Who do you admire most, who inspires you?
A: In the strength world I really admire the old timers from the 50's and 60's. Guys like Norb Shemanksy and Pat Casey really inspired me. They had such a straightforward, hard-working approach to strength training back when things just seemed so simple and pure.
In business my father inspired me most of all. He taught me to work hard, never give up and run and honest business. That's what I try to do every single day.
Q: If you could give one piece of advice to aspiring strongmen what would it be?
A: Strongman is such a multi-faceted sport… everyone has things they are good at and things they struggle with. I always tell people wanting to get involved in strongman and highland games to really hammer away at their weak points.
Q: If you could give one piece of advice to the average lifter (not necessarily a strongman), what would it be?
A: I give this advice every day to people in my gym and people who email me. Work hard as hell and give it time. Strength does not come overnight so you've got to be in it for the long haul.
Q: What will you bring to EFS, and why should our readers be interested in you?
A: Hopefully I'll provide a different point of view than they usually get from most of the powerlifters. I'm an older athlete who's always on the comeback trail and who's always working around an injury. I will also be sharing some of the ridiculous things that go on each day in a Philly-based gym that's full of action. So be on the lookout for that.
Loading Comments...