2011 Awards Review: Texas Power Bar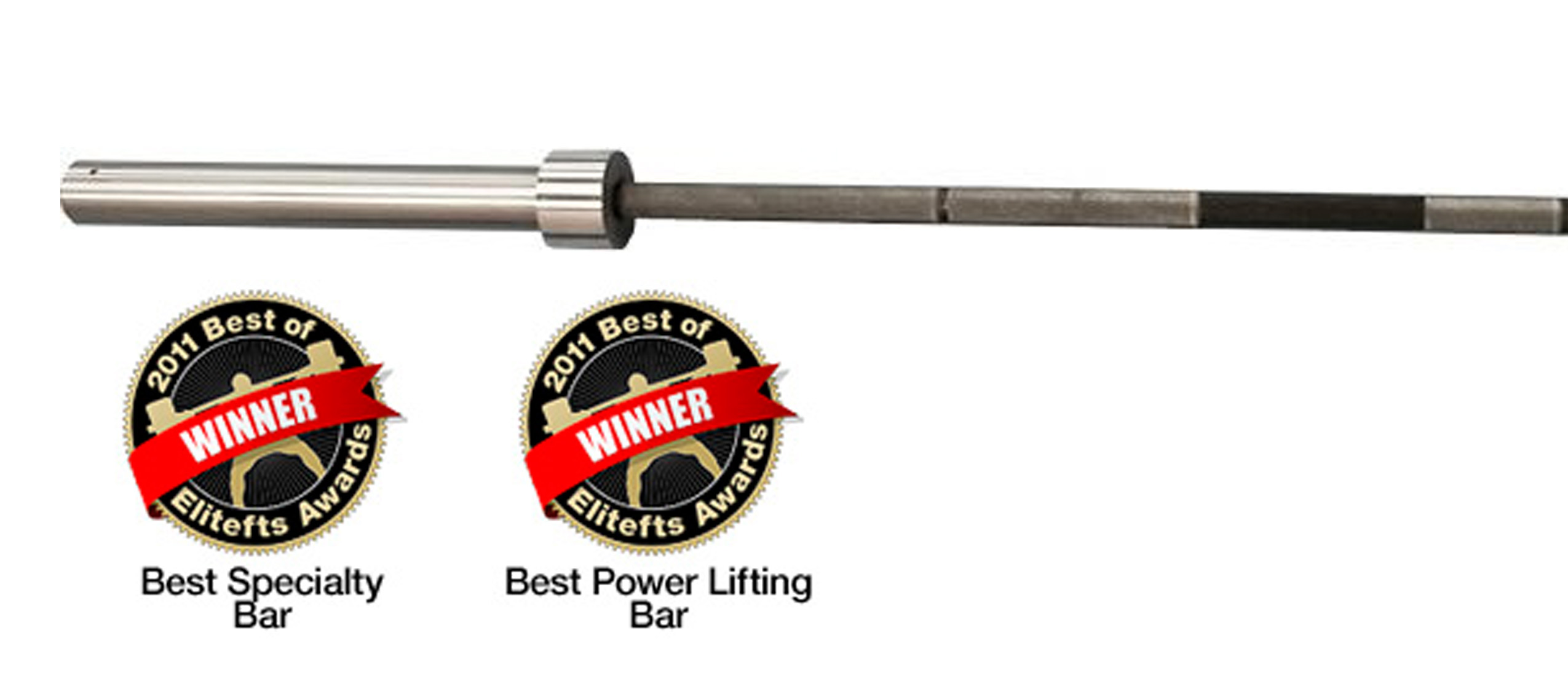 Texas Power Bar
You voted and gave one of our bars TWO awards in 2011. The Texas Power Bar won best powerlifting bar and best multipurpose bar, so we thought about giving you a little more information about it and see what others had to say about it.
Best Powerlifting Bar
•    Texas Power Bar
Best Multipurpose Bar
•    Texas Power Bar
Specifications
7' Length
1 1/8" Diameter
1500lb Static Test
Deep Diamond Knurling
4" Center Knurling
IPF Legal
See It In Action
What Our Sponsors Say
"As a strength coach I prefer the Texas Power Bar for its versatility, grip and strength. It is a great bar for not only benching, but for squats (all varieties), deadlifts (all varieties) and pretty much any movement I need my athletes to perform with a barbell, even Olympic movements. Now, with the new collars and black coating rust isn't even an issue. For Powerlifting, it's the bar I use for all movements including bench (all varieties), deadlifts, rows, etc. I even used it for squatting when I didn't have the access to a Texas Squat Bar. I used weights over 900 pounds without any whipping or issues. Best overall universal bar you can own!!" –Jeremy Frey
"It's built Texas-tough. The ultimate utility barbell." –Josh Bryant
"The Texas Power Bar is superior to other bars in that it is stiffer and holds up to heavy loads better than any other bar available. We have one in our gym that is over five years old. It has held up to over 800 pound benches week in and week out. The bar is still straight as an arrow and the knurling is still great. It's a top-notch bar that puts up to abuse and stands the test of time." –Zane Geeting
"It's a great all-around bar. I train all three of my lifts on it and it handles big squats and pulls well." –Chad Wesley Smith
"Great, strong bar that can be used for any lift." –Jason Pegg
"These are a staple of any serious weight room. There are a couple of things you should never skimp on when building your weight room, and the bar that you hold in your hands, over your face/head and on your back is one of them. These bars are built to last and built for lifting weights. If you don't have these bars, get them now." –Jim Wendler
"The Texas Power Bar has been staple in our gym for almost 20 years now that has never let us down." –Marc 'Spud' Bartley
"I bought a Texas Power Bar from elitefts™ years ago and couldn't be happier with it. In my opinion, it's the best all-purpose bar around." –Dr. Thomas Deebel
"It's the best all-around bar I've ever used. Perfect for squatting and benching, even deadlifting if you pull in a federation with stiff bars." –Michael Keck
"The Texas Power Bar is the gold standard of bars. It's the best bar I have used in my 25 years of training." –Bob Youngs
"The Texas Power Bar is a great all-around bar, but it's the  BEST bench bar I've ever used." –Ted Toalston
"The Texas Power Bar is one of the best multi-purpose bars out there. I have had mine for years and there is not even a hint of it being bent. That's even considering loading it up with over 800 pounds when benching with it. The bar is worthy indeed." –Vincent Dizenzo
"Perfect for the small gym. One bar that can do it all. Awesome knurling for the home gym guy that doesn't want chalk in the air." –Scott Yard
"It's a great multipurpose bar that you can beat the 'EFF' out of and it comes back for more." –Harry Selkow
"I have a Texas Power Bar and love mine. Great quality bar. Great knurling. The bar has never bent on me and has been loaded with 100' s of pounds thousands of times and always holds up well." –Joey Smith
"I really like benching with them. Much less whip compared to some brands and for the price, you can't beat it." –Brian Carroll
"It is the most sustainable, durable, affordable universal bar available." –Al Caslow
"The Texas Power Bar is the sturdiest bar there is. The knurling on it never fades and it is perfect for benching or squatting. Whether you are going to compete or not, the Texas Power Bar is the best all-around bar to have. It will last a life time." – Julia Ladewski
"Basically my training partners and I use the Texas Power Bar for of all our bench work and a lot of our accessory work. It's a great bar and very durbable. We had the same Texas Power Bar for about five years, we have three guys benching over 750 pounds and the bar is still in perfect shape. It is the only bar I would buy for my gym to bench with." –Josh McMillan
"I really enjoy our Texas Power Bar because it's versatile – I can use it for any lift and it has never warped." –Mike Robertson

What YOU Say
"Amazing bar. Once I used one I could not/would not go back." –Drake Austin Taylor
"Absolutely amazing bar. We use it all the time in competition for the WNPF. I remember grabbing it for deadlifts at my first competition, and my thoughts about how sharp it was. I just got one for Christmas and needless to say, my training sessions have been stronger than ever. I will never use another bar again!" –Josh Griffith
"Great knurling, looks great, nice and strong, smooth-turning sleeves, sleeves never get loose as they are pinned. Best bar ever." –Jeremy McKinney
"Knurling. 'Nuff said." –Dustin Kuhl
"In my opinion, the Texas Power Bar is the best bar you can get at a fairly affordable price. When looking at performance and price, the TPB is the best bar there is." –Daren Cressionnie
"It's sweet because it's gunmetal-colored." –Kyle Kargov
"I love our TPB! She is a thing of lifting beauty! My hands and shins have been defined by her!" –Tatty Head George
"If you don't bleed on the bar after use, it's no good. Best bar I ever used, would recommend to anyone." –Jason Webb
"Got it for Christmas and have only had the chance to use it once (left for vacation next day). Love it so far, but man that knurling is beast!" –John Blythe
"I just bought one at the end of November and used it for the first time today. Love it." –John Roberts
"Like most things from Texas, it's bad ass!" –David Burden
"I have been looking for a bar for my home gym...and now I think I found one based on all the comments above." –Billy Wolt
"My gym just got two of them (incredible, I know), and after using decade-old bars all my life, the knurling was a real shock. They feel stiffer than the old nasty beater bars I am used to using. The first time I squatted with one, I left some of my shirt's fabric on the knurling!" –Stephen Kelly
"The Texas Power Bar is the one of the best equipment purchases I've made to date. If you're looking for a bar that can do it all, look no further. It looks great on the rack, it feels great in your hand and it performs great when loaded up." –Corey Jones
"Anyone that has used a cheap bar knows they fall apart. The Texas power bar will take the abuse you should be giving it. The investment is minimal for the return you get." –R.j. Ewanco
Loading Comments...