How I Train for a Meet, Month One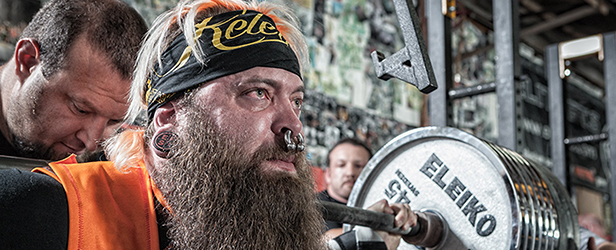 When I started training, I really didn't have any clue how to go about it. I was a bodybuilder previously and had to use what I knew from bodybuilding to build a game plan. I knew that when I pyramided up, I was able to get in quality work, still lift heavy ass weights, and get strong(er). So why not apply this to powerlifting?
From most people, I gathered that twelve weeks is the normal amount of time given to prepare for a meet. So my basic plan of attack was to pyramid toward the meet. At three months out, I hit three reps. At two months out, I hit two reps. In the last month, I hit a single. Pretty much progressive overload with my own twist. Bodybuilding had taught me a lot about work ethic, and in return, I learned how to bust my ass, which is pretty much the basis of how I train. There isn't any real rhyme, reason, or intelligence—just work.
This first month is probably the most painful part of my training. The first month consists of:
Raw
No belt
Max effort triples
No straight weight
Bands, chains, and the combination of
Multiple bars, angles, deficits, boxes, boards, and blocks
Pain
The purpose of this first month is simple: work! I use a variation of bars, ranges of motion, and resistance to keep my mind off the actual numbers, previous PRs, and mental blocks. When you train with straight weight, you get caught up in numbers, numbers, numbers. F*ckin' numbers.
I found myself getting discouraged because I didn't hit this number or that number. I started training with chains and bands not because of accommodating resistance but because I didn't know what the hell that meant. I trained with them because, well...chains looked badass and I never really knew just how much weight was on the bar. My focus was just on working as hard as I possibly could, working up to my maximum triple (whatever that turned out to be) and emptying my tank — then going another ten miles.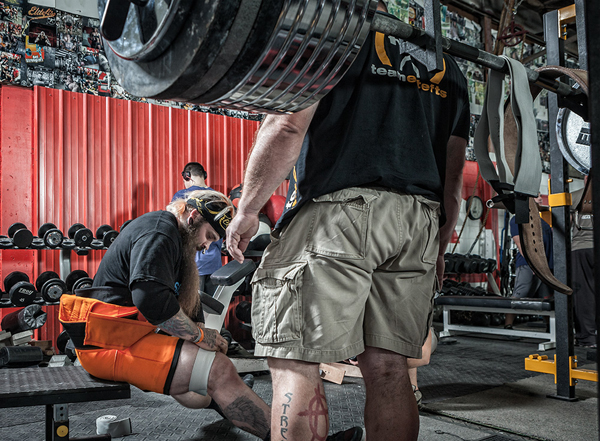 I use different weights of chain and different strengths of bands. I like to keep changing it so that I never know my top ends on something. I can't stress enough how my training is based around just working until I'm dead and then hitting another set. Another reason why I like to use this type of resistance is because I like making the lift harder than it has to be. When you lift against the weight, you're just fighting one enemy: the bar. When you add chains, bands, or a combination of the two, you're fighting multiple enemies. Much like the people who want to see you fail, these enemies want you to fail, too. You have multiple forces working against you, testing you, giving you a chance to prove how bad you really want to lock that weight out. If you train in hell, battle is just a another day. By that I mean that if you make your training unnecessarily hard, you're prepared for almost anything when you get to the meet. Here's a sample of each training day:
---
Bench
First Lift
Max effort triples (find your absolute top end)
Chains or bands
Specialty bar
Second Lift
Drop the bar weight
Add more resistance or use both types
If the first lift went well, do reps of five
If the first lift was less than expected, it's time to do work! Multiple burnout sets adding weight each time
Work until you're dead!
Lifts 3–5
Assistance movements to build the lift
Triceps, back, and shoulders
Four sets of 8–20, depending on how you feel
Final lift
Squat
Repeat the first two lifts of the bench and squat either off a box or free
Lifts 3–5
Assistance lifts to build the squat
Hammies, hips, and quads
Good mornings, hack squats, Zerchers, leg presses
Final lift
Deathlift

First Lift
Max effort triples against chains or bands again
Rotate sumo, conventional, from the floor, deficit, and blocks; keep it changing
Triples until you're dead!
Second Lift
Max effort triples again
Drop bar weight
Use both chains and bands
Lots of resistance
Rotate your stance from the first lift and from where the lift begins
Leave it all on the platform
Lifts 3–5
Assistance lifts for the death lift
Hammies, lower back, glutes, and upper back
Reps and sets the same as the bench and squat assistance
Final lift
---
This is just an example of how I train. The weeks are usually not 100 percent consistent. The only things that remain consistent are the bands and chains, the max effort triples, and working until you're dead. I always make it a point to have the chains hanging off the ground at lock out or at least 95 percent of them. It always annoys me when people say 120 pounds of chain and half of them never come off the floor. I take full advantage of every link.
So there you have it. There's month one of three. There isn't any science, research, or intelligence behind it. I just make training harder than it has to be and kill myself in the gym every day.
Loading Comments...