Powerlifting, Sports Performance, Workouts & Programs
The Right Piece for the Right Puzzle: Training High School Athletes with the Conjugate Method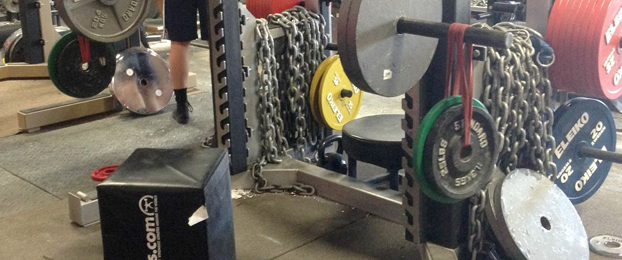 By Dan Bailey, Johnson High School, Georgia
"There are a hundred ways to skin a cat, I am only good at one of them", is something my grandfather used to say to me all the time. I have found this bit of info very useful in life. More specifically, in application to my chosen field, I am a strength teacher/coach on the high school level. I have a tremendous passion and joy in what I do, especially the impact I know that strength training can have on these students, if it is the "right piece…for the right puzzle". Now, it has taken some time to find, what I personally feel is the right piece…Conjugate / WSB converted to meet the needs of the high school athlete.
Let me explain. I have been a practitioner of this format for over 5 years and I have seen the impact it has had on my personal training. I have seen the progress and benefits made with formatting the WSB / conjugate principle. Now, how can this be good for the high school athlete? I am not saying I have found the most dynamic program for everyone, or that I know it all, just that our kids have been extremely responsive to it. What I have attempted to do is literally take the WSB/ conjugate format and apply it to our program with the following factors playing a major key in all the pieces coming together; number of kids in the weight room, time for each period (actual lifting time), skill range of students, athlete and non-athlete in the same class, equipment, goals of each sport(s), strength needs, hypertrophy needs, speed, agility, age and maturity of each student. There again, our schedule was the most dominant factor to take into consideration when putting this together. This would be ideal for a school that has the same students every day for block schedule (1 hr and 20 minutes). These are the major factors in trying to make this piece fit just right for us. The following is the product and final format of what we feel is best for us.
We refer to max effort training as "Best Effort", this was done to revamp the terminology used as to not scare coaches into thinking we were "maxing" every week. When in actuality, their best effort is what I am asking for each day in the weight room from each student, so this was most logical. The format is pretty simple for us:
Monday -  BE / LB (Best Effort Lower Body)
Tuesday - Speed Work / Agilities / Low Impact Plyos / Core Training / Hill Work
Wednesday - BE / UB (Best Effort Upper Body)
Thursday - DE / LB
Friday - DE / UB
I use Microsoft Excel to format the workouts and this includes 4 different sheets for 3 different groups (15 – 25 students), all doing the same workout at different intervals. On the BE days, for example, I include the core BE for that 2-week period as our main focus (we switch BE lifts every 2 weeks). For example, group #1 would start on 12-inch box squats, while group # 2 would start on supplemental lifts, and group # 3 would begin on torso / posterior chain. Each group would have about 16 minutes at each station and the groups would rotate, completing all 3 stations at the end of the period.
To be more specific with each station, this may give a better indication of what we do.
Our first station does the core lift for the day.
Our second station is our supplemental station.  We do 2 - 3 auxiliary lifts, the focus being on the core for that day. For example, BE / LB would focus on lifts like straight leg dead, good mornings, reverse hyper, lunges, trap bar, etc.
Then the third station would focus on a version of the power clean (hang clean, power shrugs, "pop" cleans, hi-pulls, etc.) we would add varying ladder or hurdle sets, as well as two core exercises to complete this station.
It is a disadvantage for the group that starts on supplemental lifts, then have to go to the BE lift for that day, but we rotate groups starting points throughout the week. The fun part of the workout is seeing the students get excited about busting their Personal Record ("PR") from the previous week. I leave a blank space on the worksheet for the students to record. I also keep the sheets up from the previous workouts that utilize the same BE lift. After 2 weeks, we switch BE lifts and start the process over. I use the sheets to tweak the percentages up to their BE. Then, it is up to the students to get it done. I also tweak the sets and reps, depending on what the need is for the majority of the class and what the season is for the majority of the students. We utilize the different forms of resistance, chains (10 & 20 lb) and bands (mini & purple) for our BE lifts. However, we mostly use the bands on our DE days, using them for 3-4 weeks at a time, but this is determined by the season as well as the athlete.
As I stated before, there are numerous factors involved each week in setting up the sheets for the different classes. Below is an example of a BE/UB worksheet for a group;
Weight Training - 1st Period
Group
# 1

WK
7 - 8

MON

NAME

Best

Effort

14"

35lb-Chain

BE

GM's

Band Jump

DB St Leg

Pop Clean

Dot Drills

MB Series

Rep X  Set

8

5

3

3

3

3 x 10

2 x 20

2 x 10

3 x 8

3 Sets

1 x 25

Randolph

196

231

277

301

154

2 x 20

50.05

154

R Foot

Crunch

Mikey

191

225

270

293

150

2 x 20

48.75

140

L  Foot

Sideways

Varner

161

189

227

246

126

2 x 20

40.95

122.5

2 Feet

Fig. 8's

Jay G.

161

189

227

246

126

2 x 20

40.95

154

Hops
Below is an example of our DE day;
Weight Training - 1st Period

Group # 1

WK 5 - 6

THR

NAME

Speed SQT

Box Steps

Trap bar

Rev Hyper

CLN & Jerk

Hurdles

4-way shoulder

Rep X  Set

10 x 2

2 x 20  R/L

3 x 6

3 x 10

3 x 5

3 sets

15 reps

Randolph

184.8

53.9

277.2

Blue band

154

Right/Left

5-10-lb

Mikey

180

52.5

270

Blue band

140

Right/Left

5-10-lb

Varner

151.2

44.1

226.8

Blue band

122.5

Right/Left

5-10-lb

Jay G.

151.2

44.1

226.8

Blue band

154

Right/Left

5-10-lb
Our supplemental lifts pretty much follow the needs of the students. For example, a class that had a majority of wrestlers, would be focused on more pulling movements, than pushing movements that would be needed for football. I try to encompass speed, strength, torso, etc into a workout. My goal is to not be so varied and maintain an overall objective. For the high school athlete, any variation of power cleans is beneficial, with medium percentages used and the focus on speed and technique.
The class has one day in the wrestling/mat room where we really focus on the torso and hips. From there we either do plyometrics (all variety cycles / depth, standing, etc) or we utilize a 24% incline hill of 60 yards to do our speed/stride work. As with any program that has structure and a consistent format, we have seen tremendous results. These tremendous results range from D-1 fast pitch softball players, to D-1 football prospects, to the just the regular student who wants to better their self-esteem and self- confidence. I tried to include a general overview, and I may have forgotten important factors. My goal was to intro our format and how we have made WSB work for us.
There are a lot of other factors that allow for the success we have experienced. Mostly it is my passion for what I do, and the fact that I love my job and working with the students.  I consider myself a "hard-a**" as do the kids, but they realize I am doing it to push them to help them reach their goals in the weight room. I make no claims to be a genius, I believe in giving credit where credit is due. I did not dream this up by myself, it was the format pioneered by the Original WSB man himself, Louie Simmons, then I have to give credit to Dave and Jim, who I have "worn out" over the phone and e-mail for the last couple of years. These guys have answered my questions, time after time, as well as provided direction.
Then there is my very good friend, Coach Scott Hines (Pro Performance), whose greatest piece of advice to me was "do not be afraid of change and especially to learn more than what you already know". This has been my focus, to keep learning and provide what I feel is a dynamic program for our kids. Coach Hines and I have spent countless hours talking about different methods and formats to better train high school athletes. The kids are the focus with Coach Hines and me in our discussions (not to mention who is stronger, me the "young guy", or him the "older one"). Coach Hines and I have debated, argued, collaborated and come to some pretty good resolutions of how to make this work on the high school level. I hope that you find some thing that you can use from this article to assist you in either your personal training, or what I hold dear to my heart, the training of our high school student-athletes who choose to propel themselves in their personal training for their respective sport.
Loading Comments...