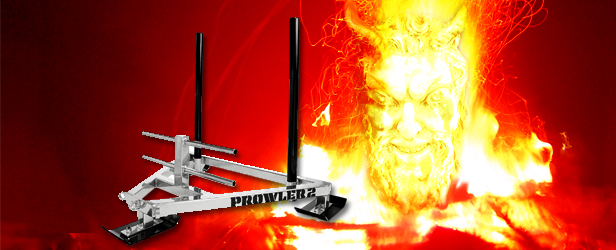 Dear elitefts™ Team,
I wanted to write and thank you and your company for developing and producing the Prowler®. About two years ago I was 450+ pounds and could barely tie my own shoes. I am now under 300 pounds through nothing more than hard work, diet, and exercise. My trainer, Jason Kamens, at Power MMA and Fitness in Arizona, introduced me to the Prowler® which I believed to be a torture device when I first started using it in my workouts. I started with no weight and pushing it up and down the alley, barely making it two full trips each time. And yes, I did puke one of my first times pushing it. Since then we have started to develop our own challenges with the Prowler®, usually by my own twisted mind, that have made me push through walls and reach goals that I never would have thought I could.
Our challenges have included the Prowler® Nightmare, a 2,000 yard push with a plate on each side, and the Prowler® Homicide, a push with 25-pound plates on each side up a mountain at Arizona State University in Tempe, AZ.
[caption id="attachment_54088" align="aligncenter" width="300" caption="Here's a picture from the day we just decided to load it up with a ton of weight for no reason and see if we could push it."]
[/caption]
Unfortunately, I recently had to leave my gym, due to a move to a new state. The Prowler® Homicide was my going away challenge that I and three other people completed on our own.
As soon as I have the money, and the area in which I can come up with new challenges, I hope that I can find crazy enough people like my training partners and friends in AZ to share them with.
I know you guys probably get stories like this all the time, but I wanted you to know that your company has truly helped me reach new goals. Someday I hope that I can bring elitefts™ to more people, especially my old friend the Prowler®.
Thank you,
Chadwick Church