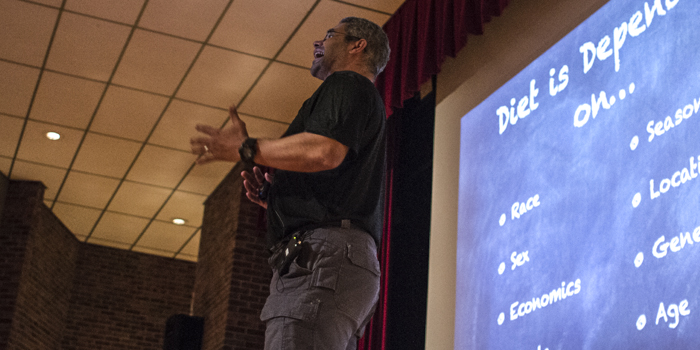 Following Buddy Morris in the lineup of speakers at the 2017 elitefts Sports Performance Summit, Dr. Eric Serrano presented on the topic of sports nutrition for peak athletic performance. We've shared with you in its entirety Buddy Morris' presentation and are now doing the same with Dr. Serrano.
Unlike Buddy Morris, Dr. Serrano's background is not in strength and conditioning coaching — it is in medical services. Dr. Serrano has been practicing medicine in Ohio for over 12 years and is considered by many to be a leading expert in sports medicine, weight loss, and nutrition supplementation. He is the head of research and scientifically engineered formula development for InfinityFitness.com. He has worked closely with countless top strength athletes and regularly provides guidance to some of the strongest lifters in the world.
---
WATCH: Buddy Morris SPS Presentation — Genetics, Environments, and Learning
---
In this video, Dr. Serrano begins his presentation by discussing the priorities of training and points out the most important, self-evident fact about being a strength athlete: you can't keep training if you aren't healthy. Dr. Serrano says that if you are regularly or excessively bloated, or if you experience early loss of hair, you may be experiencing health issues worth addressing.
He then looks at training goals and gives quick tips for how to eat for specific goals. He first discusses gaining size, and shares several concerns about protein supplements. His advice for sidestepping the issues with protein shakes is to regularly change the protein supplements you use. Your body adversely responds to being fed the same protein supplements over and over and over, and rotating between the supplements you're taking can lessen the detrimental effect on your health. He also suggests limiting consumption of protein shakes to two or fewer per week.
Dr. Serrano's final point for gaining size is about macronutrient ratios. For the best progress toward your goal of gaining size, Dr. Serrano says to alter your diet and macronutrient ratios every 14 days. This will force your body to continue adapting and changing.
By the minute:
(0:30) Reactions to Buddy's presentation
(1:50) You can't keep training if you aren't healthy
(3:28) Early loss of hair as an indicator of hormonal issues
(4:59) Training Goals: Gaining size
(6:54) The problems with protein shakes
(8:30) Free form amino acids
(10:31) Change your diet every 14 days
(11:49) Reliance on stimulants