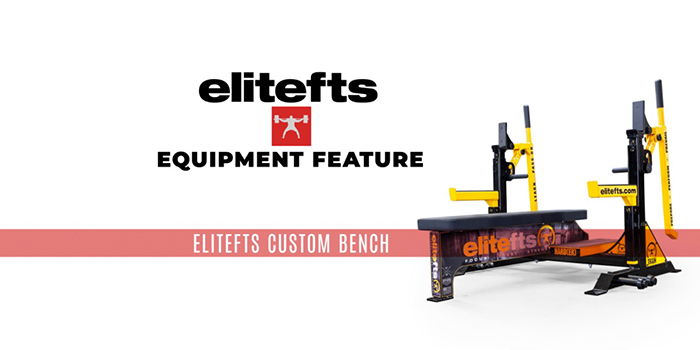 At elitefts, we know that no two athletes are exactly the same — and neither are their training needs. So why should you settle for gym equipment that is just like everyone else's? The answer is simple: you shouldn't.
That's why we offer you the opportunity to customize your equipment to meet your specific needs. The Custom-Built section of our website houses a range of equipment with countless design possibilities that you can take advantage of to outfit your weight room, your way. Among the made-to-order offerings are our Custom Benches for those looking to take their bench press to the next level with equipment personalized just for them.
These benches are the result of an extensive research and development process and over six months of rigorous product testing. The result? A customizable, competition bench that not only surpasses the high standards of the elitefts staff, but also some of the world's top powerlifters. It is the strongest, safest, and most convenient bench available in the industry today. It features:
Competition legal specifications.
Raised step-up/spotting platform for easier and safer handoffs.
UHMW safety bars that can be used in a variety of training scenarios (i.e. pin presses).
Texture-coated J-cups.
Texture-coated bench base.
Powder-coated frame.
"Gripper" material pad and head sleeve for the best, tightest set-up you will ever have.
Optional band pegs for convenient training.
Revolutionary, optional Foot Jack system that allows for easy adjustments for multiple lifters, without stripping or lifting the bar.
What's more, however, is that we offer customization that includes the ability to adjust equipment colors, pads, logos, specs, and any other design needs that you might have. Whether you're outfitting a branded company weight room or simply designing your dream home gym, Custom-Built Benches create a training environment that's polished, professional, and personalized. It's the quality elitefts-approved equipment that you can trust, designed just for you.
Call 888-854-8806 to speak with an elitefts team member about your custom bench needs today.