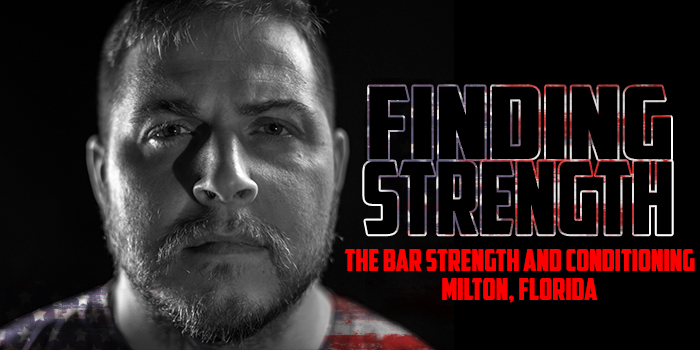 The last time I was in the panhandle of Florida was about eight years ago for spring break. On that trip, 7 AM meant cracking my first beer, and recovery work was the buffet so I could make it through the night. Not this time. No, this time, early morning meant clanging plates and banging weights. The place? The Bar Strength and Conditioning in Milton, Florida.
When you first walk in, it looks like any normal gym: well put together, some machines, tons of dumbbells, banners on the wall, and some meaty people greeting you at the front door. However, head over to the next room, and that's where we get into the serious training. Strongmen and powerlifters training side by side, getting ready for their next competition. This time, the strongmen were getting ready for Alabama's Strongest.
The first two people to greet me at the door were owner Bryan May and strength coach John Severson. You can notice at first glance that these guys take their training very seriously. Both accomplished powerlifters, they are now looking to share their knowledge with the people of Milton and the surrounding area. Bryan is an offshore underwater welder, spending weeks at a time out in the Gulf of Mexico, being on shore only a few weeks a year here or there. But every time he's home, he's at the gym, making sure it's running smoothly and growing.
When Bryan is gone out to sea, John is there, keeping things in line, coaching lifters, and working on growing the community. At first impression, I realized he's a man of few words, but he still seems to be able to get his point across and reach lifters in the gym in a way that makes them want to work. Luckily, I got to be there while both guys were in the gym, and I could get the full feeling of what sort of facility The Bar really is: a training facility with a strong community, worth going out of your way for. 
There was a great group of people training there when I arrived. Strongmen Jason McGinty and Shane Davis were there getting ready for an upcoming competition. Strongman was brought to The Bar by Dan Belanger, who has been competing in the sport for a long time. Now they have a great setup and team going on at The Bar, and while athletes like Jason are taking the lead in coaching people, Dan still keeps a watchful eye. Other experienced strength athletes like Patt Porter, a heavyweight powerlifter and very knowledgeable coach, were there training and helping to keep the group motivated, regardless of sport.
The Bar is definitely a place worth visiting. Whether you're down in the panhandle getting your spring break on, or you're a serious strength athlete in the Pensacola beach area, The Bar is definitely worth the trip.