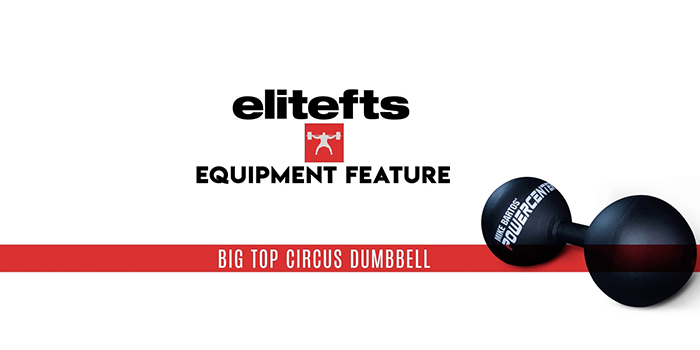 Last month we shared Mike Bartos' innovative Stone of Steel product, which enables strongman competitors to train for stone events easier than ever before. Today we're highlighting another Bartos creation that is capable of greatly improving strongman training: the Big Top Circus Dumbbell. In this video, Bartos discusses the design of the Big Top Circus Dumbbell and shows how to properly load it. First he explains that there are two sizes:
A 10-inch diameter dumbbell that weighs 80 pounds empty and can be loaded to roughly 200 pounds
A 12-inch diameter dumbbell that weighs 135 empty and can be loaded to over 300 pounds
The process of loading either size dumbbell is similar to the Stone of Steel. Both ends of the dumbbell are held together by a bolt that is easily unscrewed using a tool that is included with the product. The outside hemisphere then detaches, allowing you to load plates on the inner wall. After loading your preferred number of plates, fill the remainder of the shaft with spacers, return the outside hemisphere to its place, and re-secure the dumbbell by tightening the bolt. Despite being plate-loaded, the design of this product makes it feel like a fixed weight by avoiding the necessity for collars and eliminating the movements of the plates. Everything stays secure and in place, just the way you want a circus dumbbell to.