elitefts™ Power Bar w/ BLACK CERAKOTE
The same aggressive knurling with a BLACK Cerakote finish!
Made in the USA
Extended sleeve length for a greater load
45 - pound bar
BLACK Ceracote finish
Great bar for all lifts
Typically ships in 3-5 business day.

elitefts™ Power Bar
A great bar for the squat, bench, and deadlift, this bar is a must-have for your home setup and gym. Limited in space? Choose the elitefts™ Power Bar.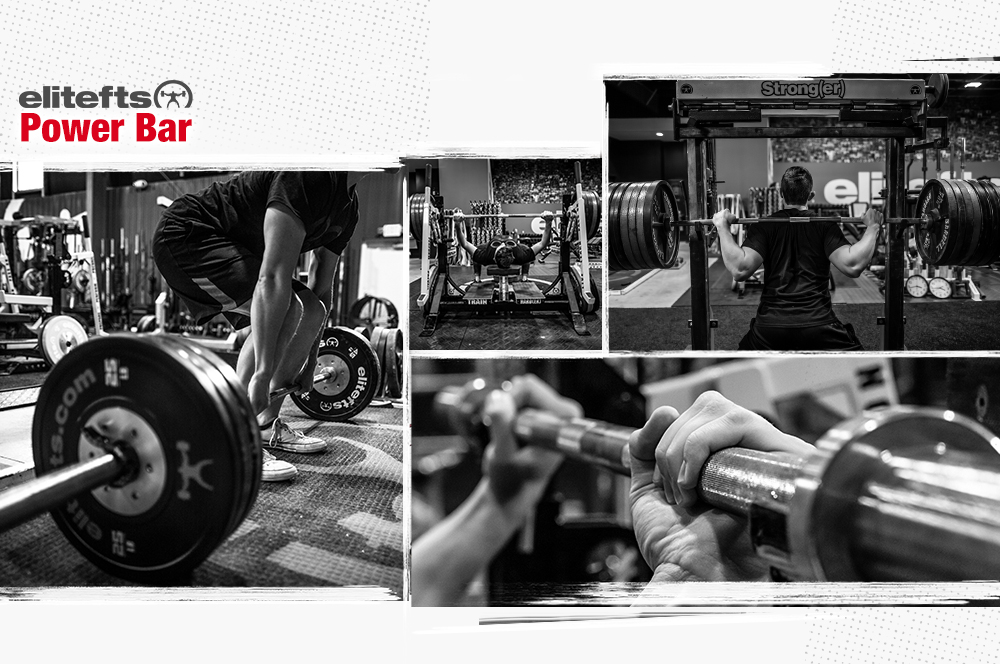 Bar Features
Aggressive Knurling with Center Knurl and Powerlifting Marks: Knurling on the elitefts™ Power Bar is much more aggressive to help the lifter grip the bar during heavier attempts. Compared an Olympic bar, the elitefts™ Power Bar's knurling comes in more to accommodate a narrow grip, as well as center knurling for a more secure bar placement in squats, good mornings, or lunges.
Bronze Bushing Bar: The barbell bearings fit between the bar and the sleeve to reduce the friction between the outer and inner sleeves, making the spinning movement smoother.
1-inch (2.85 cm) Diameter with 16.375-inch (41.5 cm) Sleeves: The diameter is pretty typical with the exception of our extreme knurling. Our sleeves, however, have an extended length for a greater load as well as placing the load set closer to the user's hands. The closer the load sits to the user's hand placement means the deflection of the bar will be less than a typical bar with less load area.
2,000 Pound (907 kg) Capacity with 190,000 PSI Strength: PSI measures the tensile strength of the bar, which means the amount of force needed to permanently damage it. A bar with a low PSI will bend easily, and it will be no good after a few drops or one bad one.
Ceracote Finish: Having high-quality ceracote finish on our bar prevents it from rusting. It does not prevent scratches, dents, or nicks. If your bar does not have any scratches, dents, or nicks, you are not using it properly.