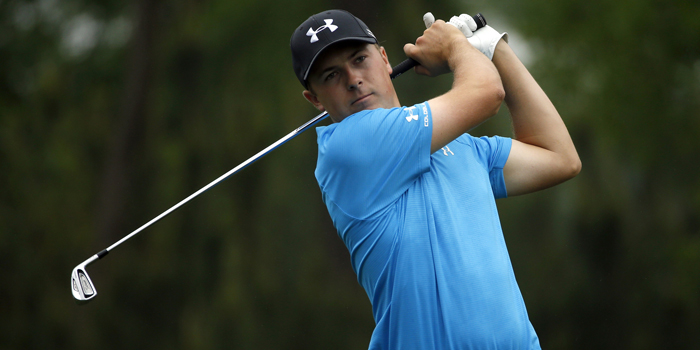 photo by Scott Halleran, SBNation
Jordan Spieth won the Masters yesterday by a landslide. The 21-year old was in control the entire 4-day tournament and earned himself a green jacket at Augusta.
The story behind the story is always why we love sports and Spieth's story is worth hearing. Chris Hummer of Horns24-7 Sports wrote a great piece on Spieth's inspiration.
Jordan Spieth's Masters inspiration comes from autistic sister
by Chris Hummer
Jordan Spieth has plenty to be inspired by at the Masters.
He's chasing history and hoping to continue the Longhorn tradition of excellence now that Ben Crenshaw had his final moment in competitive light. Also, simply, he's playing on the world's most beautiful stretch of green – Augusta National.
While each of those things likely pushes Spieth toward greatness, none can provide the inspiration of his idol – his sister, Ellie.
Ellie, 11, is autistic, and while Spieth, 21, would likely be a great golfer without her, he wouldn't have become quite the person his is today.
"I don't think they'd be the kind of kids they are without her," Jordan's mom, Chris Spieth told the Houston Chronicle.
Jordan is the star, only 21 and already a two-time PGA Tour winner, but it's his sister that keeps him grounded.
"Being Ellie's brother humbles me every day of my life," Spieth is quoted saying on his own website.
You see, being Ellie's sister is a lot to live up to for Spieth and his brother, Steven, a starter on Brown's basketball team. Ellie thinks the world of both, and she believes neither should ever lose at anything.
"Ellie always thought her brothers won at everything," Chris told ESPN. "So there's no way they were allowed to be down around her. No way. Jordan realizes this isn't real life at the Masters. Trying to sit around and have dinner when his sister doesn't want to eat when everybody else is eating and has a fit, that's real life."
The galleries, Amen corner and the luscious green grass will be Spieth's focus over the coming days – Spieth's two-day total of 14-under is already a Masters record – but the thing that is always on his mind is Ellie.
It's a grounding element in what is the most important tournament of his life.
"She's the funniest member of our family," Spieth said to ESPN. "I really love when she's able to be out there, love spending time with her. It's humbling to see her and her friends and the struggles they go through each day that we take for granted -- their kind of lack of patience or understanding, where it seems easy for us and it's not for them.
"But at the same time, they are the happiest people in the world, and when I say they, I speak to special-needs kids. And my experience with her and in her class and with her friends, it's fantastic. I love being part of it and helping support it."
Read the original article here
Source: http://texas.247sports.com