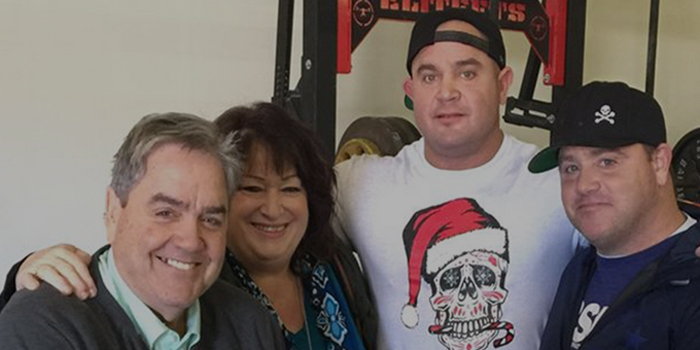 Chris (r) with his parents and brother Mark
Photo by Indiewire
Meet the 2015 Tribeca Filmmakers #1: Chris Bell Almost Died Making 'Prescription Thugs'
By Jena Keahon | Indiewire April 6, 2015 at 11:44AM
"I never intended to make documentaries, I wanted to blow shit up."
After losing his own brother to the growing epidemic of prescription drug abuse, documentarian Chris Bell ("Bigger, Stronger, Faster") sets out to demystify this insidious addiction. While the war has raged against illegal drugs, Bell attempts to break the hardened correlation that legal means safe. [Synopsis Courtesy of Tribeca Film Festival]
What's your film about in 140 characters or less?
America only represents 5% of the world's population, yet consumes 75% of the worlds' prescription drugs. After my brother's death, I started to ask: is there really a war on drugs?
Now what's it REALLY about?
It's really a mirror of American culture -- the obsession with quick fix and how it affects us.
Tell us briefly about yourself.
I'm a former nationally ranked Powerlifter and a graduate of USC's School of Cinema/Television. I never intended to make documentaries, I wanted to blow shit up. This is my 3rd feature length doc. My film "Bigger Stronger Faster" appeared in the 2008 Tribeca and Sundance film festivals.
Biggest challenge in completing this film?
I almost died making this movie. Seriously. You'll see the hardest part in Act III of the film. I can't give it away.
What do you want the Tribeca audience to take away from your film?
I want people asking questions, like why am I taking all these pills?
Any films inspire you?
I watch "Rocky" about once a month to keep me fired up about life.
What's next?
Next up I'm working on another fitness related project that asks the question "what is healthy"? "Mythbusters" in the world of health and fitness. I'm also working on a narrative feature based on a true story about one guy in Venice Beach who changed the world by introducing anabolic steroids to athletes, Hollywood movie stars, and the rich. He also helped save a lot of AIDS patients with his controversial knowledge.
What cameras did you shoot on?
We mainly shot this film on a C-100 with Ninja recorder to shoot uncompressed.
Did you crowdfund? If so, via what platform. If not, why?
No. I was fortunate to get funding for the film by winning a TV competition show looking for "the next great documentary"!
Did you go to film school? If so, which one?