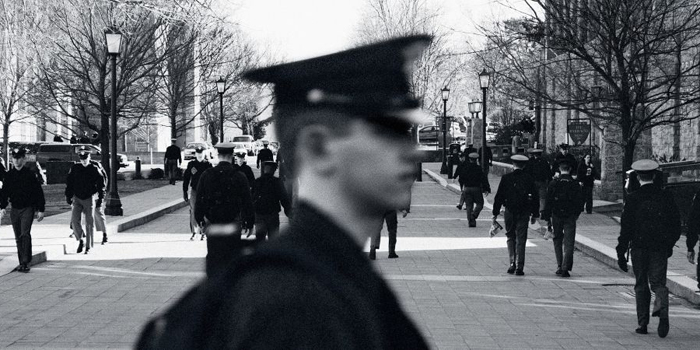 image by Miller Mobley
Serving at an assistant strength and conditioning coach at West Point may have been the most rewarding experience of my life. words can't explain how humbled I was to be apart of the physical development of the Army athletes. This is an outstanding article detail Good to Great author Jim Collins' visit to the United States Military Academy.
The Re-Education of Jim Collins
The author of "Good to Great" went to West Point to teach leadership. Instead, he was the one who got schooled.
by Bo Burlingham, editor at large, Inc.com
It was a warm, late summer afternoon on the banks of the Hudson River, and a large contingent of cadets had gathered in the Hayes Gymnasium on the campus of the United States Military Academy. Dressed in gray T-shirts and black shorts, they had come to train for the Academy's grueling Indoor Obstacle Course Test (universally known as the IOCT), which involves jumping through tires, climbing ropes, swinging on monkey bars, leaping over barriers, running along a balance beam, and sprinting around a track with a medicine ball, among other physical feats. Cadets say it is one of the hardest parts of a West Point education.
On one side of the gym, a group of cadets watched an older, gray-haired man trying to mount a shelf 8 feet above the ground. He was Jim Collins, the best-selling business-book author who was visiting West Point to hold seminars on leadership. "No, sir," a cadet said to him. "You don't want to do it like that, sir. You look like an old man, sir. You need to do it this way."
"I am an old man!" Collins murmured. Then, he tried it again.
Why was the author of such business classics as Built to Last and Good to Great competing with college students less than half his age? For one thing, Collins, 55, is an avid climber and seldom shies from a physical challenge. (For his 50th birthday, he had scaled the 2,900-foot vertical rockface known as The Nose of El Capitan in Yosemite National Park.) But what Collins really wanted was the opportunity to interact with cadets, to experience what they experience. With that in mind, he had set himself the goal of completing the course in the same time required of all male cadets before they can graduate--three and a half minutes or less. So he was grateful that West Point's rock-climbing team had turned out to coach him.
Glancing around the gym, Collins could see numerous other cadets struggling with various obstacles; some of them were not much farther along than he was. Most of them had at least one or two other cadets standing nearby, coaching, critiquing, and cheering on their compatriots.
On the Quad
Life at West Point is highly regimented and filled with pressure. So why, Jim Collins wondered, were the cadets he met so much happier than students at civilian schools?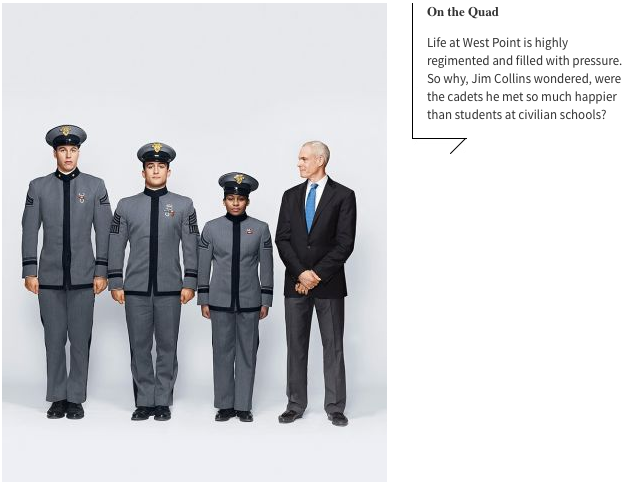 That struck Collins as interesting. West Point is a highly competitive place. Every cadet wants to do the IOCT faster than his or her peers. Every cadet also is extremely busy. Yet these cadets were taking time away from their studies and other duties to help their friends get through the course.
Their behavior in the gym was no anomaly. Collins had seen the same phenomenon among his students. And not only were the cadets more collegial, but they seemed to be happier--much happier--than students at civilian universities, including those he had taught during his seven years on the Stanford faculty. Which was odd. After all, West Point cadets lead extremely demanding lives. Nearly every minute of every day is programmed, and every aspect of their lives is regimented, down to the color of their socks and the way razors must be positioned in their medicine cabinets. Meanwhile, they are constantly being tested both physically and mentally--and they often fall short. This goes on for four years with almost no letup, followed by five years of active duty.
How, Collins wondered, did such a burdensome environment produce such a happy, lively, and confident cohort of young men and women? In business, happy cultures tend to be associated with pool tables, foosball, Friday-afternoon beer parties, and dogs in the office--in a word, fun. A cadet's life is anything but fun. And yet these young people seem to get something out of their lives that is missing from the lives of many of their contemporaries.
Collins didn't have long to reflect on this, however, as his coaches were already leading him to the next obstacle: the balance walk on horizontal bars, followed by the jump through a hanging tire.
When Collins was offered West Point's Class of 1951 Chair for the Study of Leadership in the early summer of 2011, he was in the midst of preparing for the publication of his fourth bestseller, Great by Choice, which would wrap up a quarter-century of research into great companies. Although he faced a packed schedule in the coming year, he couldn't resist the opportunity. For one thing, Collins is passionate about reaching out to young leaders, especially those who had made a commitment to service, and none had made a more serious commitment than had the West Point cadets.
In addition, he was curious about the place itself. West Point has been turning out "leaders of character" for more than 200 years. "I expect that it will transform my thinking in some way," Collins told me a week before he started. "I have this feeling something's going to happen to me that will set me on a new trajectory, a renewing path."
The appointment was for two years, starting at the beginning of 2012. Collins would visit West Point seven times, holding a seminar with about 30 cadets on six of those trips and delivering a final talk to the cadet corps on the last one. Most of the seminars would focus on the distinguishing characteristics of great military leaders, using Collins's signature methodology of examining matched pairs of great and not-so-great leaders who faced similar situations and got different results.
When I spoke to him again after his first seminar, he was even more enthusiastic than he had been. He would soon be heading back for his next seminar, which would be attended by tactical officers with combat experience as well as cadets. They would be focusing on the concept of Return on Luck, which Collins and his Great by Choice co-author, Morten T. Hansen, had come up with as a way to measure how much companies benefited from unpredictable events, good or bad, that took them by surprise.
He was also looking forward to the third seminar, in which the participating cadets would be 38 members of West Point's rock-climbing team, who would explore the links between leadership and climbing. Back in 2006, when Collins had begun his quest to conquer The Nose of El Capitan, he had trained with Tommy Caldwell, a 35-year-old Coloradan who is widely viewed as one of the greatest rock climbers of all time. The two had formed a close bond, so Collins invited him to participate in the seminar. Caldwell accepted, and they began brainstorming about how to use Caldwell's many extraordinary climbing experiences to engage the cadets.
By the time I arrived at West Point to observe Collins in action, he had completed four of his seven trips, including the one with Caldwell. On the night before the seminar, I joined Collins and 10 cadets for dinner in MacArthur's Restaurant, located in the historic Thayer Hotel, at the southern end of the West Point garrison. For a couple of hours, they discussed a range of topics, from the qualities of great leaders to the risks and rewards of contrarianism. Then Collins changed the subject. "What is the opposite side of success?" he asked.
"Isn't it failure?" one cadet responded.
"Well, let's talk about failure," said Collins. "How many of you have experienced failure?" They all nodded or raised a hand.
"Failure is part of life here," said a diminutive female cadet, Kiley Hunkler. "There's a recurring sense of inadequacy," she says. "For a 200-pound linebacker, it's having to do a cartwheel. For me, it's the survival swim in full combat gear."
"Does anyone get through West Point without feeling that sense of inadequacy?" Collins asked the group.
"No," they said, more or less in unison.
"From the outside, it looks like everything here is difficult," Collins said. "I think you can go through most universities without ever having a big inadequacy moment. That doesn't seem possible here. You keep getting decked. So why do you keep getting back up?"
"It's better to fail here and have other people help you get it right than to fail in Afghanistan, where the consequences could be catastrophic," said another cadet, Christer Horstman.
"Here, everybody knows it's a learning experience," said Hunkler.
"Yes, and you've put yourselves in an environment where you can't go through without failing," Collins said.
Indeed, repeated failure was built into West Point's culture. Yet that didn't seem to faze the cadets in the least. They came across as irrepressibly positive and devoid of the alienation that infected the other campuses Collins knew. He had also found the cadets to be unusually open and direct in their one-on-one interactions with him. They were curious, questioning, and intellectually engaged, and had no reluctance to let him know when they disagreed with him. And then there was the phenomenon he had observed in the gym: cadets going out of their way to help one another, even as they were competing intensely to outdo one another.
It was a puzzle, and it had been on Collins's mind when he and Caldwell had headed east for the rock-climbing seminar in August 2012. They'd had a four-hour flight from Denver to Newark, New Jersey, and somewhere over the Midwest, they had started talking about Caldwell's ongoing, and so far futile, attempt to scale the Dawn Wall of El Capitan in a free climb-;that is, without any aid from climbing equipment or ropes. No one has ever done it. Caldwell was preparing for his fourth attempt that fall. He would stay on the wall as long as the weather allowed, but the overwhelming odds were that he would once again fail to reach the top.
"Why do you keep throwing yourself at this?" Collins asked. "All it does is give you failure upon failure. Why go back?"
"Because success is not the primary point," Caldwell said. "I go back because the climb is making me better. It is making me stronger. I am not failing; I am growing."
In fact, Caldwell viewed failure as an essential part of his search for the outer reaches of his capabilities as a climber. "To find your limit and experience the most growth, you have to go on a journey of cumulative failure," Caldwell said. "Even if I never succeed in free climbing the Dawn Wall, it will make me so much stronger, and so much better, that most other climbs will seem easy by comparison."
Caldwell asked how the cadets viewed the tension between growth and success. It was a very good question, Collins realized, given how prominently failure figured in the West Point regime. But there was another element that couldn't be overlooked or taken for granted--namely, a commitment to service. Everything the cadets did grew out of their desire to serve. Why else, after all, would college-age students choose West Point over a civilian university where the demands were fewer, the discipline almost nonexistent, and the opportunity for fun and games infinitely more available?
As the plane descended into Newark's airport, Collins took out a piece of paper and drew a triangle. One point he labeled success, another growth, and the third service. Those three corners of the triangle, he sensed, held an answer to the paradox he had observed in the culture of West Point.
They arrived at the Academy that afternoon. Over the next two days, they spent time with the cadets in the West Point climbing gym and the IOCT gym, alternating workouts with leadership discussions. Collins would present a scenario based on one of Caldwell's adventures, such as the time he and three other climbers were captured and held hostage by Islamic militants in Kyrgyzstan. The cadets would then ask questions and talk about how they would have responded.
Through it all, Collins listened with the triangle in mind. He realized that, on one level, it was about motivation and finding "a balanced approach to life and leadership," as he later put it. Success was the obvious one. Everybody likes to win, and the thrill of victory is a heady reward in itself. But people who become the best at what they do are never content with success. Like Caldwell, they have a deep craving to get better and better, which often means repeatedly failing, although--like Caldwell--they don't necessarily experience it as failure.
It was on the point of service that the West Point cadets had really opened Collins's eyes. "I've never been in an environment with so strong an ethos of service running through it," he says. "This is not like doing volunteer work on a Saturday. It's a big signature, a big step up, and it could cost them their lives someday, which they're all well aware of. But they've made that choice."
It's easy to see the success-growth-service triangle as a kind of self-help tool, a framework in which to address the highly personal question of creating a sense of completeness and meaning in life. As Collins says, "It is very difficult to have a great life unless it is a meaningful life. And it is very difficult to have a meaningful life without meaningful work, or to have meaningful work without all three legs of the triangle. The cadets in my seminars have been some of the happiest, most engaged, and most purposeful young men and women I've ever met. I believe it's because they've begun to live the triangle early."
But Collins, of course, is best known for pondering the secrets of organizational, not personal, success. So what do these West Point revelations mean for company leaders whose shelves are lined with Collins's books?
He sees a number of useful lessons. First, "If you want to build a culture of engaged leaders and a great place to work," he says, "you need to spend time thinking about three things."
Service to "a cause or purpose we are passionately dedicated to and are willing to suffer and sacrifice for."
Challenge and growth, or, "What huge and audacious challenges should we give people that will push them hard and make them grow?"
Communal success, or, "What can we do to reinforce the idea that we succeed only by helping each other?"
Collins says he has observed these principles in action in a number of companies he has studied, at least during their best years-;including IBM, Apple, Johnson & Johnson, Southwest Airlines, and Federal Express.
His time at West Point has also given Collins a new appreciation for some aspects of leadership that he had not previously thought much about. The first has to do with frontline, or unit-level, leadership. "I have come to see how important it is," he says. "We tend to think that what matters is having outstanding leadership at the senior level. But great leadership at the top doesn't amount to much if you don't have exceptional leadership at the unit level. That's where great things get done."
He has also realized that great leadership comes in two forms. One form Collins describes as being the right tool in the toolbox at a particular moment in history: "The world needs a Phillips-head screwdriver, and you are a Phillips-head screwdriver. You can get exceptional results, but they tend to be less durable because when the world needs a socket wrench, you're not one." The other type of great leader adapts and grows as demands change: "When Steve Jobs got booted from Apple, a lot of people thought he was a tool in a toolbox. They were wrong."
Third, leaders need to know when to become followers, and followers need to know when to become leaders. "The ability to toggle between leading and following is critical," he says, "because circumstances change."
Ultimately, Collins says, he comes away believing more strongly than ever in the urgent need to learn how to develop great leaders. "I'm convinced that every major problem we face as a country is a leadership problem," he says. "Whether it's short-term thinking in business or a problem with government performance, every problem requires superb leadership to solve."
He tells the story of a cadet who approached him after the Return on Luck seminar. "Sir, we've been talking about Return on Luck in the context of success," the cadet said. "But I see luck differently. The greatest form of luck, at least for me, is the opportunity to be of service and to help others. When you're presented with the opportunity to improve someone else's life, to help them go through a particularly difficult challenge, to engage with great comrades and achieve a noble mission-;what could be luckier?"
Read the original article Here
Source: www.inc.com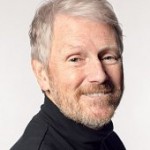 Bo Burlingham joined Inc. in 1983. An editor at large, he is the author of Small Giants: Companies That Choose to Be Great Instead of Big. The book was a finalist for the Financial Times/Goldman Sachs Business Book of the Year Award in 2006. Burlingham is also the co-author with Norm Brodsky of The Knack; and the co-author with Jack Stack of The Great Game of Business and A Stake in the Outcome.