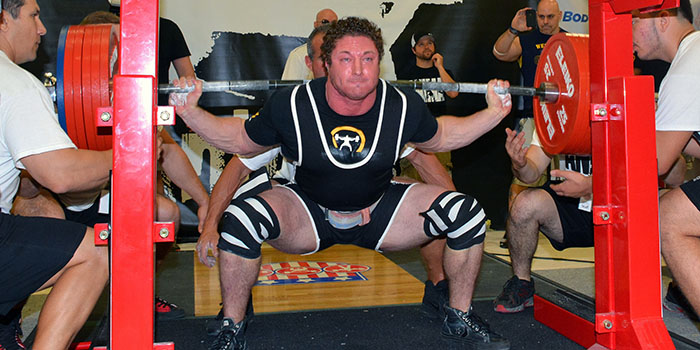 In what is likely to be a highly-controversial move, Raw Unity Meet (RUM) has chosen to eliminate both knee wraps and monolifts from their future competitions.
Powerlifting Watch, which ran the announcement last night at 10:30 PM, titled their post "Raw Unity Returns to Its Roots." Here's the info they shared:
FOR THE LAST 2 YEARS RAW UNITY HAS OFFERED 2 TYPES OF LIFTING, KNEE SLEEVES AND KNEEWRAPS. AFTER MUCH DISCUSSION WITH THE FOLKS WHO HAVE BEEN INVOLVED FROM ITS INCEPTION WE HAVE DECIDED TO ELIMANTE KNEE WRAPS AND THE MONOLIFT. FOR 2016 WE WILL OFFER KNEE SLEEVE LIFTING ONLY

WE REALIZE THAT NOT EVERYONE WILL AGREE WITH THAT, BUT WE FEEL IT IS BEST FOR THE FUTURE OF THE MEET. WE HOPE THE KNEE WRAP LIFTERS WILL GIVE LIFTING WITH KNEE SLEEVES A SHOT, AND WE REALIZE SOME ALREADY DO BOTH. WE KNOW THERE ARE A LOT OF OPTIONS IN TODAY;S POWERLIFTING WORLD, AND WE WANT TO PICK JUST ONE.

FOR 2016 RUM WILL BE HELD IN PORT ST LUCIE FLA AT THE CIVIC CENTER, THE SITE OF THE 2014 MEET. THE DATES WILL BE JAN 29,30, 31. THE 29TH WILL BE SINGLE LIFT BENCH AND DEADLIFT CONTEST WITH THE FULL POWER ON SAT AND SUN.

WE ARE CREATING A NEW WEB SITE THAT SHOULD BE OPERATIONAL IN A FEW WEEKS. THE ONLY WAY TO OBTAIN ACCURATE INFORMATION IS BY THE WEB SITE OR POWERLIFTINGWATCH.

ALL LIFTERS WHO QUALIFY ARE WELCOME TO LIFT
This dismissal of wraps and monolifts will mean a dramatic change from last year, in which some of the most popular lifters competed in knee wraps.  Several of the notable knee-wrap performances from the last Raw Unity Meet include Dan Green's world record and Casey William's class win.
This move coincides with what many powerlifters are calling the Raw Revolution, characterized by an increase of unequipped lifters. The percentage of actively competing powerlifters seems to be swinging in the direction of raw lifters, leading many individuals to yearn for what they consider the old-school method of walked-out squats with no knee warps. This history is contested by many older lifters who claim that the idea of all raw lifting was not due to a lack of interest in gear, but was instead due to a lack of availability of gear. Their response, in essence, is to say, if there had been gear to make us stronger  back when we were lifting raw, we would have worn it.
As one of the most well-known raw meets in the country, RUM accepts a big risk by turning away a notable portion of their previous competitors. In the last several years, RUM has built a reputation for producing a high-quality meet that draws in some of the world's strongest lifters. Lifters who compete in the raw with wraps class will now have two options: assimilate to walking out the squats with no wraps, or compete somewhere else.
Will this move pay off for RUM? Only time will tell, but it is likely we'll see plenty of opinions on the updated rules.
---
Header image via Ken Richardson