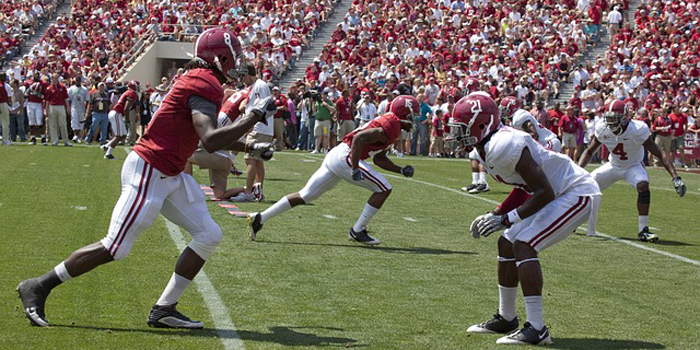 This may the the next weapon in the sports performance arsenal of big-time college athletics. We are moving beyond VBT, GPS, and HRV. The next step? David Ebben of Fox Sports Southwest finds out.
Is this football's next big coaching breakthrough?
by David Ubben, Fox Sports Southwest
For 30 minutes, I am a freshman quarterback at Missouri.
At least, that's what I told the iPad sitting on the glass table in front of me. A pair of red, soft, over-the-ear headphones connected the device's audio to my ears.
After I entered my personal information (including that little white lie about my current playing status), a middle-aged man with a shaved head, dark eyes, thick eyebrows and a calming voice appeared on the screen, assuring me there were no right or wrong answers on the assessment that was about to begin.
(In this world, the "T-word"--test--is a big no-no. "Assessment" or "discovery" are the acceptable terms.)
Over the next half hour, I completed 10 exercises J. Craig Flowers believes are a new way for coaches to get a leg up on the competition.
It's the best way for them to, as the company's slogan says, "Win the mental game."
Flowers is the man in the video, a retired Army colonel and the executive vice president of APTUS Discovery, a company formed in 2009. Their assessments--one for football and one that's universal and can be used for other sports, the military, education or the corporate world--lift the veil for coaches on an important attribute that too often goes overlooked: How a player learns.
Specifically, how a player "defines, processes and executes instructions and information across various contextual environments."
Does a player learn best in the film room, on the practice field or in dry erase board sessions with a coach?
Should a player see a drill modeled correctly first before he gets a chance at his first rep? Or does he learn best as the guinea pig?
Does negative or positive reinforcement work best at keeping him invested and motivated?
APTUS can tell coaches all of that and more.
The APTUS assessment also produces an additional report that can be given to professors and academic tutors, maximizing their potential to learn in the classroom as well as the football field.
"We don't coddle players and we didn't coddle soldiers in the military, either," Flowers said. "We have standards and we have consequences, but we care about them and we ought to care enough about them that we recognize that every one of these individuals is a unique learner and they are going to process your instructions and information uniquely.
"So when a coach says to me, 'We treat everybody the same' or a commander in the military says that, I get it when they're talking about standards and consequences. ... But the way we deliver instructions and information, we must, specifically with this generation, constantly be adapting our word choice, our tone, demeanor to those players in order to maximize their talent."
The company vetted its product with behavioral science professionals in 2011 and 2012 and performed 1,500 beta tests to fine tune the assessment to what it is today.
APTUS' band of believers is growing.
Butch Jones' Tennessee team is one of APTUS' most deeply invested clients. He's had his players take the assessment and plans on bringing Flowers and others from APTUS back to Knoxville this spring to assess how they have applied APTUS' results to their practice strategies.
Kentucky athletic director Mitch Barnhart struck a deal with APTUS last year for the company to assess athletes in seven different sports, including football under Mark Stoops and basketball under John Calipari.
Not everyone has jumped on board. Michigan (under Brady Hoke), Texas Tech and Oklahoma State are three examples of programs who kicked the tires on APTUS before deciding not to employ the assessment, Flowers said.
Oklahoma State, however, was the only one of the three that didn't invite Flowers to campus for a formal meeting to make his presentation.
APTUS gave the assessment to every player at the Senior Bowl, Collegiate Bowl and East/West Shrine Bowl and its willingness to hand over the data to NFL teams has led to relationships that might mean full partnerships with pro teams soon.
Flowers said he has plans to meet with the Seattle Seahawks after the draft.
Kansas football is one of APTUS' newest clients, thanks to new coach David Beaty. He learned of the service during his time at Texas A&M, where Kevin Sumlin and the Aggies are also clients.
"My presentation usually takes about 30 to 40 minutes when I meet with coaches," Flowers said. "About 10 minutes in, Kevin stops me and says, 'Oh, we're doing this.'"
Texas A&M is still, indeed, "doing this." So are Minnesota and Rice. Flowers' alma mater, TCU, has also experimented with the assessment.
"At first, you're thinking 'There's no way in the world this can work,' but when they give you your first notebooks with your results, your wall of resistance falls fast," said Rice coach David Bailiff. "The first year, I didn't really know if I wanted to spend the resources, but once I did it, now it's an easy decision."
He became APTUS' first college football client three seasons ago and offers the assessment to incoming freshmen each June.
In Bailiff's first five seasons, he coached Rice to just one winning season in Conference USA play. Since employing APTUS, the Owls have gone 7-1 and 5-3 in conference play, including the program's first Conference USA title in 2013 and a bowl win in 2014.
"There's some young men that have a hard time processing the game so they don't play it very fast. That's where it helps you to stop wasting your time," Bailiff said. "They're not going to learn it on a greaseboard, they're going to learn in reps. You can't tailor it to every individual, but that kind of young man, you can make sure he gets a little more reps.
"We think it helps every guy."
APTUS understands coaches logistical limitations and inability to tailor practice plans to every individual. After assessments are given to teams, coaches are provided analytics reflecting percentages of how their team learns. That's particularly helpful for position coaches who do have the luxury of tailoring more practice time to one-on-one instruction.
"It reinforced some things I thought I knew, but it showed me some things I never would have known otherwise," Rice quarterbacks coach and co-offensive coordinator Larry Edmondson said. "Whether it worked on their psyche or whatever, they all got better. I was skeptical at first, but it helped me immensely. Two of my QBs are close to the same, but the other two, it's allowed me to be a little more patient. On Monday and Tuesdays I used to pull my hair out during practice, but I know now, 'Hey, by Saturday he'll get it.'"
At one school APTUS worked with, the coach employed the common practice of having kickers work on the edge of the field by themselves while the rest of the team practiced. At the end of practice, coaches would simulate a pressure situation for a final kick by putting the volume of the team's post-practice conditioning at stake.
The kicker's APTUS report showed coaches he instead valued being part of a group. Coaches moved him into a player/coach role during practice, even if it just meant setting up dummies or holding dummies during drills instead of kicking on the sidelines.
During games, he didn't like the common custom of kickers being left alone before kicks. Instead, coaches made a point of talking to him during games and in the moments before kicks, reiterating how much they needed him to make the kick.
"His performance and effectiveness soared," Flowers said.
Kansas' offensive line coach Zach Yenser had experience with APTUS at Louisiana Tech as a graduate assistant in 2010 and 2011.
"It's another tool for us to communicate with our players. It's not what you know, it's what you can get those guys to know, and it's all communication and how clearly you come across. It's an opportunity to think outside the box and not just sit on a white board and draw up plays," he said.
Beaty had Kansas' entire team take the assessment before spring practice began, so he could help his staff implement the strategies from Day 1 on the practice field.
Read the original article Here
Source: http://www.foxsports.com